Mazda CX-30 2WD GT Sport
Despite all the hype and promotion, it would appear that the great British public is not yet ready to fully embrace electric cars. Range anxiety is still the biggest barrier to full acceptance. Despite the fact that great strides have been made in driveability and battery storage capacity, the 'full tank' range still falls short of petrol and diesel powered equivalents while 're-fuelling' also takes much longer.
For sure the Government and various green proponents tell us there are more and more charging points across the country, and while that is true, what they fail to tell us is there still aren't enough, some of them don't work and some of them will only accept certain makes of vehicle. At the moment there is no 'one charger fits all' solution to the problem. It's a bit like the old VHS and Betamax fight from way back in the 80s when only one could win out. Car chargers haven't reached that stage yet.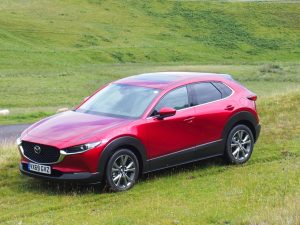 Apart from the infrastructure, there is still another problem. When cars are as good as the Mazda CX-30 why would you switch from a car which offers fuel and range security to another which could easily leave you stranded if you're not careful.
Admittedly Mazda is going down the hybrid and electrification route too, but the current 2 litre petrol powered CX-30 strikes a powerful argument for the potential punter to avoid the new fangled approach and stick with proven technology.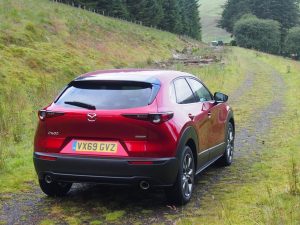 It's easy to see why. It's quiet, quick and comfy. The test car had the latest Skyactiv-X, two litre, compression ignition petrol engine with 178bhp which ensured the car was quick for an SUV. However you have to keep the revs above 3000 rpm if you want to get a move on, a task that is made all the more enjoyable by a very tactile, slick shifting six speed gearshift. Add a set of perfectly placed and weighted pedals and you have a machine that will commute on weekdays and give you some fun motoring at weekends. In other words you don't just use this for work or the school run, and then have to buy an MX5 for weekends, the CX-30 has enough 'joie de vivre' to do the business and the pleasure.
The suspension is on the soft side of ride quality, but it is well damped, soaking up the worst of Scotland's bumps and smoothing out the undulations. It rolls a bit on corners, but is well controlled giving the driver a bit of added confidence as it hangs on, shod as it was with a set of 215/55×18 Toyo Proxes.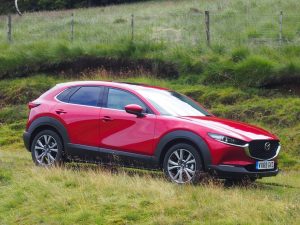 The interior confirms Mazda's well established and justified reputation for stylish furnishing and fittings. The front seat occupants will have a bit more leg and head room than two in the back, but then this is a compact SUV, not one of those kerb crunching bruisers so beloved of the ostentatious.
This being the GT Sport model, the equipment included a top class 'Infotainment' (I still hate that word!) system with a 12 speaker Bose surround sound unit with multifarious functions accessible through an 8.8 inch screen. These functions were controlled by a much more practical rotary dial between the seats – a factor greatly appreciated by those regularly frustrated and annoyed by trying to stab fingers on touchscreens while on the move! The driver also had a heated steering wheel and a fully powered seat which was linked to the Head-Up display and the tilting driver's side mirror. Nice touch, eh?
At £29,865, the test car was a thousand pounds dearer than list price as it had a glistening Soul Red metallic paint finish and leather trimmed seats. Mazda reckons you can get almost 48 mpg on the combined cycle, but in practical everyday use I was getting closer to 43 mpg. But considering the enjoyment factor that was perfectly acceptable!
For sure electric cars will be the first choice for short range commuters and occasional motorists but equally, the CX-30 will accomplish all those tasks and do so much more. This is an entirely likeable and enjoyable motor car.
Mazda CX-30 2WD GT Sport
Review Date: Aug 05, 2020
Price: £29,865 (as tested)
Engine: 1998cc, 4 cylinder petrol with 178 bhp
Performance: 0-62 mph in 8.5 secs, flat out at 127 mph
Economy: 47.9 mpg (combined)
CO2 emissions: 105 k/gm
[Back to Top]