… Suzuki A Cross PHEV …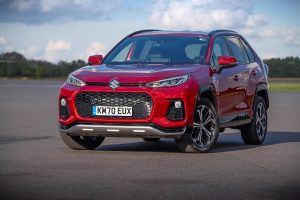 This is a Suzuki. It says so on the grille. But it's not a Suzuki as we know it! This is the first model to be launched under a new collaborative agreement between Suzuki Motor Corporation and Toyota Motor Corporation.
As a fan of the Jimny, the Ignis and the Vitara this new car took a bit of getting used to. It seems a bit more substantial and also a bit more expensive. My liking for all things Suzuki stems from a love affair with a Beamish Suzuki 250cc trials motor bike and later on a 350cc enduro machine which was a pig to kick start but one heck of a bike on the 'roughurious'.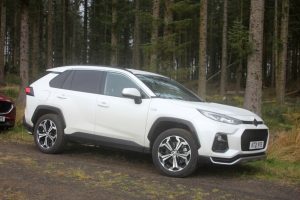 Similarly I just loved their free revving small capacity motor car engines, so this new machine with its 2.5 litre Toyota unit is an altogether different animal.
It definitely feels a bit heavier than its siblings but that is also partly down to the 300 kg battery which this Hybrid machine has to lug around. The petrol engine produces some 183 bhp while the electric motor boosts power to just over 300 bhp! Hence the surprisingly quick nought to 62 mph time of 6 seconds.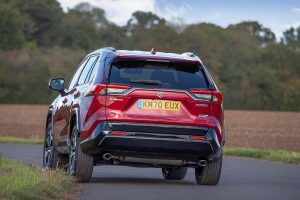 However, as far as Plug-In Hybrids go, this is one of the better ones. The battery actually gives this an electric range of around 46 miles. That should be enough for a huge number of folk on the morning and evening commute to work – as long as they have a charger at home and their place of business. That should help fuel consumption with Suzuki claiming a fuel consumption of up to 282 mpg using the new WLTP measuring system, whereas petrol power alone will deliver just over 40 mpg. That puts economy firmly in the hands and feet of the driver!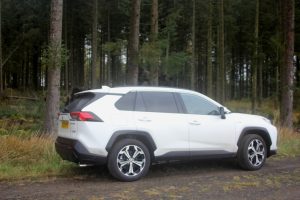 It also has an electronic four wheel drive system which is managed by a CVT transmission and although no fan of CVTs, this one does work remarkably well and is great for just sitting back and enjoying the drive. The E-Four 4×4 system provides good grip on slippery wet and wintry roads – and even some wet gravel roads! – while the transition from electric to petrol power is quite unobtrusive and barely noticeable.
It's also very well equipped with heated leather seats and steering wheel, LED headlights, adaptive cruise control with lane keep assist and all the other built-in electronic safety aids that we have come to expect with new cars. The trouble is, that all adds to the price, with the A Cross tipping the scales in a most un-Suzuki like fashion resulting in a car costing around 46 grand!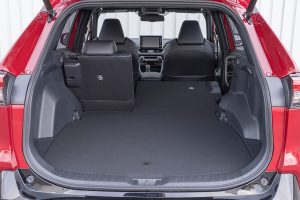 The price tag also helps to explain the superb quality, well thought out interior fit and finish with plenty of storage space and a huge boot. And whilst space inside the boot and 4WD might make it a sensible choice as a rally service barge, its maximum towing weight is 1500 kgs. Ideal for caravaneers but not necessarily car trailer towing.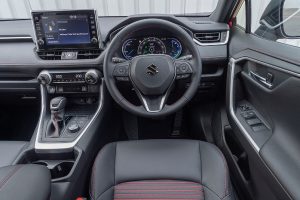 The digital instrument panel also comes with more than enough information and options to flummox even the most savvy of the new digital-age generation. The auld gits don't have a chance. For those who still hanker after the idea of a circular speedo and rev counter plus smaller gauges for oil, temp and battery, these new-age dash panels offer a bewildering choice of actions and functions. Anyone remember when push-button radios were a thing?
Having said all that, this is a mighty impressive motor, and if the price doesn't put you off then it's well worth a look. I really liked it.
Suzuki A Cross PHEV
Review Date: 04 November 2021
Price: £45,559
Engine: 2487cc, 4 cylinder petrol with 183 bhp with 134 kW electric motor
Performance: 0-62 mph in 6.0 secs, flat out at 112 mph
Economy: 42.9 mpg
Emissions: 22g/km (WLTP)
[Back to Top]