… Honda Jazz SE eHEV …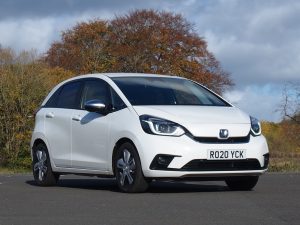 The Honda Jazz has been around for 20 years now, but one thing has remained unchanged, it is still one of the most practical cars in its class. There are however some folk who think this is simply a cute and pretty small MPV, but that is doing the car a great dis-service. The team behind the overall design of this machine must have had young families or needed a compact but useable runabout for their sporting interests be it football or rugby, ski-ing or scuba diving. This is a car for all folks for all reasons.
The flat top dash has a cup holder at either side and two lidded storage bins on the passenger side – ideal for hiding small valuable items from view. There's also plenty more well thought out internal storage areas and pockets around the car. There are two USB ports and a 12v socket in the front while the two rear seat passengers also have access to two centrally mounted USB ports between the front seats.
The boot isn't huge but big enough for four full shopping bags and it has a well fitted rubber mat if you're putting wet clothes and mucky boots in the back, or a fold-up pushchair after a walk in the park. However, the boot, or at least the rear seats, have a further trick up their sleeves. To free up more internal space, the boot area can be tripled in size either by folding the rear bench seat back or flipping the seat bases up. Honda calls it a 'magic seat', I think it's just very clever – and reminiscent of the old Austin Maxi!
The seats are nicely shaped without being huggers and although the rear seat is shaped for two passengers there is a flat cushion between them should the need arise to give a fifth person a lift.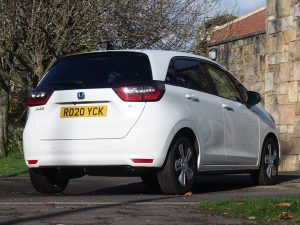 It's also nice to drive – in a CVT sort of way! I'm not a fan of such transmissions and despite the fact the Jazz is pleasant to drive I haven't yet been converted. I'd rather have a manual shift any day or a 'proper' automatic gearbox. The CVT unit is at its best tootling around town or on the urban commute but it gets annoying on the open road when cutting across country. Of course, that is purely a personal point of view and most folks will be perfectly happy with its progress.
This latest version of the Jazz is the first Honda to use the new e:HEV twin-motor petrol hybrid powertrain. This comprises a naturally aspirated 1.5-litre four-cylinder petrol engine with two electric motors and a compact lithium-ion battery pack. Total output is around 108bhp with 253Nm of torque. That may not sound much but the for sure the new Jazz is nimble enough to satisfy most needs and demands.
The combustion engine sends drive through what Honda claims "is smoother and more efficient than a conventional CVT" innovative fixed-gear transmission. And yes it is more responsive than other CVTs I have driven – but I still don't like it! It still sounds like a mis-matched TV sound and vision broadcast where the lips are moving but you don't hear anything. And since the system works OK perhaps it's me that needs to be re-tuned and brought up to date.
With only a week to try the car it was impossible to pack in enough mileage to assess fuel economy. Honda claims figures of 62.8mpg and 102g/km of CO2 although my readout during the test showed 60.2, so not too bad at all, eh?
There are three different drive modes to make the most of the new set-up, Hybrid Drive, EV Drive and Engine Drive. The first combines petrol and electric running, while recovering electricity during deceleration and re-charging the battery. EV Drive is full electric mode while Engine Drive utilises both petrol engine and electric motors for maximum performance. That's enough to give the Jazz a sub 10 second 0 to 60 mph time!
Further enhancing the new car's 'green' credentials is the adoption of a set of 185/55 x16 Yokohama BluEarth tyres with their top A/A grading. With improved rolling resistance there is no loss of grip or road feel with these new tyres making the Jazz even more pleasant to drive.
Prices start from £18,985 for the entry-level SE model with the mid-range SR coming in at £20,185 and the best equipped EX starts from £21,385.
The overall result is a great wee car for folks who don't need a large SUV but need flexibility in interior accommodation. It also drives very well and even with its CVT transmission I reckon I'd still be happy enough to have one in my driveway.
Honda Jazz SE eHEV
Review Date: 4 November 2020
Price: £18,985 (as tested)
Engine: 1498cc, 4 cylinder petrol with Electric Motor, combined 108 bhp
Performance: 0-62 mph in 9.4 secs, flat out at 108 mph
Economy: 62.8 mpg (combined)
CO2 emissions: 102 k/gm
[Back to Top]