Nissan X-Trail Tekna 1.7 dCi 150 4WD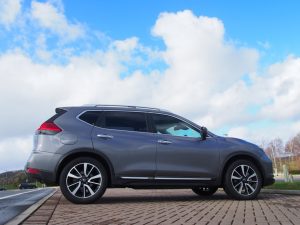 The first Nissan X-Trail was a boxy affair. Even so, it was good looking with a shape which made it very practical with its vertical sides and near vertical tailgate. Fast forward 20 years and the latest version is quite unrecognisable looking more like the Qashqai which it has replaced. It's quite big but the flowing lines and rounded edges disguise its size and no doubt may influence buyers who don't like the hulking brute approach to SUV styling.
Apart from that, there's nothing radical about this latest machine. It's competent rather than trend setting and that too will broaden its appeal. Nissan has a good reputation for build quality and reliability and the new X-Trail does nothing to detract from that.
The result is a spacious five seater with comfortable seating and a decent view of the road ahead from the front seats. Nor is it too big or sit too high to make entry and egress difficult.
The 1.7 litre diesel is not the most potent thing on the planet, but who needs it for a vehicle like this. Most people will simply want safe, reliable transport with the added assurance of four wheel drive.
A dial between the front seats and behind the cup holders selects one of three modes. 2WD is standard, but there is an 'Auto' selection which will let the machine manage grip electronically if it detects slip or slide with a 'Lock' function if you find yourself stuck in a grassy field with a caravan, or if you do fancy a bit of slightly more serious off-road fun!
The six speed gearbox makes best use of the modest 148 bhp which lies under the bonnet of this 1800 kg machine. And yet it can get off its mark quite spritely covering the 0 to 60 dash in just under 11 seconds going on to a theoretical top speed of 121 mph. And with 340 Nm of torque the X-Trail will find favour with caravan owners and those who might need to tow a car trailer every now and again.
The car is quite unremarkable to drive, but that too could be a good selling point. It has no vices. Nobody will mistake this for a sporty performance runabout. It's solid and sensible.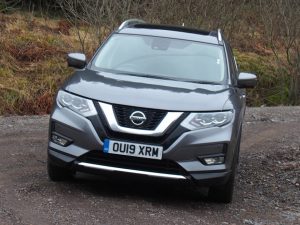 Where it does score highly is inside the cabin. This is a very well equipped family car with good business credentials. Naturally it comes with all the safety aids that you'd expect these days including ABS, EBD and Brake Assist, ESP and one of the most detestable devices invented by man (or woman?) the electronic handbrake! The Nissan parking brake is no worse than any other, it's just that I hate the damn things.
There is a whole array of cameras and electronics with functions to recognise traffic signals and detect lane departure, automatic braking if a pedestrian steps out in front of you plus blind spot warning and rear cross traffic alert. Added to that the front and rear parking sensors with Intelligent Park Assist will provide the cautious driver with even more confidence driving a large car.
Access to the large boot is by powered tailgate but it now has a hands-free option so that it can be opened by swiping the foot under the bumper if approaching with hands full of bags or boxes. Inside the boot the X-Trail employs Nissan's very handy Flexible Luggage Board System, which can create up to nine different configurations to stop all your groceries rolling about. There is also an underfloor compartment to hide valuables if you have to leave them in the car. And if you don't need such a big boot, but more room for weans, there is a 7 seat option for the X-Trail which is a £660 extra.
Ride quality on the move is more than acceptable with roll on the corners well controlled. There is no disconcerting heave on twisty roads if you are in a hurry and the suspension is well damped absorbing the worst of British roads with jar-free ease.
It's not an exciting car, but it's not a dull and boring car either. For domestic, leisure and business life it ticks all the boxes.
Give me one of these and I'd be perfectly happy.
Nissan X-Trail Tekna 1.7 dCi 150 4WD
Review Date: April 04, 2020
Price: £33,595 (as tested)
Engine: 1749cc, 4 cylinder turbo diesel with 148 bhp
Performance: 0-62 mph in 10.7 secs, flat out at 121 mph
Economy: 40.0 (combined)
CO2 emissions: 154 k/gm