… Mazda 2 GT Sport Nav …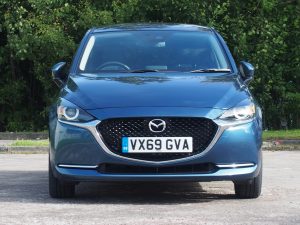 The latest refreshed Mazda 2 looks as good as ever, and smart enough to attract potential punters who may never have considered the marque before. What may deter them is the rather modest 89 bhp 1.5 litre turbo-less engine under the bonnet which however is more 'powerful' than the entry level 74 bhp version! On the other hand this offers up pretty impressive fuel economy for a petrol engine now that Mazda have dropped their diesel option.
Don't be fooled by the 'GT Sport Nav' description in the title either, this merely denotes a trim level , it's not an indicator of high speed and performance. However the type of people who will be drawn to this car will not be the 'weekend-away' trippers to Nice or Monaco, more the out of town retail park visitors and trips to the coast at weekends.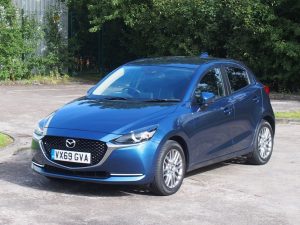 For these folk it's ideal. More than ideal in fact, given its economy. That's not to say it's slow. Admittedly it's not very quick compared to some of its rivals, but it's nippy enough and the 6 speed gearbox ticks away like a Swiss watch when changing gears. Allied to a very comfortable driving position, even for the 'overgrown' or 'overfed' human, this is an enjoyable car to drive.
Ride quality is on the firm side and there was a bit of 'bump and thump' feedback through the suspension on country roads which was surprising considering the car rode on 16 inch rims. Usually when fitted with 185/60 profile tyres (in this case Toyo Proxes) one would expect the taller sidewalls to help absorb some of the national roadworks' imperfections, but that is a minor complaint. On the plus side, the car is a hoot to drive on twisty roads, even in the wet. It's not 'over-tyred' for its modest power output which means the impressive grip levels match the performance.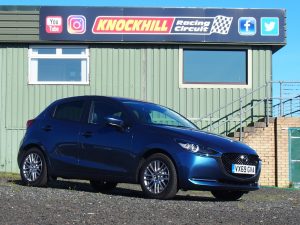 Generally ride quality is good and probably better once there is a bit more weight in the car, i.e. the driver plus one significant other.
The car is just as attractive inside with its heated front seats and leather trimmed steering wheel, a fact much appreciated on a cold day out with a raw east wind nipping naked fingers. Naked because it's difficult to use cameras with gloved hands! The occasion being a truck photoshoot at Knockhill, but at least the sun was shining – some of the time.
The cockpit itself is well designed and clutter-free. The single main dial in the binnacle is complemented by a heads-up display that comes into its own as night falls. When concentrating on the road ahead looking out for errant rutting dear it ensures you don't get carried away with yourself. And even if you did, there is of course Mazda's i-Activsense system with Advanced Smart City Brake Support (Front) and Lane-keep Assist to help keep you safe.
Otherwise, the centrally mounted dash-top 'tablet' touchscreen with its Android and Apple connectivity controls all the other functions that a driver and passengers will need.
Although not over-endowed under the bonnet, the new '2' certainly lives up to Mazda's slogan "small in size, big in fun" and on the quiet Kingdom of Fife roads it was indeed fun to drive on the way home as the seat warmed up the nether regions and the steering wheel returned feeling to numbed fingers.
The test car was priced at £18,340 but it had an attractive deep blue £540 metallic paint finish and although Mazda claims a Combined average fuel consumption of 53.3 mpg, I was getting 57 mpg+.
As it stands the Mazda 2 lacks just one thing – a proper hot-hatch GT version. It could certainly handle the extra power and put a bigger smile on your face. Happy days, eh?
Mazda 2 GT Sport Nav
Review Date: Sep 02, 2020
Price: £18,880 (as tested)
Engine: 1496cc, 4 cylinder petrol with 89 bhp
Performance: 0-62 mph in 9.7 secs, flat out at 114 mph
Economy: 53.3 mpg (combined)
CO2 emissions: 120 k/gm