… Volvo V90 Plug In Hybrid T6 AWD …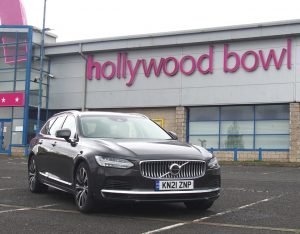 Motoring luxury can be defined in a five letter word – Volvo. Why spend a six figure sum in the pursuit of luxurious comfort when five figures will do the job perfectly comfortably? Of course there are other manufacturers in the five figure bracket but personally speaking, Volvo is the word that first comes to mind.
Of course ostentation, prestige and snobbery affect buying choices just as much as budget, fuel economy and reliability. Which is where the V90 comes in. The range starts from just over £40,000 and can rise to well over £60,000 depending on option choice.
These days fuel economy is difficult to predict, especially so in the case of Hybrids. It all depends on how such cars are used whether they turn out to be frugal or thirsty. High milers won't really benefit, but those whose use comprises mainly short local runs and reasonable commuting distances will notice a difference.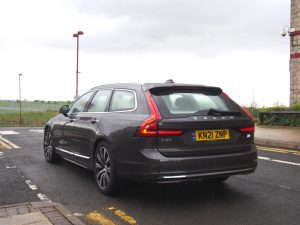 Having said that, the test car was the T6 version which has a 250 bhp turbocharged 2 litre petrol engine driving the front wheels plus an 87 hp electric motor on the rear axle. That makes this quite a quick machine and therefore possibly not the first choice of those seeking a more frugal mode of transport.
Even so, the electric range is around 35 miles, so school-runners and short distance commuters will make the best use of it, by charging it up fully at home then charging it again whilst at work for the return trip. The same applies at weekends although the petrol engine will extend the range. Use electric power as much as possible in urban locations and when looking for somewhere to park, try and find a spot where the car can be re-charged. There are numerous 'apps' available to help find such locations these days.
The car will start from rest in electric mode and depending on the state of battery charge, it will drive off on electric power before the petrol engine kicks in. This can be over-ridden by the driver if he or she selects 'Pure' mode and it'll run on electric power alone. That can be good for 78mph if needed and over 30 miles of driving.
In 'Power' mode when both engines are deployed, a 0 to 60 time of under 6 seconds can be achieved. Quite impressive for a 2 tonne machine!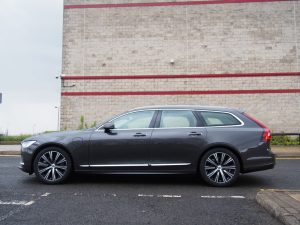 But don't get the idea this is a sports car. It's nearly the same length and width as a medium sized van, so out of town retail centre car parks are not favoured territory. Look for bigger car parking bays if at all possible.
Volvo have made good use of this size. This is as comfortable a continent crunching cruiser on the annual overseas motoring holiday as money can buy, and yet at the same time doubles up as a huge family hold-all the rest of the year. It's spacious, quiet and supremely comfortable. It's also tastefully finished inside with perforated and ventilated soft luxurious nappa leather seats. The driver's seat even has an extending bolster to suit the longer legged amongst us.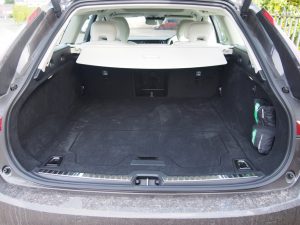 And whether you are heading to the Riviera for a two week luxury stay in the Grand-Hôtel du Cap-Ferrat with suitcases packed full of beach, leisure and sports kit plus evening wear and night club glitter, or the Camping au Vallon Rouge camp and caravan site carrying all of holiday life's self catering essentials, then just stick it in the boot. All of it. It's big enough not to worry about leaving anything behind.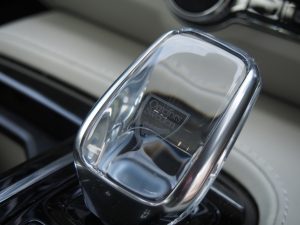 The 8 speed auto transmission doesn't like to be rushed, so sit back and go with the flow enjoying the superb Harman Kardon sound system. Real music (!) fans will enjoy (insert personal preference here – ) having a quartet of 'Tina Turners' inside the car, in front, beside and behind you, but keep the volume down when driving through built-up, residential areas.
The one thing I don't care for, and it's not just Volvo, is the desire to have all, or at least most, functions accessible only through a centrally mounted touchscreen. This can be very distracting to the extent that my partner will not attempt to touch anything in case she hits the wrong 'button' which means I just have to leave things as they are till I stop.
The range of options in the Volvo system can be quite bewildering and although most often used functions will become easier with use and familiarity, I still don't like them. Give me an array of switches and dials which can be operated by any size of fingers, whether gloved or not, and I'll be content.
No doubt the double jointed thumb generation will be horrified at the thought, but then they'll soon be passengers in fully autonomous, self driving cars anyway and it's only us auld gits who will long for the days of gearsticks, clutches and flick switches.
Having said that, sit in that sumptuous driver's seat behind that two tone leather rimmed steering wheel with the Orrefors glass topped shift lever and I'll be as happy as a banker at bonus time – although less guilt ridden!
Volvo V90 Plug In Hybrid T6 AWD
Review Date: 02 June 2021
Price: £61,140 (as tested)
Engine: 1969cc, 4 cylinder turbo petrol/electric with 250bhp/87hp
Performance: 0-62 mph in 5.9 secs, flat out at 112 mph
Economy: Up to 134 mpg (at best)
CO2 emissions: 47-61 g/km
[Back to Top]