Jaguar F Type 300PS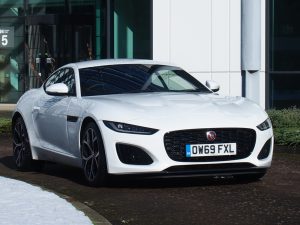 Jaguar has given its F-Type sports car a mid life refresh, but they've gone a step further. A new and slightly bigger front grille with slim pixel LED headlights mark the biggest outward differences, but under the bonnet they have installed a 4 cylinder engine where a V6 or V8 usually resides.
In fact, the 3 litre V6 unit has been dropped from the range and replaced by a 296bhp 2 litre twin-scroll turbocharged Ingenium unit. Slower? Not a bit of it. It can accelerate from 0-60mph in only 5.4 seconds and go on to 155mph. Quieter? Not really, but it does sound different. Whether the thrum of a four cylinder can replace the intoxicating melody of a V6 is a matter of personal taste.
There is no doubting the performance though. It is seriously quick. Perhaps the 130kg weight difference between it and the V8 helps, and that might also make it just a touch more nimble especially on the turn-in, but that would need a track test (or closed road!) to assess the difference.
Less comfortable? Of course not, it's a Jaguar. The interior has also been refreshed with new slim line seats and a larger touchscreen panel on the dash, but it's still seductively swathed in leather. This is a car for cruising, but such is the luxurious ambience you might not want to get out when you get there. Some folk would just be perfectly happy to sit there basking in one of the finest motoring cabins, before the drive back.
There is yet one difference which might just make it more attractive. It's around 10, 20 or even 30 thousand pounds (depending on spec) less expensive than the V8 models.
In fact entry to the F-Type club starts from around £54,000. If that pitches it into the realms of personal affordability then there is one more sugar lump to sweeten the deal, fuel economy. That might be an odd thing to consider when contemplating the purchase of a Jaguar, but given these straitened times in which we live, an average 35mpg might just add its own fiscal appeal. Or put it another way, it's much less of a selfish guilty pleasure than a 5 litre V8.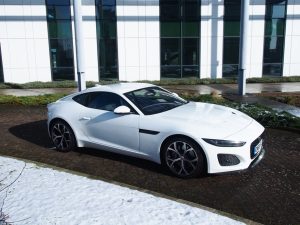 When it comes to driving the car, Jaguar have incorporated lessons learned and feedback received from 7 years of building and refining F-Types.
On the road, the eight-speed Quickshift transmission is as quick as the name suggests but still offers full manual control using either the SportShift gear selector or the steering wheel-mounted paddles. Coupled with the rack and pinion electro mechanical responsive steering and improved brakes, the car does everything you'd expect the F-Type to do.
The electronic active differential further optimises traction and helps to put the power down even when the roads are wet and slippery. Opting to use the Rain, Ice or Snow modes in the transmission also allows the driver to make full use of the throttle and the grip from the 255/35 front and 295/30 rear Pirelli P Zero 19 inch tyres. Ride quality is impressive from the double wishbone front and rear suspension. Even Britain's notorious road surfaces failed to put the Jag off line on a quick burst across country, emphasising the fact that this is indeed a 'sports' car even if it lacks a few expected cylinders.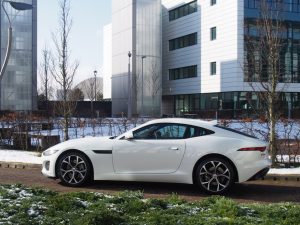 Inside the car, the electronickery isn't lacking either. Apart from the expected quality (Meridian) sound system with Bluetooth, DAB radio, Smartphone pack and SatNav, it comes with all the 'safety' aids you'd expect from a quality car manufacturer including Driver Condition Monitor, front and rear parking aids, rear camera and Traffic Sign recognition with Adaptive Speed Limiter. Especially for those who might get carried away with the performance!
If you can't justify the V8 then this new straight 4 is well worth trying. You won't be disappointed – it even has an active sports exhaust.
The only drawback? It just doesn't make the same music as a V8.
Review Date: March 01, 2020
Price: £60,425 (as tested)
Engine: 1997cc, 4 cylinder turbo petrol with 296 bhp
Performance: 0-62 mph in 5.4 secs, flat out at 155 mph
Economy: 35.0 mpg (combined)
CO2 emissions: 184 k/gm
[Back to Top]