… Mercedes-Benz 'Vision Van' …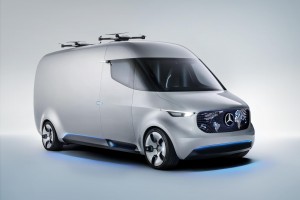 With over 31 million cars currently on British roads and just over 4 million vans, it's no wonder that the great British public are more interested in personal transport than the transport of goods. Vans are just another obstacle on our crowded roads, while van drivers are universally acknowledged to be male chauvinist, leering and lechering bullies. That of course is not true. A bad driver is a bad driver regardless of vehicle, be it a pedal cycle or 44 tonne truck.
Anyway, back to vans. Just as autonomous cars are generating great interest in the personal transport world, so light commercial vehicles and their purposes are undergoing similar degrees of scrutiny unbeknownst to the everyday road user.
It's not only a future with driverless cars that we can look forward to, there will also be driverless vans and trucks. But if there are no drivers who is going to lug the stuff out of the back and carry it to your front door? Amongst those manufacturers thinking about this are Mercedes-Benz.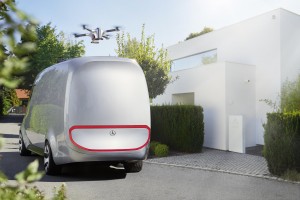 Their latest concept explores this notion and has come up with a few ideas, some of which might just have a rally service van application!
Although it looks kind of familiar on the outside, the Mercedes-Benz 'Vision Van' has a few tricks up its sleeve and on the roof.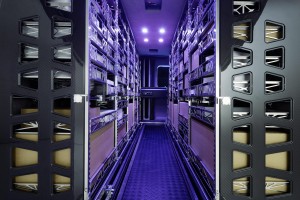 It features a fully automated load compartment, integrated drones for autonomous air deliveries and a state-of-the-art joystick control. Powered by a 75 kW electric drive system with a range of up to 168 miles, deliveries can be made emission-free and virtually silent. Combining cloud-based control software with optimised hardware the process is designed offer flexibility for last-mile delivery services.
The vehicle can also communicate with other road users via the Black Panel radiator grille with LED matrix and an LED display integrated in the rear end, which warns them when the vehicle is stopping, turning or releasing drones. It also indicates road users when the vehicle is parked for a prolonged period and can thus be overtaken.
Currently, the Vision Van concept still requires a driver who will be provided with all relevant information, such as speed, route planning information or drone flight details, via the dashboard, which takes the form of a broadly sweeping arc covered with a premium textile.
Additional information is provided to the parcel deliverer via the floor. LED indicators in the stainless steel floor can signal whether any pedestrians or cyclists are approaching. At the rear wall of the driver's cab, next to the package dispenser, is an info terminal that serves as a means of communication for the Vision Van's autonomously functioning integrated systems. It also performs the role of a central control unit to connect the intelligent vehicle, the automated systems and information relating to the individual delivery orders to be carried out.
The driver is also continuously provided with information relating to manual delivery operations by means of a smartwatch. The watch displays various data, such as the delivery address, input codes for electronic locking systems and, if necessary, secure places in which the consignment concerned can be deposited. Customers will be able to benefit from new delivery options, such as same-day delivery and time-definite delivery and will be able to adapt deliveries to their needs, rescheduling the delivery time.
Taking this a stage further, Mercedes-Benz Vans are cooperating with Starship Technologies, an innovative delivery robot start-up company, which will transform the van into a mobile goods depot and a distribution centre for automated last-mile delivery systems. The van becomes the basis of a new type of delivery system combining a high range with low infrastructure costs.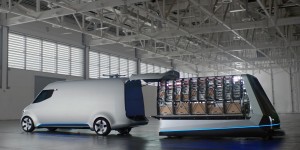 This solution incorporates a racking system which operates according to the first-in, first-out principle. The rack is loaded with a total of 54 load carriers for eight Starship robots. An algorithm calculates a route for the van with optimised stops for unloading individual robots and for collecting empty robots. The robots are loaded at predefined stops. They then proceed autonomously to the delivery destination and return to the van – their mobile hub – at one of the subsequent stops.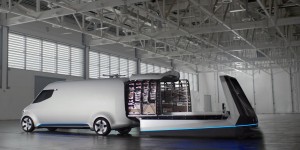 Such racking systems can be pre-loaded at the factory or depot with the whole module being slid into the back when the empty unit is taken out.
Naturally this will require a lot of logistics planning, but rally crews are already well versed in this. They know what spares to carry and can fit them in to the various sized containers in the racks. Of course, the drone won't be able to carry axles and suspension units but these are early days.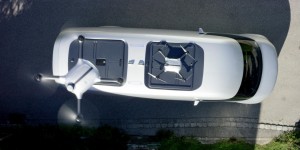 One can imagine the WRC teams being first to adopt such technology. If a car breaks down on rally route and requires some specialist ECUs or other smaller parts, they can be flown from the central Service Park to the crews along with instructions for fitting! Thinks back to Ott Tanak on the Monte with his sick Fiesta. Who knows? There could be a need to ship medicines and first aid equipment to remote areas, or even sandwiches and fruit juice to stranded crews.
Far-fetched? Of course it is, but the technology is already here. Just one wee problem. Cloud based internet technology. I can just imagine the whole idea crashing about their ears on Mull when the phone signal disappears. That's the first thing that has to be sorted.
And you thought World Rally Cars were technically advanced.