… Launch Report – New Iveco Daily …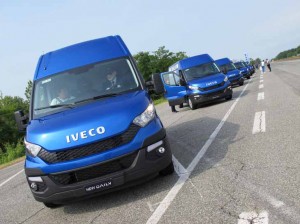 The Iveco Daily has long been regarded as the heavyweight amongst vans. That was down to its truck-like 'box-on-frame' construction and the fact that it drove more like a truck than a van. In some respects, this latest Iveco Daily carries on that tradition. It still relies on a ladder frame from which the mechanical components are hung or mounted, and on top of which the body is bolted. However, the end result this time is rather different. It looks much more handsome, it's comfortable inside and it drives well. Even more important, the payload is now a match for any rear wheel drive 3.5t van and for those who want to carry more, it has that capacity too.
The improved payload is primarily due to the new design of key components plus new chassis and bodywork construction methods. Even though this third version of the Daily is unmistakably Iveco, 80% of the vehicle is brand new.
On the 3.5t vans there is a completely new double wishbone front suspension with transverse spring mated up to an equally new rear axle arrangement mounted on longitudinal springs. This has also allowed a lower loadfloor to be fitted. Longer wheelbases have also been introduced and the result is a much more stable and comfortable vehicle to drive.
For the bigger vans and twin rear wheel derivatives, the maximum GVW permits a payload of up to 4 tonnes depending on specification.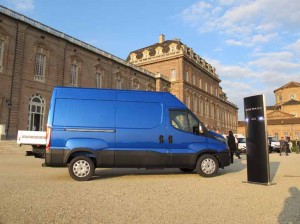 The other good news is that all Dailys are rear wheel drive. No 'woosy' front wheel drive vans here. If you want a heavyweight to tow a big trailer, this will be hard to beat.
To cope with the huge variety of body sizes, new longer wheelbase lengths and improved carrying capacity, Iveco has introduced a range of nine Multijet engines, all with six speed gearboxes, but has yet to confirm if all variations will be available in the UK market.
Depending on what the van will be used for, buyers can choose between two basic four cylinder configurations, a 2.3 litre unit with 106, 126 or 146 hp each producing 270, 320 or 350 Nm of torque. For those with heavier duties in mind, especially towing, the 3 litre units will be preferred, offering power outputs of 146 (350 Nm), 170 (430) or a twin turbo 205 hp unit pumping out 470 Nm of torque.
Naturally these latest engines are more fuel efficient than the outgoing versions offering reduced emissions and up to 5.5% better fuel economy.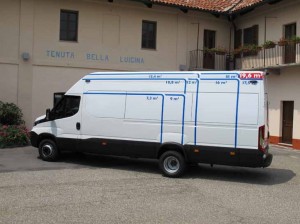 The loadbox has come in for a similar degree of attention with volume capacities ranging from 7.3 cu.m to a massive 19.6 cu.m including a 'new' 10.8 cu.m mid range model which is likely to be popular in the UK market.
Apart from the new-look exterior design, most noticeable and pleasing to Daily drivers will be the new cab. The previous utilitarian look and feel has been replaced by an almost sumptuous cabin. The three seats are supportive and comfortable, the driving position with height and reach adjustable steering column will accommodate all sizes, and shapes (!), of driver in comfort and there is an array of storage options in the doors, under the seats and above the windscreen. Best of all are three lidded compartments across the full width of the top of dashboard. The centre seat folds down to reveal a desktop fitting with a removable clipboard.
What Iveco has done is widen the appeal of the Daily and increased its desirability. It has also blurred the distinction between the previous perception of this being a van for truckers, or a truck for van drivers.
But perhaps the best news is that all of this comes with no increase in price over the old model. Prices start from £25,440 (plus £5088 VAT) and comes with a 3 year unlimited mileage Warranty which is pretty good for an LCV!
**