… Iveco Daily 4100L …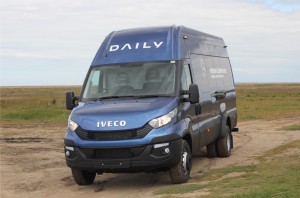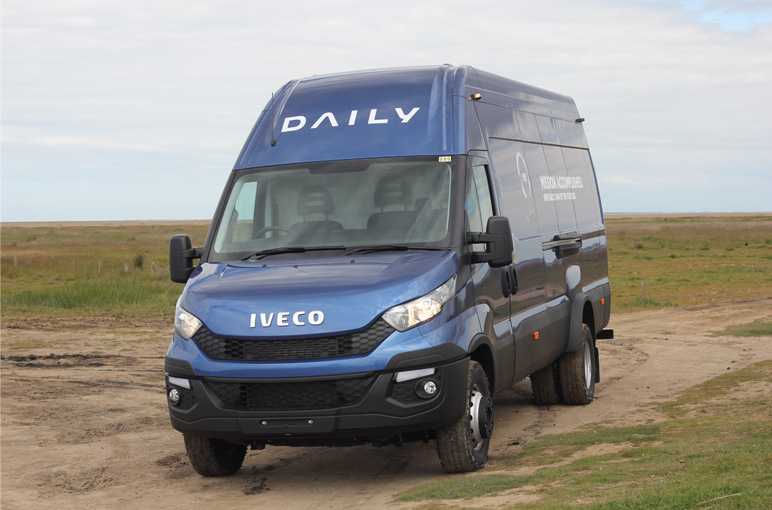 It used to be said that the Iveco Daily was a van for truck drivers, or a truck for van drivers. That's because it was regarded as a sort of 'middleweight' between light vans and heavy trucks. On that basis, fleet buyers appreciated its truck-like 'box-on-frame' construction which meant that many Iveco Daily chassis were destined for tipper, dropside and 'blue light'/rescue service duties.
The standard van was therefore regarded as more of a workhorse than a racehorse for everyday use, often used as bulk carriers and mobile workshops, but that was all a bit misleading. Hearsay is one thing, fact is quite different.
A couple of years back I drove an Iveco Daily over some of the Alpine passes in northern Italy where Michael Caine drove a bus loaded with gold bullion in the original 'Italian Job'. This included some 'stepped' hairpin turns where the elevation change was such that a wide cut had to be taken on the corners otherwise the vehicle, including many small cars, would have beached on the bump on the inside line.
Apart from ensuring that nothing was coming the other way, I encountered no problems and no discomfort. Unobtrusive in normal road use, the power steering made progress effortless swinging from one hairpin to the next, while the brakes ensured that the descents were equally confidence inspiring.
After three days of that I stepped out of the vehicle fresh as a daisy. This was no truck. This was a big and comfortable van, and this latest generation has moved the game on a good step further.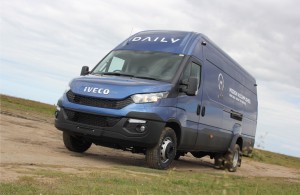 The latest model Daily is instantly recognisable by its wide grille and clamshell bonnet but looks very similar from the side and rear although the bodywork has been re-designed and incorporates new pressings. It is still impressively big with the new 4100L model offering a best in class load volume of 19.6cu.m with a floor length of over 5 metres! In fact it's big enough to swallow another ordinary service van – well nearly.
Internally, this biggest van of the range offers a roof height of 2100mm which ensures that even big blokes with hard hats can wander around inside without scraping the paintwork. And if you think your bathroom has great acoustics for singing, you could host a Welsh male voice choir in here when their church hall is being refurbished.
The new cab is a triumph too. The previous version was the most comfortable yet, but here again Iveco has moved the game on with a cab and comfort that are a match for any other large van out there. The standard seats are good and perhaps the spring-suspended driver's seat option will only be required for the AWD versions on cross country terrain. Aside from the comfort, the cab is entirely functional with plenty of storage under hinged dash top covers plus storage ahead of the passenger and in the lower central console plus huge pockets in the doors.
There is a 'desk-top' option whereby the centre passenger seat-back folds down to reveal a clipboard, and here the Iveco designers have excelled themselves. The clipboard can be unclipped from the seat and clipped on to the steering wheel. Only to be used when the van is parked, it's a bit gimmicky for personal taste, but it might just suit the paperwork shufflers.
Under the bonnet there is a choice of engines with three light duty 2.3 litre engines offering 106, 126 or 146hp or a 3 litre heavy duty unit which comes with a choice of 146 or 170hp, or the ultimate, twin turbo job with 205hp. The test vehicle had the 3 litre, 4 cylinder, 170 hp unit with the standard 6 speed manual gearbox and had the optional twin rear wheel axle running in 7 tonne GVW trim.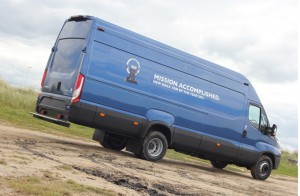 There were a couple of villages and tight turns on the Lancashire route where it might have been easy to be intimidated by such a tall and long vehicle but apart from remembering there was nearly two and half metres of van sticking out beyond the rear wheels, driving it was a doddle. The controls and pedals are light and the steering too. Visibility is good aided by large mirrors but the driver still needs to be wary of the 'swing-out- at tight corners and junctions otherwise they could wipe the pavements clear of rubbish bins and road signs!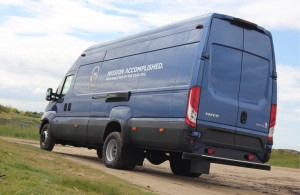 Iveco has also managed to take most of the sting out of the rear leaf springs when running empty so the driver and passengers are not jolted around, but coupled with the torsion bar front suspension ride quality is good and even better when running loaded.
It looks a beast of a big van but like any Disney character, this is a good natured beast – and almost cuddly! As a big service van it is almost unequalled, but just be wary of single-track roads – very wary.
Note: If you are intending to run commercial vehicles over 3.5t MAM and towing heavy trailers then you'll need to look at the issue of drivers with the correct licence grade and the need to use a tachograph.
Review Date:

August 19, 2015

Price

Engine

Power

Transmission

Wheel Base

Overall Length

Overall width

Loadfloor length

Loadspace width

Loadspace height

Loadfloor from ground

Payload

Kerb weight/GVW

GTM