Ford Transit Connect Sport
When Ford Motor Company introduced the Transit van 55 years ago this year, it had a radical impact on the light commercial vehicle market. That was down to one feature in particular. The load floor behind the seats was long enough and wide enough – between the wheel arches – to accommodate 8×4 sheets of plasterboard or plywood flat on the floor. Back then this was one of those light bulb moments: "Why didn't anyone think of this before?" It was such a simple idea.
That alone endeared the new vehicle to tradesmen and all sorts of companies right across the country – before the nation's bank robbers got in on the act, discovering this was the ideal getaway vehicle for the 'big' jobs!
Since then, the Ford Transit has continued to dominate the UK market and the new Transit Connect continues that tradition. For a 'compact' van, it has ambitions beyond its capacity. Whereas the Transit Custom can easily accommodate those same 8×4 sheets flat on the floor, the Connect can't quite manage it, and yet for the smaller business tradesman who might only require 3 or 4 sheets for a job, they can be accommodated.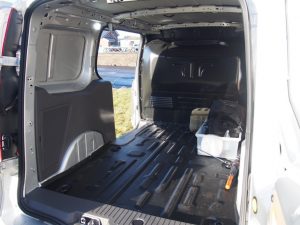 There is sufficient length between the top of the forward bulkhead to the bottom of the back doors for a few panels to be carried inside at an angle. A bit of a kerfuffle to load them that way unless you get help, but eminently possible. Job done.
For folk who don't a need a bigger van on a regular basis, this is ideal. There is a saying in the van fleet industry – 'Don't buy a bigger van than you need'! Bigger vans mean higher running costs so don't be greedy.
There are in fact two sizes of Connect. The standard 'L1' has a loadfloor length of 1753 mm (69 inches) while the 'L2' has 2153 mm (84 inches) and the internal width is 1538 mm, a full five feet. Payload capacity ranges from 520-890 kg depending on spec.
Unlike its bigger brother the Custom, the Connect is strictly a two-seater, unless you go for the 'cab-in-van' option which adds a second row of three seats but at the expense of load volume. The upgraded cabin features a new instrument panel and central control area that incorporates a centrally mounted tablet-inspired 6 inch colour touchscreen on high series models. This incorporates Ford's SYNC 3 communications and entertainment system. New trim materials provide a stylish and hard-wearing practical environment to reward any hard working van driver.
Naturally there is a comprehensive range of driver assistance features including Intelligent Speed Limiter, Pre-Collision Assist with Pedestrian Detection emergency braking system, Side Wind Stabilisation, and Active Park Assist that helps to steer the vehicle into both parallel and perpendicular parking spaces.
The powertrain line-up provides either Ford's 1.5 litre EcoBlue diesel engine (74, 99 or 118 bhp) or a 1.0 litre EcoBoost (99 bhp) petrol engine which includes cylinder deactivation, enabling the engine to run on two cylinders at low loads, to reduce pumping losses and further improve fuel-efficiency.
An upgraded six-speed manual transmission is standard although the 1.5 litre EcoBlue engine can also be specified with an advanced new eight-speed automatic transmission.
To minimise overall cost of ownership, service intervals have been extended on both diesel and petrol variants, with manual diesel vehicles now offering best-in-class variable intervals of up to 2 years/40,000 km (25,000 miles). The longer service intervals contribute to scheduled maintenance and non-scheduled repair costs that are significantly lower than the primary competition, according to Ford analysis.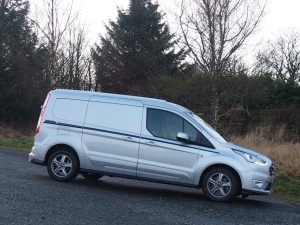 As for driving the thing, given the comfort and Ford's well-known commitment to driving pleasure, any driver will quickly forget that there is a nothing but a big box behind the bulkhead – unless the tools haven't been tied down! It's easy to get carried away, it's so tactile to drive.
Then we come to cost. Trouble is, there is no such thing as a cheap van any more. Trades and business folk and their staff like a bit of comfort in life and like to be appreciated, hence the comfortable well-equipped cabin. Also, safety isn't cheap either and NCAP requirements these days ensure that adequate crash protection is built in which also adds weight and expense.
It's all so different from the first Transit which had a single driver's seat on a pedestal, a single binnacle mounted on the metal dash panel, no insulation and no bulkhead. Life was much simpler then – and much cheaper!
To put a new Ford Transit Connect Sport L2 on the road will cost around £26,000 at retail prices, although the base models start from under £20,000. Trouble is, if you drive the well-equipped Sport and Trend versions, you'll want one!
I know I do.
Ford Transit Connect Sport L2, 1.5 EcoBlue
Review Date: Jan 08, 2020
Price: £26,166 (as tested)
Engine: 1499cc, 4 cylinder turbo diesel with 118 bhp
Economy: 56.5 mpg (combined)
CO2 emissions: 130 k/gm
Load Length: 2153 mm
Load Width: 1538 mm
Load Height: 1269 mm
Load Volume: 3600 ltrs
Payload: 833 Kgs
[Back to Top]