… New Mercedes-Benz Sprinter …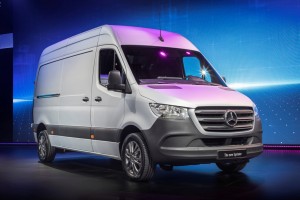 It's over 20 years since the Mercedes-Benz Sprinter hit the road and the latest generation is due to be launched later this year. Outwardly this third generation vehicle it may look very similar to the current van but underneath the skin and inside the cab there are big changes.
Perhaps the biggest change will be the introduction of front wheel drive to add to the rear wheel and four wheel drive line-up and give all drivers and fleet operators a real choice. There is also a new electrically powered eSprinter van in the line-up, but it won't be seen till next year.
When you take into account the new FWD option and add it to the mix of Panel van, Tourer, pickup, chassis and minibus body styles plus cab designs, variable body lengths, tonnages, load compartment heights and equipment features plus engines, Mercedes-Benz reckon more than
1,700 different versions can be configured as a result.
There will be a choice of four 2.1 litre diesel engines – 114 hp, 143 hp or 163 hp in the RWD vans, and – 114 hp, 143 hp or 177 hp for the FWD vans. The big advantage of the FWD configuration is that payload will increase by 50kgs as a result of having no driven rear axle.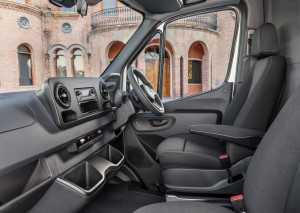 M-B has another trick up its sleeve to increase payload with optional glass-fibre reinforced plastic (GRP) leaf springs in place of the standard steel springs at the rear. That could increase payload by another 12 kgs, plus they are also corrosion-free!
Payload for the standard 3.5t panel van will start from1.5t depending on final spec. but there will also be a 5.5t van on the list with either twin rear wheels or super singles with a payload of up to 2350kgs.
If you need more power, there will still be a V6 in the range, primarily for blue-light duty, but available for those who just like the power and thrum of a 3 litre 190 hp diesel.
And if you really want to cut down on driver effort, there is a new 9 speed automatic 'box as opposed to the manual 6 speed unit but this will only be available on the FWD vans.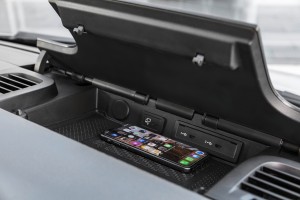 Apart from the brand new-look inside the cabin, the interior improvements include new ergonomically shaped seats, keyless start and an improved air conditioning system. A variable stowage concept ensures that everything has its place.
Mercedes-Benz Vans also raises the Sprinter segment to a new level where safety features are concerned. The assistance systems available for the new Sprinter include reversing camera showing its image in the rear-view mirror, a modern Parking package with a 360-degree view, a rain sensor and wiper with an integrated Wet Wiper system to ensure optimum visibility even during the wiping process.
Comprehensive internet connectivity is one of the most important new features. The new, networked services of Mercedes PRO connect combined with the completely new
MBUX multimedia systems (Mercedes-Benz User Experience) provide the perfect basis for all logistical and transport requirements.
This will be of benefit to small company fleets as well as addressing the complex management needs of a large fleet. Mercedes PRO connect links the fleet manager with all the vehicles and drivers. This enables assignments to be managed online, and vehicle information such as location, fuel level or maintenance intervals to be retrieved almost in real time.
Eight packages will be available ex factory with central fleet, vehicle, driver and location-based services to be introduced on the market launch of Mercedes PRO connect. These include Vehicle Supervision, Vehicle Operations, Fleet Communication, Maintenance Management and a digital Driver's Logbook.