… Ford Tourneo Custom …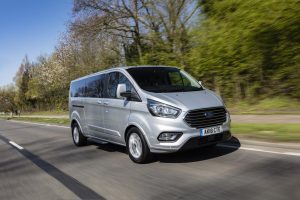 On the basis that you have to be careful what you wish for, Europe's governments will have to think more carefully. It would appear that in their desire to demonise diesel, sales of petrol engined vehicles have soared. Since 2007, CO2 emissions have been dropping as diesel engines have become cleaner, but over the past two years, emission levels are on the increase again. This is due primarily to the reduced demand for diesel and an increase in demand for petrol engines.
You just can't win can you? On the other hand, this is a fight we must win for the future of our children and the planet. So whilst politicians pontificate, the world's automotive industry are doing their bit. Until we can invent a pollution-free transport source, the internal combustion engine will continue to be a play a vital role in modern society.
On the basis that many a muckle makes a mickle, even small improvements in the efficiency of such engines can make a measurable impact on air quality. To that end Ford are to introduce a new EcoBlue Hybrid powertrain to its Ford Tourneo Custom people-mover. No doubt this will also be available on more commercial vehicles in due course.
This new Tourneo Custom will deliver up to a six per cent improvement in fuel efficiency for reduced running costs. Ford has also added a new 185PS variant to its existing 105 and 130PS models.
It will also be the first vehicle in its class to offer 48 volt mild-hybrid technology to further reduce fuel costs for owners and operators.
Improvements to the 2 litre EcoBlue Euro-6 diesel engine includes a revised low-inertia turbocharger design that helps deliver a broader spread of power across a wider rpm range and a fuel-injection system that increases peak pressure to 2,200 bar which helps to achieve more efficient combustion.
The Hybrid 48-volt mild hybrid technology system utilises a belt-driven integrated starter/generator (BISG) which replaces the standard alternator, enabling recovery and storage of energy during vehicle decelerations, and charging a 48-volt lithium-ion air-cooled battery pack. The BISG also acts as a motor, using the stored energy to provide torque assistance to the engine under normal driving and acceleration, as well as running the vehicle's electrical ancillaries.
The EcoBlue Hybrid's advanced Auto Start-Stop technology operates in more situations, including when the vehicle is stationary in gear, and when the vehicle is coasting to a stop. The driver can adjust the coasting speed at which Auto Start-Stop operates, between 7mph and 12mph.
All Tourneo Custom powertrains also benefit from a selectable ECO Mode to further reduce fuel consumption.
Adding to the package, FordPass Connect on-board modem technology is introduced, turning the (up to 9 seat) Tourneo Custom into a WiFi hotspot for up to 10 devices, while advanced new technology features help drivers park, tow, prevent collisions and even avoid speeding fines!
Driver assistance technologies offered for the first time to Tourneo Custom drivers include a Blind Spot Information System with Trailer Tow system, featuring an extended blind spot zone that covers the vehicle plus a trailer of up to 10 metres in length and Adaptive Cruise Control with Intelligent Speed Limiter, which combines the functionality of Traffic Sign Recognition and Adaptive Cruise Control to help drivers stay within legal speed limits.
It also has a Lane-Keeping Aid, Active Park Assist and Pre-Collision Assist with Pedestrian Detection.
The new Tourneo Custom will be available mid year with prices yet to be announced.