… Ford Ranger Wildtrak 3.2 TDCi …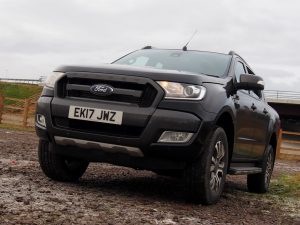 Sitting on its 18 inch rims, the latest Ford Ranger is bigger, bolder and badder than ever. And when it comes dressed in a shade of Panther Black from front grille to rear bumper, it looks quite a beast of a thing. The titanium finished door and tailgate handles don't really do much to lift the effect and the result is a ride worthy of Satan himself. Maybe that's why I like it so much. You won't lose this in a retail car park!
Matching the looks is the evil lump under the bonnet. A 197 bhp 3.2 litre 5 cylinder diesel provides oodles of torque and a soundtrack to match. What's not to love? And it will tow 3.5 tonnes.
Perhaps more surprising is the fact that it can be as docile as you like to drive. Ride quality is on the acceptable side of firm and bouncey with the dampers taking much of the sting out of bumps and jolts. However, get some weight in the back, and it smooths out like icing on a Greggs Belgian bun.
It would however be a mistake to try and compare this to a luxury SUV. This is a work truck disguised as a leisure vehicle. To the less mechanically sympathetic it will be regarded as noisy, but to those of us blessed with an appreciation of all things mechanical, this sounds better than Michael Buble. Sad, I know, but who cares? The only thing that would improve it is a straight through exhaust.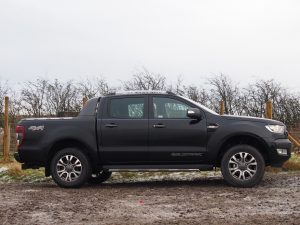 Although it's a double cab, the rear seat occupants won't thank you after a long journey especially if their physical size matches the pickup's bulk, but for most folks it will be adequate for shorter journeys.
That apart, the interior of the top of the range Wildtrak is more than a match for any luxury SUV. It's got an 8 inch touchscreen in the centre of the dash managing the infotainment facilities and includes Ford's SYNC 3 with Voice control, Bluetooth, Apple/Android/Applink and USB connectivity. There's even a choice of seven ambient interior lighting colours. So the technophobes won't go a-wanting.
It's also got a deep coolbox under the central armrest and a leather rimmed multi-function steering wheel.
The rear parking sensors are complemented by a camera which is no bad thing as the rear view out the back window is limited by the height of the truckbed. Inside the cab there is a 230v Inverter socket and an additional 12v power socket in the rear loadbed, so it's ready for work, rest and play.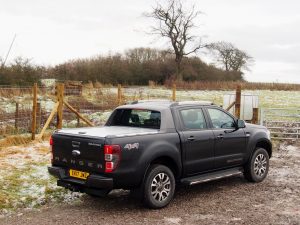 The tow-bar with fitted electrics is a reasonable 300 quid extra while a lockable roll-top cover over the loadbed is another £1380, but for that money I would like it to be less fiddly top operate.
On the move, the six speed -box provides a constant source of aural automotive entertainment. Even with 3.2 litres, the Wildtrak will never be classed as quick, but once on the move, the torque and the power makes quick work of passing slower vehicles, as long as you plan ahead and use the 'box.
Off-road the beast comes into its own in seemingly unstoppable fashion. Electronics manage the AWD functions with Traction Control, 'shift-on-the-fly' and high/low range selection. Just point it and go for it.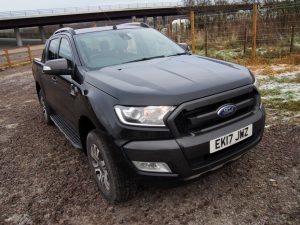 The test machine had road, rather than off-road, biased Continental Cross Contact 265/60 tyres and that was it's only limitation. Fine under most conditions, but when it got snowy and icy, over-confidence could put the driver in trouble, even with 4WD.
As a desirable a vehicle, it's pretty close to the top of my list. The only thing I would change is the tyres, and then really, the world is your oyster – or in this case, mountain, bog or sandy beach.
Review Date:

January 3, 2018

Price

Engine

Power

Transmission

Wheel Base

Overall Length

Overall width

Loadfloor length

Loadspace width

Loadspace height

Payload

Kerb weight/GVW

Towing Capacity