… Isuzu D-Max Blade …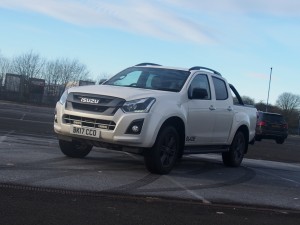 Shockarooney! I thought I was in the wrong vehicle. Carpets, leather, heated seats, touchscreen panel, phone and music connectivity, roof mounted sun glasses holder and push button starter. Then I fired it up. Nope, it was an Isuzu D-Max right enough. If this truck was a cup of tea it would be neither Earl Grey or Lapsang souchong, this would be a tin mug of proper builder's tea.
All the luxury fittings and refinement, chromework and 18 inch alloys cannot disguise the fact that this is a working truck, albeit in smart clothes. And as long as you bear that in mind, you won't be disappointed.
Most major manufacturers have a pick-up in their range these days, although most have opted for the 'lifestyle vehicle' approach pitching their vehicles at horse box and caravan towers as well as surfers and downhill mountain biking lunatics. But if these people think they are going to get the same quality of ride comfort as a large SUV they need to think again. Anything with cart springs on the rear is always going to offer a compromise between carrying capacity and comfort.
That's why I love the Isuzu. This is a serious working truck brought up to modern day business expectations. They still produce the basic, rubber matted, steel wheeled work trucks for construction sites and farmers, but like everyone else, they are trying to broaden the appeal of the D-Max range. That's why this one comes with so many additional creature comforts.
It won't be to everyone's taste. It's noisy, slow and quite bumpy on the move. If you can live with that then you're half way there.
The other half of the likeability equation is the engine. Isuzu makes, and has made for over 40 years, exceedingly good diesel engines. OK, so it's noisy, but when you can hear it you know it's working. The previous 2.5 litre engine offered a driver the reassurance that whatever was on the horizon, the Isuzu wouldn't stop till it got there, and then bring you back again.
However, this was the new 1.9 litre job and yet the four cylinder beat was just as confidence inspiring as the old one. Sadly I didn't have it long enough to find out, but with a towing capacity of 3500 kgs, Isuzu obviously think it can do the same job.
Noise is a relative term. When the engine is warm, it is audible but perfectly acceptable, although noise levels do increase when the engine is working hard. For some folk out there, me included, the beat of a diesel is just as aurally attractive as a BDA or a Cosworth V8. No accounting for taste, eh?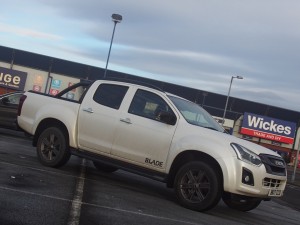 That pleasure starts with a smile. When you first clamber aboard, there is a wee panel between the circular rev counter and speedo which displays the unusual terminology: "Step to the Brake". That means the driver has to depress the brake pedal before pressing the 'Starter' button itself. The initial pleasure now increases as the engine clatters into life. Sad, but I love it.
The test vehicle had the 6 speed automatic 'box and whilst I prefer a manual in this type of vehicle, the auto 'box did the job smoothly and efficiently. Just don't expect any tyre smoking starts, and plan any overtaking manoeuvres well in advance. What you get is a leisurely drive and if you don't have any weight in the pick-up bed the ride can be quite lively over rough and uneven surfaces. It's not to everyone's taste, so make sure you drive it before you buy it.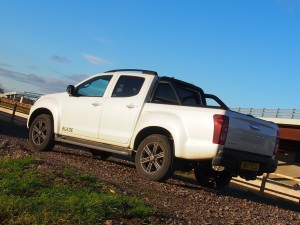 As for me, would I have one? Damn right. I love its honesty. Yes, it has been pimped up a wee bit with a few added styling tweaks and internal creature comforts, but at heart it is still a working truck. And yes, the ride can be a bit wearing on a long-ish drive but the vehicle not claiming to be something it isn't. It's only when I'm in a bad mood that I notice it!
The price for the basic single cab 4×4 work truck with the same engine and 2WD/4WD drivetrain will set you back around 18 grand, but there are extended cab (more space behind the two front seats) and double cab (full four seater) options and these get more expensive as you go down the Options List.
There are Eiger, Yukon, Utah and Arctic models with different levels of spec, but the test machine was the Blade version which has SatNav, DAB digital radio, leather upholstery, heated front seats, rear parking sensors, automatic air-conditioning, Apple CarPlay and Android Auto, tinted windows, puddle lamps, front parking sensors, a 9″ touchscreen, tailgate locking and either an Aeroklas canopy or a sports bar, although this one had the sports bar and a lockable MountainTop roll-top deck cover.
Despite all that, it's not a luxury car. It's a working truck with luxuries. There's a difference. Call me sad, mad or bad, or all three. I don't care, it makes me chuckle every time I drive it.
Review Date:

December 12, 2017

Price

Engine

Power

Transmission

Wheel Base

Overall Length

Overall width

Payload

Kerb weight/GVW

Towing Capacity