… SsangYong Musso Pickup …
It will be reasonably priced, carry a full one tonne payload and can tow up to 3.5 tonnes. As far as motorsports folk are concerned that's just about all you will care about. Everything else is a bonus, like plenty of room for 4/5 inside the double cab and ride quality that's on a par with the best and better than others.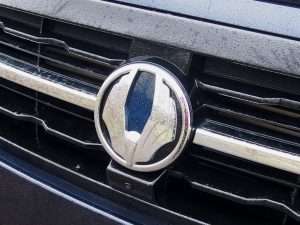 Despite the odd grille badge, the vehicle in question is the new revamped Musso pickup and selected journalists got a sneak shottie of a pre-production, left hand drive vehicle for appraisal. The term 'pre-production' is important here, for the car that we drove was loaded up with extras and gizmos plus full leather and carpets. For sure there will be a top-spec luxury pickup in the line-up, but there will also be an entry level version which will appeal to those more in need of a working truck as opposed to a leisure/lifestyle vehicle.
That means the final UK spec. has not been decided, nor has the price but the promise has been made that it will be 'competitive'. And as for the badging on the vehicle, don't be confused by the unusual grille badge or expect to see 'Rexton Sports' emblazoned across its rump when it comes into the UK from July, those details are destined for other markets.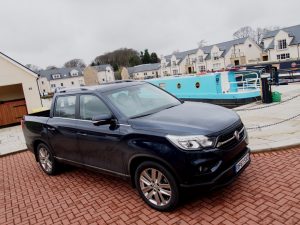 But what this exercise provided was the chance to preview and enjoy this latest addition to the utility vehicle sector. And I use the word 'enjoy' deliberately for the first thing that strikes you is the ride quality. An independent multilink system has been employed at the rear matched to a double wishbone, coil sprung front end which results in a remarkably smooth ride even when running empty. Even more surprising was that this ride quality was achieved with the appraisal vehicle running 20 inch alloys. Usually I hate such excessively over-wheeled motors, but shod with Nexen tyres, there was little to distract from the driving enjoyment on this occasion.
Ride quality is complemented by the drivetrain which utilises SsangYong's own 179 bhp, 2.2 litre turbo diesel which generates a healthy 420 Nm of torque. That is mated to a Mercedes-Benz sourced 8-speed automatic gearbox. In theory it should tow well and SsangYong has given it an upper towing limit of 3500 kgs but we'll have to wait for a UK-spec machine before that can be put to the test.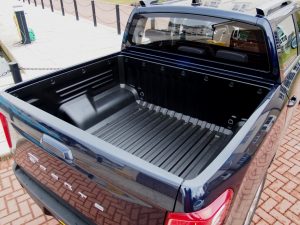 The loadbed has a capacity of 1050 kgs so qualifies under VAT rules as a commercial vehicle and although you can slide a Euro pallet in the back, there isn't much room for owt else. Having said that, SsangYong is looking at the possibility of an extended loadbed option whilst keeping the double cab layout. At present, the loadbed is 1.3 mtrs long by 1.5 mtrs wide. The loadbox itself is 570mm deep which suggests that when the tailgate is folded down, two pallets could just about be squeezed on hence the idea of a slightly longer loadbed option.
The test vehicle also had a stout rubber loadbox lining and there was a weatherproof 12v socket in the back. Nice touch.
Inside the cab, the driver was faced with all the up-market fittings that you would expect of a luxury Euro machine. Large screen SatNav and mobile phone interconnectivity, air-con and heated seats, traffic proximity and parking sensors, although there was one item which proved this wasn't UK spec – it had a functioning 12v cigarette lighter! When did you last see one of those? It also had a spare 12v socket alongside. On that basis some of the equipment will be either be 'edited out' or included in the final UK specs depending on what the marketeers think will sell best over here.
Even in left hand drive form this is an easy vehicle to drive. Sitting high up, the road ahead and surroundings are perfectly visible and its comfortable. Thge engine pulls well and the automated 'shift provides smooth progress. There's no doubting the engine is diesel-fed but it's certainly not noisy. Perfectly acceptable for an oil burner. Behind the gearshift lever was a knurled knob which controlled the vehicle's all wheel drive capability although there was little chance to try this out.
It's not a bad looking vehicle either, while the clincher for may folk will be the 5 year unlimited mileage warranty. If you fancy a pickup it might well be worth a look, because like all previously successful Korean manufacturers and imports it won't stay accessibly priced for long!
Would I have one? On this evidence, I'd be sorely tempted, but I'll wait for a proper test.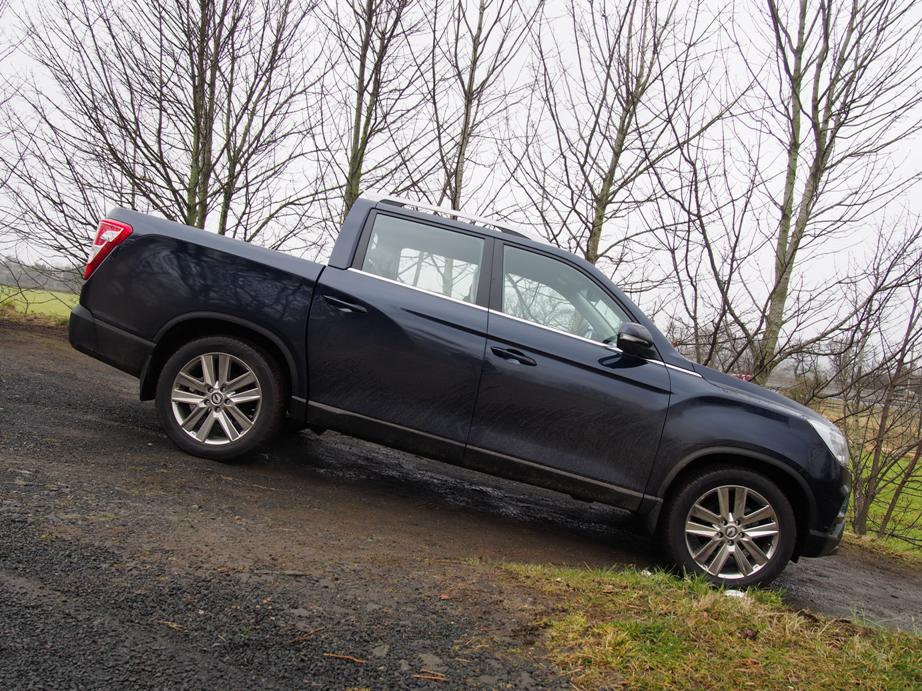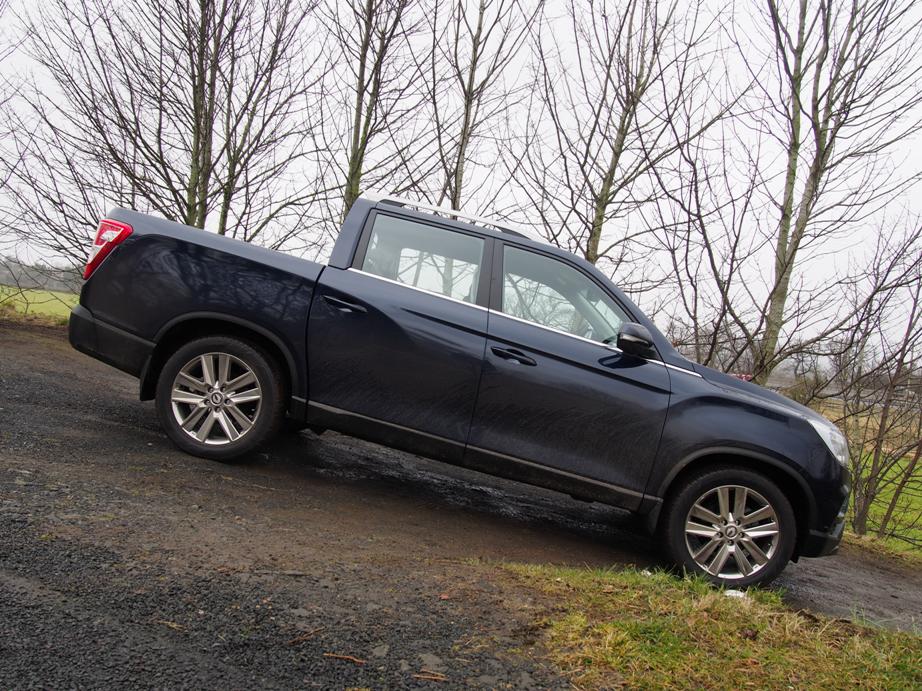 Review Date:

April 7, 2018

Price

Engine

Power

Transmission

Wheel Base

Overall Length

Overall width

Loadfloor length

Loadspace width

Loadspace height

Loadfloor from ground

Payload

Kerb weight/GVW

Towing Capacity