… Vauxhall Insigna SRi …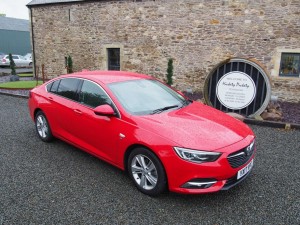 You know that old saying that goes something like this – "he could start an argument in an empty room?" Well, you can now start an argument in an empty car. Don't get me wrong, the brand new Vauxhall Insignia is a cracking car for the money but going for a drive in uncharted territory is worse than going for a shopping trip with the wife.
That's down to the talking 'SatNav'. This latest system is supposed to encourage the driver to give verbal instructions to that flat electronic panel of stubborn ineptitude in the central dash.
You know what, I am of the opinion that the system is racist. It simply refuses to understand the Scots. Even when I tried a posh BBC voice it still refused to accept my properly pronounced and enunciated instructions.
Imagine you are running out of fuel and want to find a service station, so I asked the SatNav for "Petrol station". The awfy polite lady voice came back with "Pet supplies?" I tried again. This time I got "Petals bush", then "Petals beech".
Fortunately I had a full tank so I asked the lady to find me a "hotel in Motherwell". This time I got "Patel Motherwell?" amongst other options, neither of which was suitable for a place to rest a weary traveller's head.
Even more infuriating was her prompts. If you don't answer her quickly enough, she says: "No speech detected, goodbye." And if you try to jump in with a response, she just keeps talking over you – just like the wife!
There was one more option, the on/off switch. Thereafter I used the alternative push button, swipe and prod options and the Insignia and I got on much better. You'd think the 109 bhp 1.6 diesel would struggle with a car of this size but it is remarkably pliant and responsive, with the up-side being a CO2 rating of just 105g/km. If you need more poke then there is a 168 bhp two-litre diesel plus a variety of petrol engine options.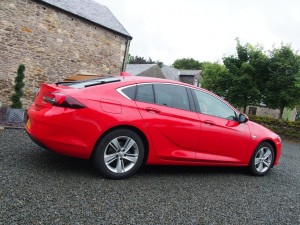 It's no bigger than the car it replaces, but there is more room inside and better headroom, especially for those in the back. That comes at the expense of boot space, but the boot is still bigger than many other cars of this size.
Driving position and comfort are excellent and there is a whole array of options lurking behind that infernal electronic electrical system. This is by no means an exhaustive list, just an example and includes – cruise control, leather-trimmed steering wheel, an IntelliLink audio system with touchscreen, DAB digital radio, Bluetooth and Apple CarPlay or Android Auto, a forward camera and Vauxhall's OnStar system. This needs a handbook on its own but it creates a wifi hotspot and allows you to find a petrol station or book a hotel room. I just hope you have more luck than me.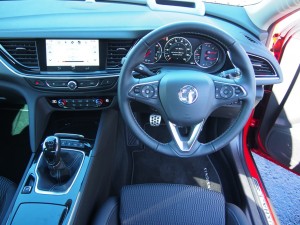 Other features include a head-up display, Adaptive Cruise Control, Lane Keep Assist, Lane Departure Warning, Rear Cross Traffic Alert, Forward Collision Alert, Advanced Park Assist and the latest generation of IntelliLux lighting, with more LEDs per headlamp than before.
I'm not a fan of these new-fangled auto-adjusting bright lights and while I was driving the car on a dreich, drizzly and murky day trip I got flashed a few times by oncoming traffic.
Other than that this is a fine car and ride comfort is pretty damn good, no doubt helped by the fact that it has sensible sized 16 inch wheels with 205/55 Michelin Energy Savers. None of these oversized alloys with skimpy rubber jobs.
The new Vauxhall Insignia teaches you how to have an argument in an empty car – and how to appreciate the wife a little bit more. Yup, I liked it, and I'd be happy to run one on a daily basis.
Review Date:

September 21, 2017

Price

Engine

Performance

Economy

CO2 emissions