… DS3 Connected Chic PureTech …
For those of us of a certain generation, new electronic technology is a bit like weeds. It proliferates faster than a bunch of rabbits with a truck load of viagra. And just when you think you've got on top of the problem, another bluidy dandelion pops up requiring more concerted effort to address the problem. And just like weeds, it is a never ending process.
It was only last week that I used a contactless payment card for the first time. It turned out to be painless process despite the anxious moments of pre-payment apprehension. This followed a discrete observation of the till-point in the Hickety Pickety tearoom to see if it was showing the contactless logo and then waiting for another customer to use the service. Discretely, lest I be accused of peeping or stalking, I watched two young ladies approach the till, ask for their bill and then waved their card over the reader. It was so quick, I almost missed it.
Thus emboldened I approached the infernal array of financial mechanical trickery, asked for my bill and waved my card towards the reader. Wondering all the while, if I do it slowly will I be charged twice or too quickly and be accused of trying to dodge the bill. Nope, the kind young waitress said 'thank you' and presented me with my receipt.
Job done. Another step forward in the perplexity of modern life mastered. Satisfaction and relief ensued.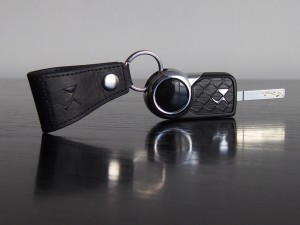 And now another small step for auld gits and a giant step for the technophobes. DS will announce tomorrow (1st September) another first for the automotive industry. A contactless key fob. Yup, you can now pay small bills with your car's ignition key.
Embedded in the fob is a sim card which can be programmed just like a bank card or credit card. A maximum of £200 can be transferred from your specified bank account to the fob and when this is waved over the contactless card readers bills of up to £30 can be settled. Pure dead brilliant, eh?
No more need to carry wallets or even a credit card. As long as you have your key fob, the world is your shopping mall – in £30 instalments of course.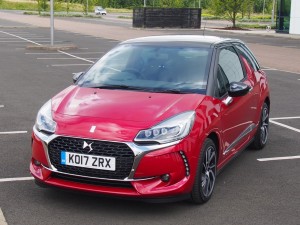 The new idea was presented during a joint DS/Citroen/Peugeot product launch in Scotland earlier today where the vehicle of choice was a 1.2 litre DS3 Connected Chic PureTech 110 S&S to give its full title. It's the 'Connected Chic' part of the description that you need to look for if you want this facility when choosing a new PSA Group car.
Anyway, DS has done it first and the kind of folk who are attracted to the DS3 will love this new gadget to show off to friends. Paying bills at supermarkets, corner shops and filling stations with a key fob. One-upmanship, eh? Like everything else it will become pretty commonplace soon, superseded by some new fangled invention designed to make life easier, and us lazier.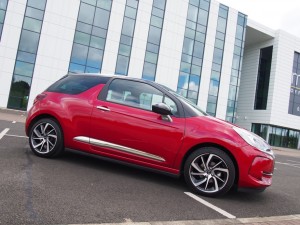 As for the car, it's stylish, trendy and ideal for the bling generation, and it's a surprisingly good wee driver in its own right. It may only have 110hp but it's perky enough to be entertaining and there's even a smidgeon of torque steer if the driver is a bit too keen to get out of a roundabout or corner too eagerly. Which all adds to the fun.
The car itself cost £17,395 with the 'Connection Chic' included, but there's no details as yet if this will be costed 'option' to be offered on other basic models. The test car had metallic paint and Xenon headlights which added another grand to the price, but for those who want to be one step ahead of the crowd, this will be a desirable addition to their motoring pleasure.
Review Date:

August 31, 2017

Price

Engine

Performance

Economy

CO2 emissions

Insurance Group