… Audi A1 Sportback 30TFSI …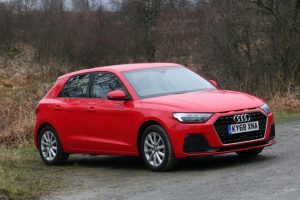 It might be a small car but there's a lot to like about the Audi S1 Sportback, so named because it's a five door hatchback!
It also has a small engine, one of the new breed of turbocharged three cylinder jobs, this one with a mighty 999ccs poking out 114 bhp. That's enough to make it quick without being fast but it handles well. At first I didn't like the ride but after a wee while, my sensitive posterior decided it was firm rather than hard. Good job it didn't have the 18 inch rims. This one had the 16 inch jobs with 195/55 Bridgestone Turanza tyres which I think would be a better choice.
The six speed gearbox operates like a Swiss watch and helps the driver to make the most of the willing engine, but there is one wee drawback. If you are possessed of size 12 feet best go for a test drive first. Clad with rally spectating boots, I found my clutch foot catching the foot rest at times!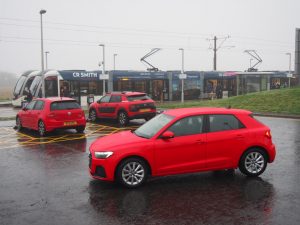 Perhaps the 'clutch-rest foot-catching' issue also had something to do with my choice of road. I had a couple of runs up and down the Duke's Pass north of Aberfoyle looking for suitable photographic locations for the final day of the Flying Scotsman Rally. Or maybe I just wanted another quick scoot up and down the hairpins! The accurate steering, firm suspension and willing wee engine were just as much to blame for this providing the enthusiastic driver with enough with enough feedback and fun to want to play.
Being a small-ish car, the A1 was ideal for the job. It was easy to turn around if I passed a promising location and needed another look. The boot was big enough to take all the gear without folding down the rear seats and that included the awfy big camera knapsack, wet weather gear, boots, brolly and sandwiches and I still had room on which to perch my posterior as I changed footwear.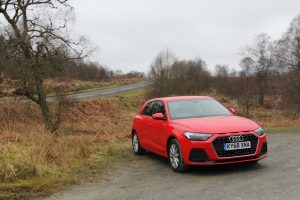 The trip also included a couple of runs up and down the A9 to and from Gleneagles over the weekend. Old hands might think one litre engines are not ideal for this sort of work but doubters will be easily persuaded on a test run. It might be fun on the Duke's Pass hairpins but it's also a comfortable and relaxing highway cruiser.
There was another thing I didn't like, but it's common to many of the current generation of increasingly 'semi-autonomous' cars these days, so it's not just Audi. Cars are getting far too smart for their own good. I disagreed with the Auto lights function. It kept trying to switch on the headlamps when I thought it was still daylight. Maybe the designers who devised the scheme hadn't heard of the Scottish 'gloaming', bright enough to see detail but not dark enough to need lights. Given the intensity of the light projected by the latest generation of headlamps, this can be annoying for other road users as well.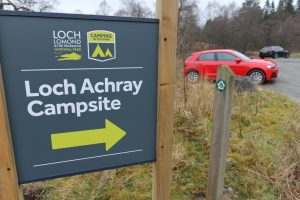 As I said, a personal gripe, but automation equates to progress and most new cars these days have this automatic lighting function. More worrying is that some systems are fully automatic and cannot be over-ridden.
No doubt safety campaigners will have all sorts of reasons and justifications for fitting such bright units, but in a country where the maximum speed limit is 70 mph, do we really need to be driving along carriageways and motorways which are lit up like the seafront at Blackpool during the illuminations?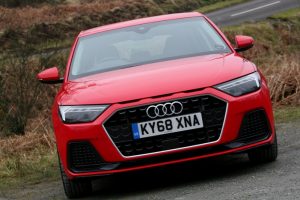 It's well finished inside as you would expect from Audi, dressed in black with enough silver highlights to make it tasteful rather than gloomy. The standard car comes with 15 inch wheel although 16 and 18 inch alloys are optional. The test car had the 16s which made me think that these would be better than the 18s given the firmness of the ride, but then fashion does tend to over-rule sense these days does it not?
I liked it. If you want a compact Audi that looks good, rides well and doesn't drink too much, you'll like it too.
Review Date:

May 31, 2019

Price

Engine

Performance

Economy

CO2 emissions

Insurance Group