… Vauxhall Corsa VXR …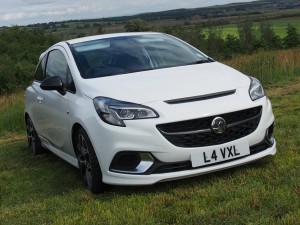 The Vauxhall Corsa VXR is most certainly a 'hoot hatch'. No, that's not a typo or a spelling mistake, this hot hatch is a hoot to drive. Developing 202bhp from its 1.6 litre turbocharged petrol engine in a car weighing 1.7 tonnes, there's plenty to keep the front wheels busy, not to mention the 'overboost' function which operates for up to 11 seconds on full throttle. It doesn't affect peak power though, as it works only between 1,900rpm and 3,000rpm, but it does give noticeable added oomph (another technical term) to its mid range performance.
Another factor which adds to its automotive zest, is the short-throw six speed gearbox which is a joy to use and for lovers of such mechanical interactions, any excuse will do to change gear and blip the throttle. Which brings me to another thing. It's almost a noisy a wee tyke. Apparently there is a European regulation which allows performance cars over 190PS output and 102PS/tonne to produce one extra decibel and Vauxhall have exploited that. So it's officially a wee bit noisier and yet strictly legal thanks to Vauxhall's collaboration with exhaust specialists Remus. This ensures the Corsa VXR twin-pipe exhaust is exactly in line with legal pass-by-noise regulations.
That all adds up to a lively and intoxicating package and with its low-profile tyre shod 18 inch alloys, it will appeal to the boy-racer in all of us. With one proviso. Don't drive it on wet grass.
This recommendation comes courtesy of a visit to Forrestburn Hillclimb circuit, and with the regular car park full, I was directed to the grassy overspill area. The trouble was, it was on a slight incline, not so you'd notice walking on foot, but on returning to the car later to go home, it was having none of it. The Michelin Pilot Super Sport 215/40 by 18 tarmac stickers didn't like the wet grass. Not one little bit. It was for going nowhere!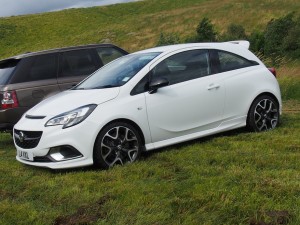 But motorsport marshals are a wonderful breed and sensing my predicament, helped me out of my initial embarrassment while heaping much more embarrassment upon me. Once on the move it was fine, but back at home I had a look at the tyres. The car had only done 2600 miles so the tyres were almost brand new, however, the lateral sipes at the inner and outer edges of the tyre are pretty fine so doesn't allow the tread to get much of a grip on loose surfaces. Neither do the two deeper and wider water clearing circumferential grooves which don't do much for longitudinal grip. So whilst there is oodles of grip on tarmac, even wet tarmac, the coarse grass of a Shotts hillside defeated them.
That's not a criticism of the tyres. They were designed to cope with power and smooth tarmac, not going off-road, albeit just a few feet off road! And that is where the car excels, on road warrior duty.
The steering is a delight to use, but care must be exercised on tight corners and roundabouts. Although the wee thing scoots round corners as if on rails, it's power delivery can overcome grip if enthusiasm gets the better of common sense. But then, that adds to the fun too. The Corsa VXR is entirely chuckable and fun to drive.
To cope with the performance, the ride is really quite firm, but that is to be expected, so if anyone is planning on using the car for the daily commute bear that in mind. Having said that, the car uses Koni's Frequency Selective Damping (FSD) system which allows the damping forces to adapt to the car's movements. This means that the dampers stiffen up when the car is driven fast, but relax at lower speeds to provide a slightly softer ride.
To further enliven the experience there is a two-stage switchable electronic stability programme (ESP) and traction control (TC). In Competition Mode the traction control is inactive, while the ESP is relaxed to allow less intervention. For track use, the ESP can be fully disabled.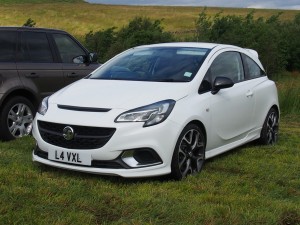 And if you want more, there is an optional Performance Package (£2,400) which includes a Drexler limited-slip differential, larger 330mm-diameter Brembo front brake discs and more focused FSD damper settings.
In other words, this could be regarded as track day car with a sideline in commuting. And to help it with that it has plenty of room for four people and a decent sized boot, although it only comes in three door form meaning rear seat passengers have to fold themselves around the excellent Recaro front seats to get in the back.
Naturally all of this comes at a price, and not just in the showroom, at the pumps too. Prices start from £17,995 and although Vauxhall claims a combined fuel economy of 37.7mpg, I struggled to average more than 31mpg. Also, the 174g/km CO2 rating means Vehicle Excise Duty will cost £205 from the second year of the car's life which doesn't compare to well with the car's rivals from Ford, Renault and Peugeot.
On the other hand, think of the fun. You only live once, and life doesn't come with a price tag, you have to sort that out for yourself.
So would I have one? Yes, I would be sorely tempted. I liked the driving position, the handling and the performance although I wasn't too enamoured of the ride quality over anything but smooth tarmac. But that's the price to be paid for a performance car that darts between corners like Jerry on the run from Tom. Or put it another way, 18 grand adds up to a lot of fun. And we all need a bit of fun in our lives, don't we?
Review Date:

August 31, 2015

Price

Engine

Performance

Economy

CO2 emissions

Insurance Group