… Volvo V90 D5 PowerPulse AWD Momentum …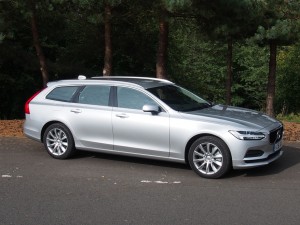 Although the Volvo V90 range starts from £34,555 with the 187 bhp D4 engine, the test car was the ever so slightly more costly version with the D5 engine. At £41,055 in basic form, it's not cheap,. but with nearly 10 grandsworth of extras it was going to have to be pretty damn good to justify that price tag. It is, and it almost does.
The trouble is, I like Volvos, so have to be careful not to be biased, but although now under foreign (Chinese) ownership the new owners have wisely decided to let Volvo and its research and development designers and engineers continue to do their own thing. Thank goodness.
I speak as one who ran a Volvo 740 for four years, and loved it. It was a big soft barge of a stately carriage that was as nice and comfy to drive as one of those more exotic devices with the robed and winged lady on top of the tall chrome radiator grille. The suspension was soft and yet pretty well damped and the seats were sublime. Volvo had a hard act to follow.
And it's managed it pretty well on the whole, so the new V90 came with a whole estate car load of expectations.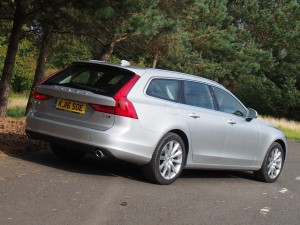 It also came with the 232 bhp twin turbo, four cylinder diesel with the added 'PowerPulse' technology. This is Volvo's fancy name for an extra bit of kit that reduces turbo lag, even on the twin turbo set-up. This consists of an electric compressor, a tank and a valve. The compressor draws clean air from the airbox and stores it in a two-litre tank. When the driver wants to accelerate quickly, the valve opens, sending high-pressure air from the tank into the exhaust stream, quickly spooling up the turbo, sending air charge into the four cylinders, resulting in a 'pulse of power.'
In other words, it gets off its mark rather more quickly. Whether it's worth the expense and added weight is another point, but there's no doubt it works quite impressively. There is another improvement worthy of mention. The new 8 speed Getrag sourced automatic gearbox. Previous models suffered from a sometimes lethargic response, especially when slowing down at junctions or roundabouts and then when the driver had spotted a gap in the traffic, response wasn't as quick as hoped, or needed! This new one is much better.
Even with 18 inch alloys, the car rides supremely well de-jarring the pot-holes and riding the bumps in spine cosseting fashion and it goes without saying the seats are pretty damn good too. Soft and yet supportive.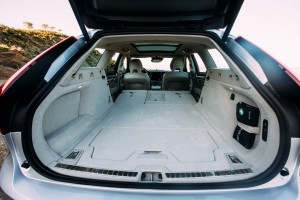 This being the estate car, it needed to have a lot of room, and it does, without impinging on passenger comfort. From the back of the front seats, with the rear seats folded flat, the loadbay measures 1988mm to the tailgate. That's 6ft 6 inches in real money and plenty good enough for a couple of spectators to have a night's stretched out kip waiting for rally cars to arrive in the early hours.
Service barge? I don't think so. The fully carpeted interior is bit too precious for the likes of a couple of grease monkeys in their boiler suits.
It's also pretty well equipped in standard form with SatNav, two-zone climate control, leather-faced upholstery, heated front seats, internet connection, LED headlights, a powered tailgate, adaptive cruise control, an 8″ digital instrument display and a 9″ central touchscreen both of which dipslay very clear and crisp images and information.
City Safety and Pilot Assist are standard too and also a new Run-Off Road Mitigation system which Volvo says will steer you back on track if it senses that it's heading for the shrubbery. Wonder if it would work in a rally car? There's quite a few rally drivers out there who might benefit if it did!
The Bowers & Wilkins Premium Sound system is ideal for blowing the wax out of your ears with a bit of not so gentle Status Quo or Tina Turner to keep your spirits up on a long drive.
Amongst the optional extras on the car was the 'Winter Plus' pack at an extra £1100. For which the car got Active Bending headlights, front LED fogs with cornering function, a heated steering wheel, heated washer nozzles and a headlight cleaning system. Ideal for Scottish salted wintry roads. It also had the 950 quid retractable towbar, and Blind Spot Info System with Cross Traffic Alert and Rear Collision Mitigation for another £600.
To put it another way, Volvo are trying pretty hard to ensure accident free progress even for numpties.
It goes without saying really, but would I have one? That's a definite yes. There's just the wee problem of price to sort out.
Review Date:

September 30, 2016

Price

£50,650 (as tested)

Engine

1969cc, 4 cylinder twin turbo diesel with 232 bhp

Performance

0 - 62 mph in 7.2 seconds, flat out at 145 mph

Economy

57.6 mpg (combined)

CO2 emissions

129 g/km