… MINI Countryman Cooper D …
All around the country there is a silent army of men and women who travel the nation's highways virtually non-stop. They work for the many vehicle delivery firms which deliver new or replacement vehicles to individuals and uplift the old ones. These services are used by companies large and small who have staff stationed all across the country answering to a Head Office in one location or a number of satellite centres located in other regions. These jobs are not big enough to justify a transporter with a dozen cars on board or a man with a flat-bed and trailer carrying two vehicles.
Instead, these drivers are managed by a logistics operator based on London or Birmingham or Manchester, or anywhere. The drivers are given an address and a timeframe to deliver the car, but first they have to collect it from a manufacturer, importer, garage or auction house. That means a bus or a train to the collection point, drive the vehicle to the destination which could be anywhere in the British Isles.
In many cases there is no vehicle to drive home (for whatever reason) so how do these folk get home? Usually it's by bus or train, or even a taxi, to an uplift vehicle somewhere close by.
Often it's not quite that easy. With logistics operating skills and SatNav improving all the time, many of these drivers do leap-frog drops and pick-ups. They may collect a car or van in one place and drive it to another, where they collect another vehicle and deliver it somewhere else, where they may have to collect yet another which has to be delivered or dropped-off on the way home. And so on. Some of these trips can last two or three days.
Romantic? Not really. For sure, the job has its attractions. Always on the move – by car, truck, bus or train, wonderful scenery – and the time to enjoy it, when stuck in traffic on the M6, and then there is the great British weather – when standing in the pouring rain or snow, by the exit of a Motorway services clutching a set of trade plates.
There is also a great deal of responsibility attached to this. Not just managing delivery and uplift time frames, but the responsibility of driving a valuable vehicle, be it a specially converted refrigerated van or a top of the range Jag or Merc.
And then there are the benefits (or curse?) of the mobile phone, there is a need to keep in contact with HQ in case jobs change, which they do. Someone may not be in, or can't find the keys or the address is not on the SatNav and the maps are out of date too.
In other words it's not a job for the faint-hearted, but it can be job for the responsible retired person who seeks a bit of extra income or the adventurous type who just wants to explore.
It can often be cheaper to get a driver to take a car to Wick from London rather than stick it on a transporter, especially if there is a timescale to be met. But that's the good side, most jobs are pretty much timetable driven and not just the customer's. Try juggling bus routes and train timetables, and then the bus breaks down or the train is late – instant spanner in the works.
On that basis, it can be a fraught and mentally taxing occupation, so when a driver turns up at my door with a Press car for evaluation and assessment I'm always nice. If it's poor weather tea or a coffee is offered with a biscuit, or two, or flasks re-filled, if they have to wait for the next bus or train.
Some drivers are so harassed they need a wee break, others just want to chat while they are waiting.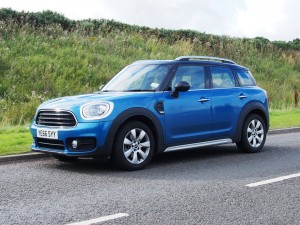 Like the guy who delivered the new MINI Countryman Cooper D, and the conversation went something like this:
Delivery Driver: "It's a lovely car but it's not a Mini."
Me: "Yup, nice car, but it is a MINI."
DD: "You know what I mean, it's not a Mini."
Me: "Yes I do, but you can't compare the MINI with the Mini. Two completely different cars."
DD: "This MINI is much bigger than the old Mini, but my 6ft 4in son struggles to get in the MINI but he fits in the Mini."
Me: "The MINI is a 4/5 seater even with your son inside, whereas the passenger sitting behind your son in the Mini will be thinking it's just a 2 seater car."
DD: "Fair point, there's just the two of them, my son and his girlfriend and their Mini."
Me: "That'll change when the kids come along though, eh?"
And then he was off. But he's right the new MINI Countryman is a big car, nearly 300mm longer than the original Austin Maxi, and it's roomy inside despite what he was inferring. Perhaps it does lack a bit of headroom, but then most small/medium cars these days would struggle with very tall teenagers whether in the front or in the back. Otherwise there is plenty of shoulder room and the back seat passengers have enough space to cross their legs, greatly helped by the optional (£250) sliding rear seat.
Park the MINI Countryman beside a Fiesta or a Focus, Corsa or Astra and you'll see what I mean. It is actually a big car. When viewed from a distance or parked on its own, the proportions mislead the human eye and brain into thinking otherwise.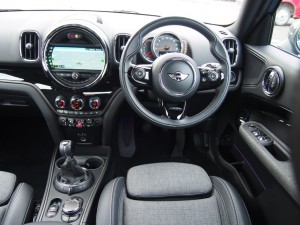 The front seats are great. Firm but comfortable, and the dash is always a delight. Very modern, but with certain nostalgic touches that set you thinking back to mini-skirts and flower power, the Beatles and the Stones, teenage freedom and parental escape. There are proper toggle switches alongside digital displays and the large central circular dial is reminiscent of simpler times when all you had was a large speedo and a fuel gauge set into the bottom of it.
And as I said, there is plenty of room for four adults, or five if not all trying to eat a fish supper at the same time. The boot is not huge, but it has a false floor (no real spare wheel) so it can be made deeper.
The 150hp 2 litre diesel offers enough poke for the typical buyer of this car, but being a Cooper it does have a 'Sport' setting which sharpens things up. And of course it needs it, the modern MINI Countryman is over twice the weight of the original. As for fuel economy, I got nowhere near the 'official' 65 mpg figures, but was getting around 45 mph in actual road driving.
The car was fitted with 225/55 17 inch Bridgestone Turanza run-flats and despite all the horror stories you might read about run-flats and harsh ride, I had no problem with these or the MINI. The only quibble I had was with the sound of the wipers. Considering the weather w get in Scotland it might be an issue with some buyers. There s a distinct 'thwack' from the wiper when it reaches the top of the first sweep before coming back. And that was annoying, but perhaps it was just me, and the rain! Best try it for yourself.
Even so, it was with some reluctance that I handed the car back to the next driving nomad for its onward transmission to the next motoring journalist.
I really do like this modern take on a nostalgic favourite, but it is quite expensive. Base price is just over £24,000 but this one had nearly £2000 worth of extras. Perhaps it's not expensive compared to current cars and prices, but think back to the sixties – a Mini then cost 500 quid. There's progress for you, eh?
Review Date:

August 30, 2017

Price

£26,020 (as tested)

Engine

1995cc, 4 cylinder turbo diesel

Performance

0-62 mph in 8.9 secs, flat out at 129 mph

Economy

65.7 mpg (combined)

CO2 emissions

113 k/gm

Insurance Group

20E