… Peugeot Rifter GT Line …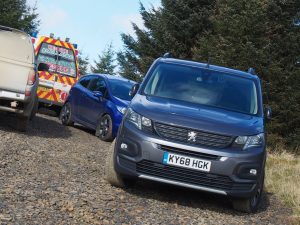 I thought the Peugeot Rifter would be ideal transport for last month's Border Counties Rally. It was snowing in the run up to the event and the Rifter is front wheel drive. As we all know FWD is better than rear wheel drive in the snow. Or at least it should be.
What it did highlight though was that ultimately, it is tyre choice which determines just how good a vehicle is in the snow, not necessarily the drivetrain. With inappropriate tyres, even a 4×4 would struggle in slippery conditions. And so it proved.
After a tentative trip down the A68 from Edinburgh, conditions were getting worse on the approach to Jedburgh on the Saturday morning. The snow was bad enough, but as it started to rain, the snow was already turning to slush and the Good Year Efficient Grip 215/60 x 17 tyres were not quite living up to their name. It wasn't that they were inefficient, just that they were the wrong tyres for these conditions.
Already a number of trucks were wheel-spinningly stuck on the steep hills and dips of the A68 just to the north of Jedburgh requiring a bit of forward planning to get out and past and get back in safely. At one point I thought I was going to get stuck as the car in front of me was stopped behind the truck ahead which had slowed to a halt on the hill. That meant I had to stationery vehicles to pass on an incline, but by holding back I had room to manoeuvre. With nothing coming the other way I managed to maintain sufficient momentum to get out, past, pull in and make the crest of the hill, only to find a long queue of traffic on the other side heading northbound, or at least it would have been, but for a stuck truck at the head of their queue. Phew. Naturally, I put this successful move down to sheer driving skill although others might have the temerity to suggest pure luck.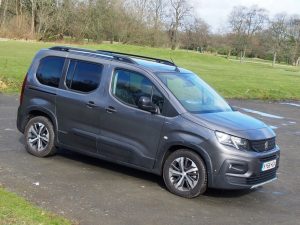 Whatever, the Peugeot just kept on going whereas most of the other traffic was coming to a halt on the hills both southbound and northbound.
This was the 129hpversion of the turbocharged 1500cc 4 cylinder HDi diesel which is better in such conditions than a higher revving petrol engine. That doesn't mean to say it's quick, but heck, you don't buy a Rifter for speed. You buy it for practicality and interior space.
And those are its big selling points. Ok, it might not be as stylish as an SUV or as elegant as an estate car but if you need to carry five adults and a whole dose of holiday luggage, it's hard to beat. With a cargo box on the roof this could be the ideal camping tourer. Small and compact yet big enough to carry everything for a fortnight under canvas.
On the other hand, few vehicles are more practical for the school run or for harassed parents with a squad of weans who all have different weekend and evening pursuits whether its dancing classes or scouting outings, football or netball, snowboarding or canoeing, the Rifter would have many bigger vehicles beat for sheer practicality.
It could also be regarded as two vehicles in one, because the rear seats fold almost flat on the floor, turning this practical family holdall into a working van with a big square space behind the front seats.
However, the Peugeot Rifter is more than just a van with windows. This was the GT Line specification model, so it was a 'luxury van' with windows and all the more desirable for it, although I wasn't a fan of the high central console between the front seats. What I like about these vehicles is the 'step-through' facility whereby it's easy to slide across from the driver's seat and get out the passenger door or vice versa when parking tight spaces. That's also a great reason for sliding rear doors on such vehicles.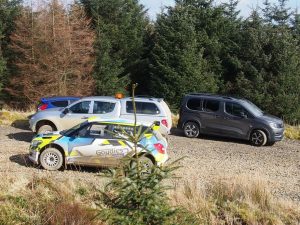 This also makes it the ideal rally spectator transport. These days, many forestry car parks are simply stretches of forest road where the spectators park on one side to allow traffic to pass by on the other. Without the central console drivers can park further off the road and still allow passengers to get out (the driver's side) without slipping and falling on their RS's in a forestry ditch. And there's more, the boot is big enough for wellies, boots, jackets, brollies, picnic bags, camera bags and the lift up tailgate provides somewhere dry to change and sit on the flat floor to change your wet socks.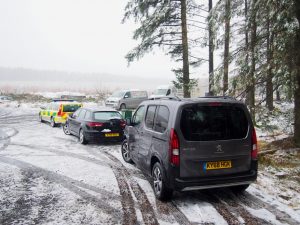 I was thankful for that as I had gone to the Border Counties prepared. It was so wet I went through one rain hat, three bunnets, two jackets and two pairs of boots – and I still drove home wet and cold, although the air-con did manage to cope with my steaming clothing as I warmed up and dried out!
The Rifter also enjoys a slightly higher seating position than a 'normal' car so it provides good all round visibility. Inside the car there are sufficient on-board storage places in the roof, doors and under the floor to keep the weans happy looking for the sweets that you hid earlier. Probably too many as it's also easy to lose essential stuff like chargers, torches and gloves.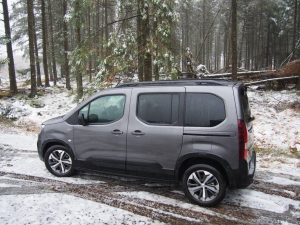 This is a car to go places and carry stuff, not to charge around the country and burn rubber at traffic lights. Because it's high, it rolls a bit on corners but that only makes you want to slow down, sit back and enjoy the view.
Prices start at just over £20,000 but this was the top of the line model with more kit and more bling, hence the £24,259 price tag, but it also had some extra kit on board. The metallic paint added another £545, the Smartphone charging plate £100, Park Assist & Vis £700 while the Safety Pack added a further £150.
I think this is a great machine, but then I might be biased – I've got one myself!
Review Date:

April 30, 2019

Price

Engine

Performance

Economy

CO2 emissions

Insurance Group