… Honda HR-V …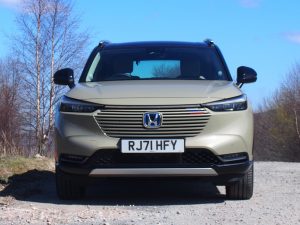 The trip to Elgin and back up and down the camera infested A9 and through the Spey Valley was accomplished in style and supreme comfort thanks to Honda's latest HR-V. As far as I'm concerned this is the perfect answer to those who wish to 'clean up' their act and represents a first step towards full electric vehicles.
At the moment, for folk who live and work in Scotland, especially in the more rural and remote areas, fully electric cars are not yet a practical proposition.
Since 2011 there has been a 15 fold increase in the number of electric vehicles now offered by the mainstream car manufacturers with more than 140 plug-in models now available. This accounts for around one in five new cars sold this year (2022) with more to come.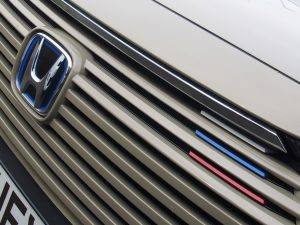 However, according to a recent DfT survey the public charging infrastructure has failed to keep up with demand, with 75% of motorists saying there are not enough public charge points to meet their needs.
It would appear that the manufacturers have rather caught the Government on the hop switching to production quicker than the Government can plan and install public charging facilities. And yet the Government is still pushing road users towards adopting de-carbonised transport.
There is also the issue of public charger maintenance and reliability. Even using the many Apps which are now available there is no guarantee that a charger will be available and operational when planning route charge-ups.
These hiccups are of course to be expected when something new is launched but that is no comfort to the frustrated motorist who arrives to find all the chargers already coupled up to cars or one of the bank is 'out of order'!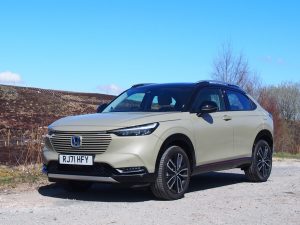 Hence the practical appeal of petrol or diesel electric, and why the new Honda HR-V with its e:HEV powertrain provides an ideal solution. The two-motor e:HEV hybrid system, with its efficient 1.5 litre four pot petrol engine and electric motor intelligently switches between three driving modes and delivers a maximum engine power output of 130 bhp. That's plenty power for everyday motoring.
Depending on how the car is used will of course determine fuel economy. Using electric power alone for local journeys will be a big help, otherwise owners can expect in excess of 50 mpg in general everyday use.
There are three modes which can be employed depending on the driver's preferences. In addition to 'Normal' mode which provides the best balance between both power sources 'Sport' enables a sharper throttle response, whilst 'Econ' adjusts the air conditioning system and throttle response for an emphasis on fuel efficiency.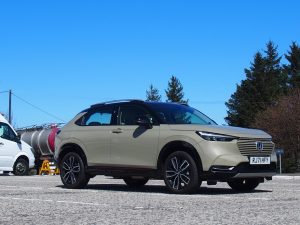 Drivers can also select 'B' range from the transmission, which offers selectable levels of energy recovery when coasting or braking. The level of energy recovery and the resulting strength of the deceleration effect can be substantially increased over the regular 'D' range, by using the paddles behind the steering wheel.
The nought to 60 mph sprint time doesn't sound too exciting at 10.6 seconds, but the car does feel a bit more lively on the move so that overtaking a whisky tanker on the twisting Speyside roads is a doddle. The only concern is the eCVT tranmsission. It whines a lot when suddenly asked to do some serious work.
However, the eCVT comes into its own when touring and cruising. Using the Cruise Control on the A9 takes the sting out of the long drag through its various speed restrictions. Instead of the usually frustrating experience, it turned out to be a most enjoyable trip just sitting back and letting the electronics do their work.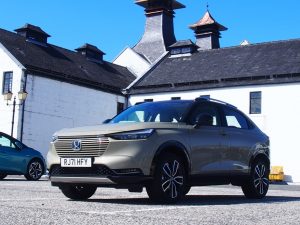 Adding to that is the ride quality and interior comfort of the HR-V itself. For once I didn't spend ages adjusting seat height, rake, lumbar support and steering wheel height and reach. A couple of clicks here and there and it was perfect. The half leather and herringbone textile pattern was not only attractive, it added a deluxe finish to what felt like a very hard wearing material.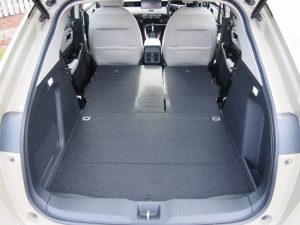 The more I drove it, the more I liked it, and there's more. In one of the most practical applications yet, the rear seats fold flat to line up with the boot floor to provide a fully flat estate-car like floor from front seat backs to tailgate. If you need a 'Q' car for rally management duty this would be perfect. The test car also had a thick rubber floor mat for the boot with high lips, so that any spills would be contained!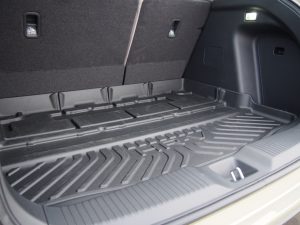 As you would expect from Honda a very well thought out and engineered vehicle, just a pity about the colour. Honda said the test car finish was Sand Khaki Pearl which sounds rather more exciting than beige.
On the other hand, it did provide a talking point at the Service Halt in Keith where folk either liked it or didn't – a bit like Marmite I suppose.
Even so, it didn't stop me really liking a thoroughly acceptable motor car.
Honda HR-V
Review Date: 29 April 2022
Price: £26,960
Engine: 1498cc, 4 cyl. petrol/96 kW electric motor, 129 bhp
Performance: 0-62 mph in 10.6 secs, flat out at 105 mph
Economy: 52.3 mpg (combined)
Emissions: 122 g/km
[Back to Top]