Nissan Leaf e+ Tekna
Let's get one thing straight, there is absolutely nothing wrong with electric cars. In truth, there is much to like. They're comfortable, quick and have fewer moving parts than what most of us currently use, which should make them more reliable, should it not?
They do everything that we need and expect of a modern personal transport vehicle. They seat four or five people, they've got air-con and all the electronic connectivity that the modern family will need. The biggest thing that most folk will notice though, is the lack of noise.
So why isn't everyone driving around in one? The reason is simple and has little do with the vehicle manufacturers. It's the lack of supporting infrastructure, and not only that, it's the limited range of batteries and the time it takes to charge them. Once these three things have been sorted, there won't be any real drawbacks. Or perhaps there is a fourth, the cost!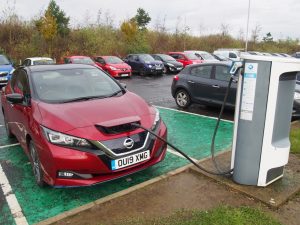 So don't criticise the new Nissan Leaf e+. As far as electric cars go this is one of the best of the bunch. Given the limited battery technology and charging infrastructure that we have at present, the car manufacturers are doing the best they can whilst trying to comply with demands for cheaper cars as well as coping with rapidly improving technology, materials and build methods, and all the while trying to plan a stable long term future for themselves and for us motorists. Not an easy task, by any means.
Which makes the Nissan Leaf e+ all the more acceptable and perhaps even desirable. For many folk it will be the car of choice, although the price tag of around 40 grand might just tarnish those desires, despite a three and half grand kickback from the Government. On the other hand, once you have overcome that hurdle, you can actually recoup some of that initial cost through vastly reduced running costs.
The reason for that is that Nissan have been at this for quite a while now. That might be hard to believe at a time when most manufactures are still trying to establish their own 'first generation' electric cars that this new Leaf is the second generation of a machine which was first launched almost 10 years ago in 2010.
What they learned form that first generation car has been incorporated into the new car. A more powerful engine and bigger battery being the main attributes, while adding to the functionality and practicality of the machine itself.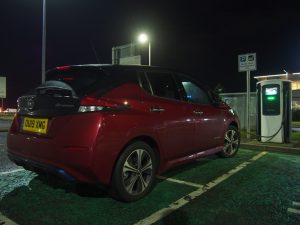 It has a genuinely attainable 200 mile range on a full charge, and perhaps more if only commuting or doing the school and shopping runs. Given that most cars these days will do at least 300 miles (and probably a lot more) on a full tank, 'fuel anxiety' is still a factor. But with a realistic 200 mile range it is much less of an issue with the new Leaf. Admittedly, range reduces in wet and cold weather as the batteries lose efficiency when the temperature drops and more use is made of the heating system, wipers and lights.
On the other hand since they have been at this a while, Nissan has got the driver information issue licked with a comprehensive dashboard display keeping you informed of what and how the power is being used and how far you can realistically go in diverse conditions.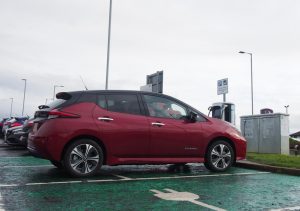 Each car comes with two cables at the present time. One cable which will hook up to a domestic supply and also to most public chargers and a second cable which will hook up to a fast charger, but not Tesla or Kia, which is a pity, and reminiscent of the old VHS and Betamax tape wars! The sooner the car manufacturers get together and determine a standard, the better. Because, if they don't the government will step in, and we all know how decisive they can be.
The running costs are very difficult to assess. That will depend on how much you pay for your electricity at home, but it's also worth noting that the majority of public chargers are free and unlimited – for the present! However, it is reckoned that the Leaf will cost around 4p per mile in 'fuel' usage. And for that you get a car which will cover the 0 to 60 sprint in well under 8 seconds, easily exceed the country's maximum speed limit and is fun to drive.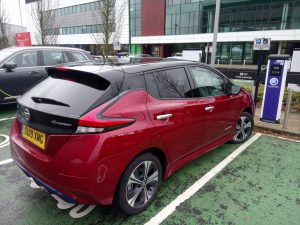 One more thing. If you do go electric, keep a pair of gloves in the car. Many of the public charging stations are not under cover so the charging cables get wet and they can get mucky too! That includes the cables that come with the vehicle if they have to be dragged out of the boot, along the ground and put back again.
I thoroughly enjoyed my time with the new Leaf, apart from the time spent at public chargers, not usually placed in the most attractive of locations. But for those with a lifestyle to suit, it makes perfect sense. For the commuter who has limited choice when it comes to bus or train services and needs a car it provides a viable alternative. Similarly, the harassed parent can programme the car to 'wake up' on cold mornings and warm itself up before the weans have to be carted off to school. No more frostbite when trying to scrape ice and snow off windows!
I like it. I really did. I would have one myself, but only as a second car. Until they produce longer range machines with faster charge times, it doesn't suit my lifestyle – yet!
Review Date: November 28, 2019
Price: 35,895 (as tested) and which incl Govt Plug-In grant of £3500
Engine: 160kW/217PS electric motor
Performance: 0-62 mph in 7.3 secs, flat out at 98 mph
Economy: Around 4p per mile
CO2 emissions: Nil