… CUPRA Ateca …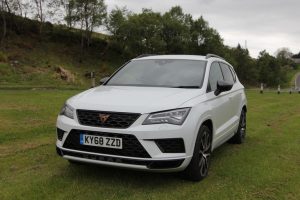 SEAT's Cupra Ateca is nuts. Just thought I would get that out of the way first. Why? How else would you describe a mid size SUV with 296 bhp?
Nothing wrong with that really, but the trouble is, it's awfy quiet, very smooth and is relatively kind to the nether regions even on bumpy roads. Neither are there any distinguishing badging, lurid stripes, wings or 'aero packages', just four chrome tail pipes sticking out the back. Anyone who clambers aboard this and into the driving seat without first checking the Spec sheet is in for a wee surprise.
In other words, this could be regarded as a 'Q' car, one of those street jobs that looks like a circumspect Chelsea tractor, but has the suppressed desire to go for a rapid family weekend away, to Nice or maybe even Barcelona. Think Volkswagen Golf R drivetrain with a shed on its back rather than a svelte 5 door bodywork, although the word 'shed' shouldn't be taken too literally. Styling-wise it doesn't stand out in a sector which is growing in popularity but not individuality. There is only so much you can do to sheet metal if you want a high riding, roomy 4×4. Mind you, that could be another advantage – not attracting the wrong kind of attention.
However, anyone buying this machine will know what they're getting. No-one would fork out nearly 38 grand without knowing what exactly they're buying, now would they? Forget the performance bit, this is a full size, roomy five seater with a boot big enough to cater for the needs of a family trip to the south of France or Spain.
This is a seriously practical family cruiser that thinks it can wear a baseball hat back to front at weekends. The 2 litre 4 cylinder turbo petrol engine offers exhilarating performance. Normal folks would not expect 1.7 tonnes of steel, glass and composites to accelerate from rest to 60 mph in just over 5 seconds, but it does. It also has a claimed top speed of 153 mph which will help to ensure that the south of France feels just that bit less far away!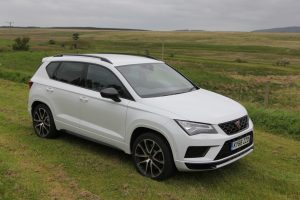 On that basis this is an ideal and 'proper' GT. Sitting high up in typical SUV style helps the driver to scan the horizon much easier than a low slung sports car tearaway wary of the foreign cops hell bent on some fixed penalty speeding fines. The 7 speed DSG auto also makes the drive more relaxing but can easily be switched into one of six modes – Comfort, Sport, CUPRA, Off-Road and Snow with an additional setting for a driver to select his or her own preferences. It's even got a built-in lap-timer!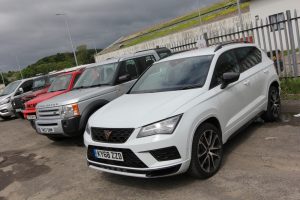 The other desirable factor is the four wheel drive system which means that this isn't just a GT for summer pursuits, but for snow blessed winter holidays whether at Aviemore or Val d'Isère, or rain sodden mountain biking trips to Fort William downhill or Coed-y-Brenin Forest in Wales.
Maybe it's not so 'nuts' after all. It makes perfect sense and oddly enough, even with me driving it, fuel consumption was above 31 mpg, although it could just as easily be persuaded to be under it!
Although the press appraisal vehicle was priced at just under £38,000, prices for the CUPRA Ateca start from around £35,000, but the test car had a few wee extras like upgraded seating, an electric tailgate, a Beats audio system and the 'Winter Pack' ideal for those of us who live up here given the Winters we're having these days, eh?
In other words, a lot of car and a lot of desire for not an awful lot of money. Final verdict? I didn't like it, I loved it. I'd have one like a shot.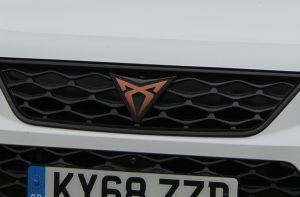 One more thing, don't call it a SEAT. CUPRA is now a performance brand in its own right, hence the striking badge on the grille, or as a pal observed when he first saw it: "I thought it was a Transformers badge." Methinks he's been reading too many Marvel comics.
Review Date: June 26, 2019
Price: £37,845 (as tested)
Engine: 1984cc, 4 cylinder turbo petrol with 296 bhp
Performance: 0-62 mph in 5.2 secs, flat out at 153 mph
Economy: 31.3 mpg (actual)
CO2 emissions: 168 k/gm
Insurance Group 33E