… Suzuki Vitara 1.4 Allgrip S …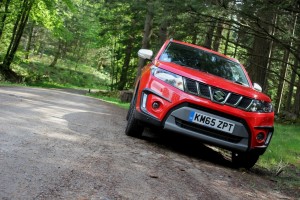 We all know about the Suzuki Swift GTi, especially certain rally folks who used to raid the nation's scrappies (sorry!), vehicle recycling centres, looking for good used 1300cc Suzuki Twin Cams which were then installed in Novas and Corsas as a cheap way of getting more revs and more power, and also a dose of added reliability. It only had 101bhp in standard form, but it was a wee gem of an engine which would rev easily to 6500. And it sounded nice.
Suzuki also makes good motor bikes. My right leg has fond memories of trying to kick-start a recalcitrant DR350 enduro bike. Most of the time if you tickled the petrol and choke correctly it would start first or second time, but if it didn't, you could easily end up knackered long before hitting your first berm of the day. But that's another story!
Over the years Suzuki has broadened its automotive portfolio and until recently was renowned for good quality, relatively cheap motor cars. The trouble is, there are no such things as 'cheap' cars any more. The Suzuki engineering quality is still there, but prices have crept upward.
Which is a pity because at £20,000 the Suzuki Vitara is a tad pricey for what it is. Although it is pitched between Dacia at one end and the Kia Sportage at t'other, standard equipment levels make it look quite good value. The only real concern I have is that it tips the scale at just over 1100kgs and when you open and close the doors they feel a bit 'tinny'. And yet this latest version achieves a 5 star Euro NCAP safety rating. So it must be safe.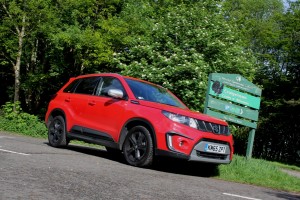 The big attraction for would-be buyers would have to be Suzuki's Allgrip four wheel drive system. Although it has four selectable driving modes, the Vitara will automatically run in 2WD to reduce fuel consumption until it encounters any wheelspin at which point it will switch to an automatic application of directing drive where it is needed. Ideal for unpredictable Scottish winters – and summers too, come to think of it.
However, if ambition does get the better of skill, it has a lockable LSD which helps to brake any slipping wheel and transfer torque to the gripping wheels.
In addition there are 'Sport' and 'Snow' modes. On twisty roads the 'Sport' mode manages the application of four-wheel drive in accordance with accelerator inputs. At low and mid-range engine speeds, the system alters the accelerator/torque characteristics to optimise engine response and cornering performance. When it is icy or snowing, the system uses four-wheel drive by default and optimises four-wheel drive control in accordance with steering and accelerator inputs to maximise traction and stability on low friction surfaces.
The car also has Hill Descent Control fitted as standard which will automatically apply the brakes to restrict vehicle speed in tricky conditions and Hill Hold Control which prevents the vehicle from rolling backwards for two seconds when accelerating from rest. In other words Suzuki offers a rather sophisticated traction system for its compact SUV.
Because it's so light, the 138bhp, the turbocharged 1400cc engine makes good progress with a nought to 60 time of around 10 seconds. But nobody will buy this for its sporting potential, where it excels is when the tarmac runs out and the going gets tough.
Again because of its relatively light weight for a 4×4 it really is very capable even when it gets muddy. Here again, the Suzuki does a good job of terrain traversal. A decent amount of travel and bump absorption has been built in to the MacPherson front suspension and pretty well matched to the beam rear end. A day spent in the Perthshire forests proved testament to that.
As already mentioned, the Vitara comes pretty well equipped with 7 airbags, tyre pressure monitor, radar brake support, front and rear parking sensors with rear camera, engine stop/start and keyless entry with pushbutton start. It also had a double sliding panoramic sunroof, DAB radio with Bluetooth, smartphone link, SatNav and steering wheel audio controls. Outwardly it came with fashionably black 17 inch alloys, front and rear skid plates and roof rails. And when you start to factor all this in plus many other standard fittings, the 20 grand price ticket starts to make sense.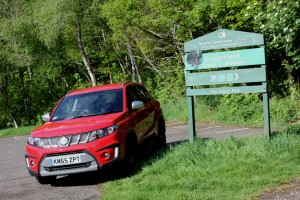 I started out thinking that it was a tad overpriced for a Suzuki, but ended up not so sure. What you get is a well equipped very competent on-road cruiser and off road-bruiser. It may not have the presence of a larger 4×4, but if needs are modest and towing capacity is no more than 1200kgs then why not. I liked it, but would I have one? Yup, I think I would and quite happily too.
Review Date:

May 25, 2016

Price

Engine

Performance

Economy

CO2 emissions