… Mazda 3 …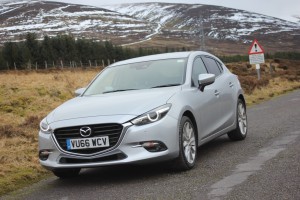 I like the Mazda 3. Not just because it's a good car, but also because it's different. It has an air of exclusivity about it as it's not quite such a common sight on our roads as a Ford or a Vauxhall, or even an Audi or a Merc. On that basis it makes a statement when sitting in someone's driveway.
There is also a feeling that because Mazda isn't the volume maker of a Renault or a Volkswagen that somehow it will be better built and more reliable. That feeling persists despite the fact that all the major manufacturers are so robotised nowadays that you actually worry when there has been human input to the process. Regardless, Mazda still has a solid reputation for quality and reliability and turning out something just a wee bit different.
This latest version of the 3 now has something called 'G-Vectoring Control' which distributes power to the front wheels according to driving conditions. On that basis I thought it would be the ideal vehicle for the round trip to Inverness for the Snowman Rally. Sadly not, the speed restricted and camera strewn expanse of the A9 is no place for adventurous motoring these days. Not only that, there was no snow, no ice and not even a damp patch to try out the efficiency of this new feature.
It was therefore a case of just sit back and enjoy the scenery. The interior trim of the Mazda may look a bit black and austere at first sight, but it is nicely designed with enough chrome highlights to give it a wee lift. The dash panel looks different though, with one central round rev counter incorporating a digital speedo and two 'wings' for other driving information.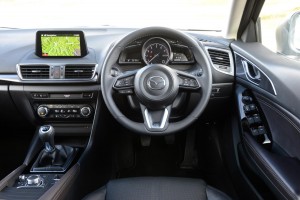 The only thing I don't like is the touchscreen panel that has been plonked down in the middle of the top of the dashboard, but most manufacturers are at it these days. If you can't find a neat and tidy place to install it, just stick it on top. Admittedly you don't have to take your eyes far off the road ahead to check things out, but until heads-up displays become more commonplace, it makes sense to stick it on top.
Apart from that, the seating is really good although a bit neat. Once inside and settled the driving position is really rather good. Not cramped, but you can't spread yourself out in the front seats and you need to have them pulled forward a bit if carrying folk in the back. Then it becomes quite cosy. So be careful what you need when looking for a compact saloon.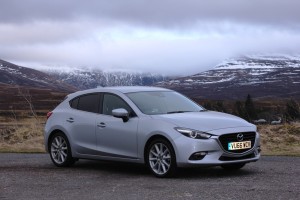 What I didn't like was the access to the 12v and two USB power sockets. They are buried away inside the central armrest which requires an awkward stretch back and twist round to reach as the lidded unit sits beside the two cup holders and the electronic handbrake switch. That may be a minor point, but these days, it's not just teenagers who need to charge up and connect multiple electrical devices, even us grown-ups have pockets full of stuff which constantly need charged up.
The 2 litre petrol unit produces 118bhp and it goes well enough to be fun while providing a different driving experience from all these diesels which are so prevalent in this sector of the market. There isn't a lot of torque so the gearbox has to be stirred frequently on Highland hills and glens to maintain momentum, but it's a nice gearbox and the engine is whisper quiet.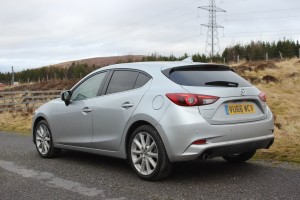 Naturally fuel economy is on everyone's mind these days couple with the growing antipathy towards diesel. At the moment, petrol prices are lower than diesel so that has to be taken into account when looking at consumption figures. On that basis 42mpg is not great compared to a diesel but it is much better than petrol engines of ten years ago. Mazda claim a combined fuel consumption figure of around 55mpg and on the 'average speed' camera watched stretches of the A9 the car was getting pretty close to 50mpg so the potential is there to do a lot better than my average.
The Mazda 3 is a thoroughly likeable car with adequate room for four and a decent sized boot. I really liked it, but I still prefer it's big brother, the Mazda 6.
Review Date:

February 25, 2017

Price

£20,645

Engine

1998cc, 4 cylinder petrol with 118 bhp

Performance

0 - 62 mph in 8.9 seconds, flat out at 121 mph

Economy

55.4 mpg (combined)

CO2 emissions

119 g/km