… Suzuki Jimny …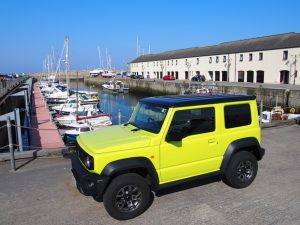 Anyone who buys a Suzuki Jimny, and then complains about the choppy ride, needs a good kick up the bum. It's a short wheelbase vehicle (even shorter than a SWB Defender!) so what would you expect?
Similarly, anyone who buys a Suzuki Jimny, and then complains about the lumpy ride over poor roads, needs another good kick up the bum. With rigid front and rear axles slung from a traditional ladder frame, what would you expect?
And another thing. Anyone who buys a Jimny and then complains about the lack of electronics, push-button operation, all terrain selection twist dial, or even hill descent control, needs yet another good kick up the bum. The whole idea about Suzuki's manual four wheel drive system with two manual 'shift' levers is about simplicity, reliability – and cost.
That more or less explains what the Jimny is all about. This is a compact (but cute!) serious off-roader for all its diminutive on-road presence. Perhaps the most surprising thing of all is that it has more interior room for the driver than a Land Rover Defender despite being almost 600mm shorter than a Ford Fiesta. That includes head, shoulder and leg room which means that the driver can actually move his right arm which would otherwise be squashed numbly up against the door. And another thing, most drivers can turn the steering wheel without it being polished against their Barbour jacket!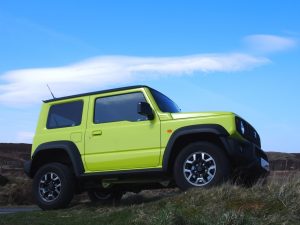 There is a caveat though, anyone over six feet tall and/or possessed of a lifelong pie-fed diet may struggle for space, but it's still better than most of the opposition. Not that it has any really, the Jimny is relatively unique in this market.
Ignore the trendy colours and plastic wheel spats, a potential buyer should regard this is a seriously practical, two seat off-roader that will go anywhere that it's bigger rivals can, and possibly even further due to its compact dimensions. With a wheel at each corner, light weight and 210 mm (8.2 inches) of ground clearance this is a remarkably competent go-anywhere machine, limited only by the skill or bravery of the driver.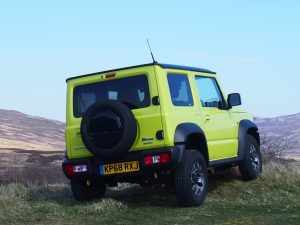 That is down to the manually operated 5 speed all-wheel drive system. There is an automatic gearbox option, but that makes the 1462cc engine even slower and also impacts on fuel consumption, and therefore makes the 5 speed manual a better choice. Alongside the gear lever is a shorter lever which selects the Lo-Range option. And that's it. No additional symbols to denote ground conditions or dials to select appropriate 'modes' and suspension settings. Just good old fashioned technology that works as well as the driver needs or wants.
In fact everything about the car is simple, right down to the interior light switch. None of these fancy multi-push-button types or swipe operations. The Jimny has a 3 position slide switch. Tactile and sensible, even when wearing gloves. All the controls are clear and well labelled and the interior is functional and rubber covered rather than plush and hard to clean.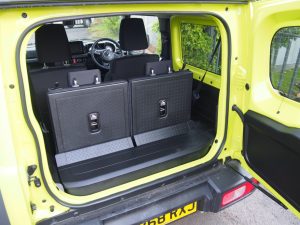 If there is a downside, then it's the boot. There isn't one. There is however a 'slot' behind the rear seats big enough only for a pair of wellies, flask and Tupperware sandwich box. With the seat back folded down there is a decent sized square space, but you'd still struggle to get a standard sized bale of hay inside or perhaps enough luggage for an overnight rush-job elopement just ahead of the shotgun.
On the other hand for those with agricultural or commercial activity in mind, it does have a flat roof which means that those who don't care about scuffs and scrapes can just lash a couple of extra bales to the roof if you forget to specify a roof rack.
And speaking of back seats. Forget it, at least as far as grown ups are concerned. Although the front two occupants have adequate room for a fair degree of comfort, best save the rear seats for folk you don't like or as punishment for unruly teenagers. And you know what? That could just about be another reason for buying one!
The Jimny is not quick. Even with an engine which is 134cc bigger than its predecessor that equates to a modest 16hp more. Good enough for a top speed of 90 mph if you can wait that long and a nought to 60 time which includes an allowance to permit some sightseeing as the scenery goes backwards at a very modest rate!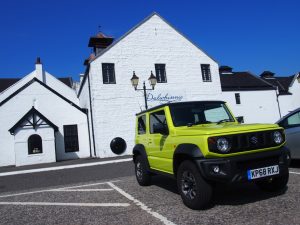 And the verdict? I didn't like it. Nope, I REALLY, REALLY liked it. This is a modest, but honest, small car with amazing ability and functionality. It's not for everyone given it's 'long range touring' performance but for an everyday runabout, especially in a Scottish winter, it's hard to beat.
I'd have one, but only as a second car, as I need something bigger for current use.
Oh! And one more thing – it does come in other colours!
Review Date:

May 24, 2019

Price

Engine

Performance

Economy

CO2 emissions