… McLaren 570GT …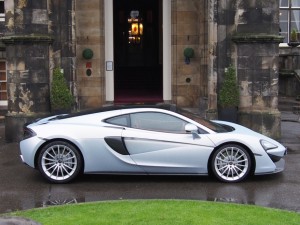 The McLaren. It's not just a car. It's an immersive automotive experience. The last (and the first) time I drove a McLaren was way back in September 2014 and I was blown away. Or maybe I wasn't. Getting in to the thing was like trying to fit an Ugly Sister's foot into Cinderella's slipper. Getting out needed some WD40 and two tyre levers!
That last part wasn't just down to the neat fit. There was a bit of resistance at play here. McLaren wanted their car back, and I didn't want to let go!
Despite that McLaren invited me for another shot, this time in the brand spankers new 'entry level' model, the 570 GT. Now 'entry level' to the likes of you and me, as opposed to 'entry level' for playboys and bankers, is a rather different proposition, but McLaren's latest ploy is a finance scheme whereby it actually becomes affordable – if you sell the weans, cancel the nursery places and rent out their room.
Having driven it, the idea of an 'Are we there yet-free life' suddenly takes on a distinctly appealing and selfish appeal.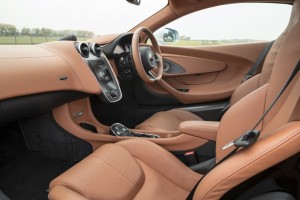 Desirability changes immediately to yearning when you slide into its seductive leather-lined, carbon fibre trimmed, alloy highlighted automotive bliss. An accomplishment made much easier in this latest GT version by lower, narrower door sills and wider seats. This is not just a car to look at and drive, it's a car to touch and feel and savour. Even the windscreen wiper and indicator stalks are sculpted works of art. If the best of the rest is Prosecco, this is champagne.
And where other cars have a 'Starter' button which feels gimmicky, in the McLaren it just feels so right. It's the kind of experience where you don't just jump into the car and fire it up and drive off. That's far too rushed. This car demands that you pause your finger over the starter button, take in the ambience, and then press it.
Which leads to the most disappointing let-down of the car. It's far too quiet. McLaren can't be blamed for this, just the draconian British sound police who have decreed that the most beautiful music be muted and castrated. And McLaren being McLaren, they have ensured that their 3.8 litre mechanically jewelled movement behind the seats complies properly and legally with all this national molly coddling.
That is the single most disappointing feature of the car. Although you can just about hear the beat of the V8, it has been muffled to such an extent that it wouldn't frighten a hungry midge aiming at a fat tourist backside. If it was on the 'Options' list, I would pay extra for an 'active' exhaust.
And that is the only gripe and McLaren can't be criticised for it, although perhaps they could be criticised for doing such an effective job!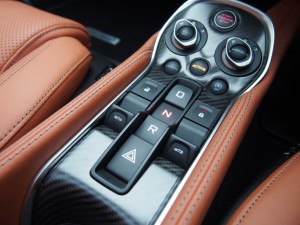 Anyway, the muffled whoop tells the driver that the button has been pressed and you are ready to move off. Wait a minute. There is no gearstick. There's isn't even a stump to push or pull. Just three buttons – N, D and R. How simple is that? It starts in N, pressing D makes it go forwards and pressing R makes it go backwards. And if you want to take control yourself, there are the obligatory paddles behind the steering wheel. As the Russian rodents say: "Simples!"
In a car that can hit the country's legal national speed limit from rest in under 4 seconds one can be forgiven for thinking that it would be hard to control, ensuring that your licence is in constant jeopardy. Not a bit of it. The odd thing is that after driving it for half an hour, the idea of being in control of an expensive 'supercar' fades away like suntans in northern Britain.
Forget the 200 mile an hour top speed, this car can be driven like a commuter-box during the week and wielded like a track day weapon at weekends. Its ease of controls and on-road composure is quite uncanny. Even speed bumps outside schools don't faze the suspension, nor does the nose scrape the road surface.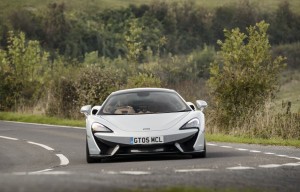 For a car which can get pretty close to a 7 minute lap around the Nurburgring, the newly developed suspension is biased towards long distance comfort by reducing the spring rate stiffness by 15 percent at the front and 10 percent at the rear. The independent adaptive dampers can also be dynamically adjusted through Normal, Sport and Track settings, and are coupled to front and rear anti-roll bars.
That means the driver and passenger can have all the benefits of a smooth and unruffled ride while at the turn of a switch, the beast can be hunkered down for its 'angry' mode.
Sadly this was not an option which could be explored during my time with the car. It was wet. Even so, the performance capability of the car is way beyond what public roads and national speed limits would allow.
Perhaps the most telling aspect of this sheep/wolf in wolf/sheep's clothing is that any nervousness which a new driver to the experience will have dissipates very quickly. The dread of driving a very expensive supercar on public roads is rather quickly dispelled by a feeling of assurance and confidence. In everyday use the car is so docile to drive that it could be used every day if the driver could cope with the rubberneckers and petrolheads. This is not a car for a shy and retiring introvert.
But when you do get a chance to open it up (just a little, honest guv!) the bomb-blast body shove into the seats from the instantaneous twin turbo V8 thrust is a visceral physical experience. It also racks up g-forces in cornering, even in the wet, which can re-arrange your internal organs. Stopping the beast results in another physically arresting experience as the seat belts stop you from ending up squashed against the windscreen like a moth meeting a fast headlamp.
This is a 'Grand Tourer' worthy of the initials, it's also a daily commuter, an ultra high performance super car and a work of automotive sculptural art which is every bit as seductive just sitting in your driveway. As I said, just one drawback, it's far too quiet.
There is one other teensy-weensy wee drawback. The price. At £154,000 it's the same price as five Ford Focus RSs.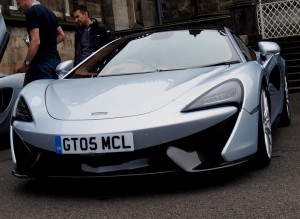 Or maybe it's not quite that bad. You can get yourself into a McLaren for around £950 per month after a £35,000 deposit on one of their Personal Contract Purchase agreements. Compare that to 712 quid for a monthly season Aberdeen/Edinburgh return rail ticket. Doesn't sound quite so bad now does it? Not only that, the cars are renowned for holding their re-sale value and might even appreciate so your investment won't plunge like a housebrick in a paddling pool.
It's also worth remembering that it's a two seater. It will be no use on the annual 'take the weans to work' experience days, but you can drive and they can take the train.
Review Date:

December 23, 2016

Price

£154,000

Engine

3799cc V8 twin turbo petrol with 562 bhp

Performance

0 - 62 mph in 3.4 seconds, flat out at 204 mph

Economy

26.6 mpg

CO2 emissions

249 g/km