Lexus IS300h …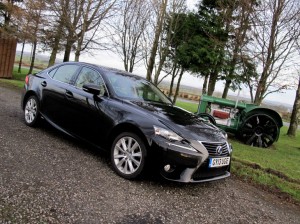 There's nothing wrong with a bit of luxury, is there? For the would-be dragons of this world after a stressed out day shouting at staff, dealing with irate customers and looking forward to the wife's charred and smoking attempts at dinner on the way home, there could be little nicer than luxuriating in a nice bit of leather, cocooned from the road and separated from sullen commuters, with the B&W sound system tuned into the gentle and soothing sounds of – Status Quo beating 3 chords to death at maximum volume. Ah the bliss.
Honestly, this Lexis IS300h is a serious 'wafter' designed to gently waft its occupants around the highways and byways with a little bit of automotive pampering.
Lexus reckons this is a 'sporting saloon' but I'm not so sure. It's reasonably quick, and so it should be with a 4 cylinder, 2.5 litre petrol engine plus a 141 bhp electric motor, but it's not what I would call sporting. It's just a bit too refined for that.
That probably has something to do with the deployment of a CVT gearbox. I hate them. For sure the gearbox works well and unobtrusively in this case, but the simple fact that it doesn't make the appropriate response, both physically and aurally, when you're pressing on just detracts from the driving experience. That's fine if you want to travel from A to B in comfort and style, but not if you want to get the adrenalin pump fired up.
Or perhaps my historic dislike stems from the early versions of such devices which used to whine and whirr without any measurable effect on the drive. A bit like shouting at a noisy kid in the next room. Even when it all goes quiet, you have no idea what's going on. But as I said, the Lexus system works well – I still don't like it.
And yet, it has to be said, that on the slow crawl along the M8 into a commuter infested Glasgow of a morning the system did have distinct advantages. In fact I almost succumbed to liking it until I was driving out of the city again and got on the road to Lanark down the Clydeside. That confirmed it. I'll stick with manual gearboxes, or at least a decent automatic.
Even so, the gearbox has three Modes – Eco, Normal and Sport. Admittedly, the Sport setting did sharpen everything up but I still wouldn't call it a sports saloon, just a quickish executive express. As for the Eco mode that drops the revs and makes the fuel go further, but most folk will just leave it in Normal to get the best of both worlds.
It's still quick enough to be pleasing, but it's the ride quality that sets it apart from proper 'sporting saloons'. A spirited drive across country in Sport mode will still leave your fillings intact and bum unbothered. This was best demonstrated in town when driving over 'sleeping policemen' type bumps in the road. Even with 18 inch rims, it wouldn't waken the mother in law in the back. I found that quite impressive.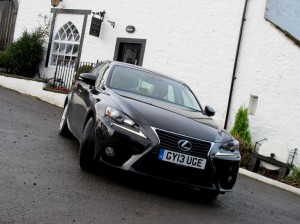 And another thing. When did you hear of a 'sporting saloon' with impressive fuel economy behaviour? The electric motor is primarily responsible for this as you can move off silently from rest and when the engine cuts in, you hardly notice. The hybrid power claims a combined economy figure of 60 mpg. I didn't quite get to that, but I was still impressed with just short of 50 mpg n a trip to Gretna Green and back – and no, I wasn't running away to get married.
The seats and the interior are excellent, it's virtually silent and well insulated on the move, and with everything else taken into consideration, it's a hard car to fault. I liked it, I really did – even with a CVT box!
At just over 38 grand, it's not cheap, but feel the quality and check out the technology, however the metallic paint and the 18 inch alloys (17 inch as standard) were extra.
As for the new front grille, that's an acquired taste – I'm still acquiring.
Review Date:

January 23, 2014

Price

Engine

Performance

Economy

CO2 emissions

Insurance Group