… Ford Mondeo Estate 2.0 TDCi ST-Line Powershift AWD …
If you're after a well equipped, extremely comfortable, all wheel drive estate car, then you need look no further. Ok, it doesn't have the prestige badge on the grille to impress the neighbours, but take them for a spin and they might rue their chosen alternative 'premium' badged load luggers. It's not any cheaper, but it's more than a match for the competition. It's a Ford Mondeo.
In basic form, the 2 litre 178 PS diesel is potent enough to whisk you across country with all the pace that is allowed these days and it has the handling and ride quality that we've all come to expect from the Blue Oval, but it is the interior that impresses most.
Most manufacturers are now producing digital dashboard displays that offer different styles of read-out and even different colours to suit the driver's mood, but some are better and sharper than others.
Although there is something reassuring about analogue dials and gauges, these are appreciated more by older drivers with long memories. However today's more discerning and electronically plugged in youngsters are always looking for more. This latest offering from Ford should satisfy both camps.
The digital display on the Mondeo is so crisp and clear you feel you have to touch it to make sure that the bezel is not chrome and not standing proud of the dial. It's the same with the pointers and numbers. The bright blue pointers swish round so smoothly without a hint of digital stutter you'd swear it was mechanically driven. And if it's too bright, there is a dimmer switch for a more restful drive at night times.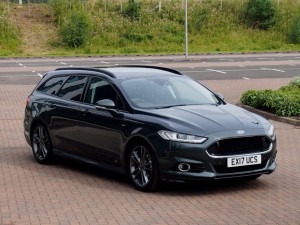 The driving position is ideal with a seat cushion that is firm yet soft enough to provide supreme comfort on long drives. The seats themselves are also well shaped and hug the wobbly bits in all the right places.
The 6spd Powershift transmission is a fairly relaxed unit but it has a 'Sports' mode which sharpens up response and holds the revs longer. That's good enough for a sub 10 second 0 to 60 time. It even blips the throttle in the downshift, although it can't be heard, due to the whisper quiet oil burner under the bonnet. It is discernible in the responsive rev counter needle which flickers informatively.
Even on start up, when cold, the engine is quiet and on the cruise it is virtually silent. This is a car for the driver who has moved on from rock hard suspensions, sensitive steering and urgent engines. It's a cross continent cruiser with comfort in mind and a decent turn of pace. And that was on 19 inch (£550 extra) very dark coloured rims which matched the 'Guard' paint job (another £675) and the dark privacy glass. It almost looked menacing!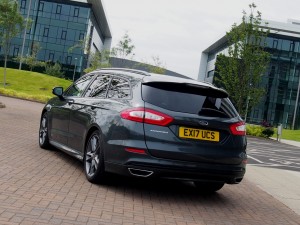 The four wheel drive system is there for grip and passenger security, not for climbing mountains to count sheep. The ST Line body kit will see to that with a lower front and rear bumper and side skirts that would litter the hillsides if attempting to keep up with a Land Rover. Better kept for wet roads and wintry conditions.
The test car had five and half grandsworth of extras, not all of them necessary, but adding to the overall appeal of the machine. Included in this figure are the 900 quid LED adaptive headlamps. I'm no fan of these 'clever' automatically adjusting motoring illuminations and although they are just as efficient as other rival systems, I still prefer to have the manual headlamp dipping option. A few times I got flashed by oncoming drivers. Then again, their own system might be no more efficient than the Ford, just a late reaction from their car's sensors.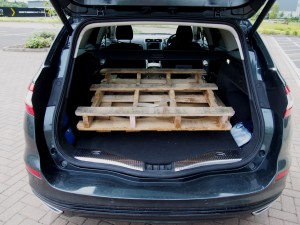 Naturally, it has Active City Stop, Lane Keeping/Traffic Sign Recognition and a Rear View Camera and it also has a self-parking system – another 'aid' which I personally view with suspicion, but by crackey it works. Towing capacity is a pretty good 2200 kgs and the detachable tow-bar was handy, although a 600 quid extra.
Did I like it? Daft question. I'd have one like a shot, although I might do away with the expensive headlamps. Otherwise a car for all seasons and all reasons.
Review Date:

September 21, 2017

Price

£36,815.00 (as tested)

Engine

1997cc, 4 cylinder turbo diesel with 178 bhp

Performance

0-62 mph in 9.5 secs, flat out at 137 mph

Economy

55.3 mpg (combined) 38.7 mpg (actual)

CO2 emissions

137 k/gm

Insurance Group

23E - T1