Ford Kuga Titanium Sport X …
It's five years since I first drove a Ford Kuga at its launch in Spain way back in August 2008, and I am reminded of that event every time I climb aboard a Kuga. It happened again when the latest version of this chunky little off roader arrived at my front door. Only it's not so little and chunky any more. It's longer, wider and taller with more room inside.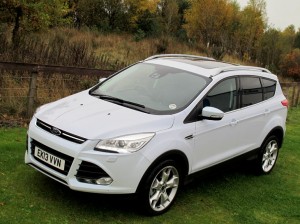 But the reason the Kuga is so memorable is all down to half a tonne of pedigree beef on the hoof. When Ford originally launched its new crossover vehicle they chose to do it in Spain, and to show off its capabilities they had mixed some gentle off-roading in amongst the on-roading routes.
Trouble was, one of the off-road sections went through a wooded grove which was used for grazing Spanish bulls. You know the kind, the ones with more muscle than Popeye full of Spinach and long pointy horns that could pierce steel, never mind humans.
Mind you, the local Andalucian worthies had assured the journalists that all the bulls had been removed and put in a paddock so it was safe to drive through the plantation. Well, you know what's coming don't you? They missed one. But we didn't know this as we arrived and drove into the plantation directed by a couple of blokes who were manning the gate. They didn't know either.
Anyway by the time we got to the far side of the woods, the two guys manning the exit gate had gone. There was no-one to tell us which way to go. So we were sitting there trying to work out which way to turn when we saw the two guys waving hysterically in the distance – so we waved back. Then I felt this tremendous dunt at the back end of the Kuga. A first I thought someone had pranged the rear end of my Kuga, but there were no other cars around.
Then I noticed the sun-glistening on the pointed horn tips in the rear door mirror as the bullock backed up to charge again, another dunt in the rear. It took me a minute or two to realise what the hell was going on, but this young bullock was already backing up to charge again. Obviously it wasn't too chuffed to have these cars driving through its terrain. Not only did it attack my car but it got another four during the course of the day before it was finally rounded up and sent to join the others in the paddock.
I later learned that the two guys manning the exit gate had been chased by the thing and it took some while to get word back to Ford HQ that there was trouble afoot, or ahoof. It was no surprise really. These things are bred to fight. So anything moving and shiny is a prime target, regardless of whether it's made of flesh and bone, or metal and glass.
Looking back it was funny, but the beastie had scraped, gouged, and gored five brand new Ford Kugas. Fortunately there was no need to fill in an insurance claim form.
Can you imagine the interview?
And what did you hit sir?
Nothing, it hit me
And who was driving the other vehicle sir?
No other vehicle was involved?
So how did the damage occur sir?
We were attacked by a bull
A bull, sir?
Yes
What kind of bull?
The standard Spanish kind. Half a tonne of mean, raw meat on four legs with a rather large toasting fork on its head
Are you bull-shitting me sir?
Nope absolutely not, it's all perfectly true
Had you done anything to antagonise the bull sir?
Maybe it had something to do with the fact I was eating a MacDonald's Happy Meal at the time!
Only kidding
So that's why I have particularly fond memories of Ford's Kuga and maybe it was just as well I was in something robust, otherwise it might have perforated me and not just the tailgate, side door and bumper.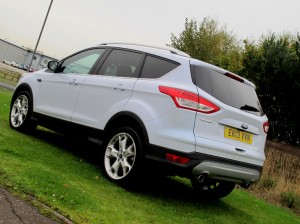 Anyway, the new Kuga is a rather different beast to the original. Yes, it looks very similar at first glance, but it's bigger, and at 4.5 metres long it is actually 100 mm longer than Ranger Rover's new Evoque so that pitches it into serious competition territory. And it comes off pretty well against this most serious of opposition.
The extra size means more room inside and whereas the previous Kuga was a bit neat in the head and knee room department, the new car is much more roomy and comfortable. Mind you, it's still got far too many buttons, controls and displays to distract drivers, or is that to keep the weans amused?
There are three trim levels with the basic Zetec, mid range Titanium and top-spec Titanium X and they all come with daytime running lights, sports seats, cruise control and a keyless start.
The Titanium X trim, as driven, adds a gloss-black grille surround, automatic headlights, full leather interior, dual-zone climate control, a DAB radio and Ford SYNC, and19 inch alloys. And even Ford is getting in on the Bi-xenon adaptive headlamp act with a full set of bright-eyes up front and LED tail-lights at the rear plus panoramic roof and full-leather interior.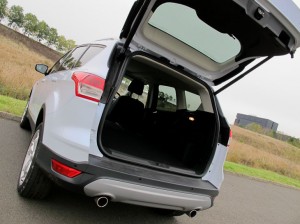 There is another gimmick but one which will be appreciated by henpecked husbands and multi-tasking women everywhere. If approaching the rear with hands and arms full of shopping bags and sale bargains, toolboxes and spare parts the locked tailgate can be opened automatically and with no hand, just by waving your foot (or something else) under the bumper – as long as you have the key in your pocket.
It's also got Park Assist which will find a parallel parking spot in the street and drive you into it, plus a blind spot warning system and Ford's Emergency Assistance system.
The previous Kuga was a taut riding and handling wee thing, but this new one is altogether kinder to the average driver. Despite the 'Sport X' moniker, handling is not sporty, it is softer and kinder to the nether regions. Even more noticeable is the fact that it rides pretty well on its 19 inch rims. And that's not something that can be said of many other cars with such muscular alloys and low-fat rubber.
The four-wheel-drive system is mostly un-intrusive, flattering Mrs and Mrs Average with the amount of grip they think they have, regardless of conditions. In terms of 'explorability', the Kuga could match almost anything else in the market for grip and control in general use. In fact, it would only be the likes of Indiana Jones who would need something more extreme when searching for the Temple of Doom.
It's got plenty of poke too, the 161 bhp four pot turbo-diesel offering a decent blend of performance and frugality. And that's good enough for a towing capacity of 2100 kgs.
Prices start from £20,995 for the entry level 1.6 litre job going up to £33,245 for the Titanium Sport X with 161 bhp, 2.0 TDCi and Powershift auto'box, so there's a spec and a price to suit all comers.
As for me, I liked it. I'd have one like a shot.
Review Date:

November 21, 2013

Price

Engine

Performance

Economy

CO2 emissions

Insurance Group