… Citroen Berlingo …
As the proud owner of a 9 year old Citroen Berlingo Multispace, the arrival of a test example of the latest version of the leisure/family car was much anticipated.
My own car is used very much as a second vehicle. At weekends it's either transporting mountain bikes around the country's green spaces or working as a mobile press office at rallies, both functions which it fills far better than any saloon car, hatchback or SUV.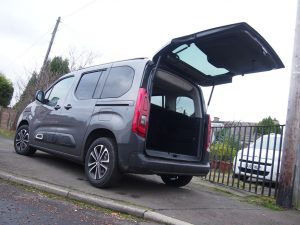 It has a number of functions which helps it suit both roles. The huge tailgate swings up to offer a large canopy when it's raining for changing out of sodden tee-shirts and shorts while the flat, lip-less floor offers an ideal seat for changing mucky socks and shoes. Also, both rear rows of 3 and 2 seats can be completely removed to turn it into a flat-floor van which is also handy for runs to the local recycling centre or taking the lawnmower and garden tools to the in-laws' garden for other weekend duties.
As for 'office accommodation', the upright seating position and the flat-top dashboard offer un-rivalled working conditions when out and about reporting on rallies. Plus there's plenty of head and shoulder room when reaching for laptops and paperwork scattered around the cabin.
It's compact, yet has loads of room for everything I need and is the reason that I still hang on to it – I haven't found anything better yet.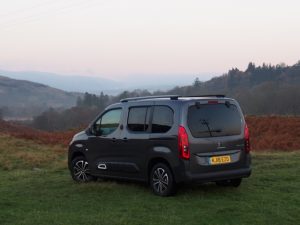 Which brings me to this brand new 5/7 seater. Despite its similarity in size and shape, it still looks markedly different from the old car particularly at the front end and grille. I hate to admit it, but the design tweeks do make it look better than mine!
Looks apart, what about the functionality? The optional rearmost double seat is removable but the central 3 seater row isn't. Instead they fold down individually but they don't come out. That detracts from the otherwise van-like space although it still offers more room inside than a more 'conventional' car on the same footprint.
However, the front passenger seat folds flat enabling surfers to lock their boards inside the car overnight or carry them as well as passengers depending on how many seats are occupied behind the driver. So that's a bonus.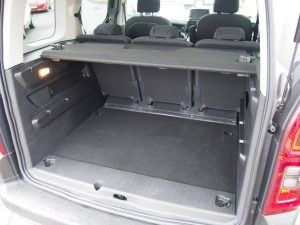 Apart from the huge square shaped boot (5 seater) there is (optional) additional storage space in the roof of the Berlingo with a secure drop down hatch which opens to the rear, and additional carrying capacity for smaller items in a shelf slung along the centre of the inside roof. A bit gimmicky but kids will love it.
On a personal note, I prefer the ability to remove the rear seats completely, but the new Berlingo does offer an acceptable compromise and one which might appeal to those who don't want to have to take the seats out and store them in the garage.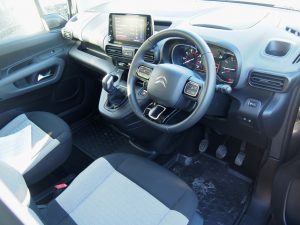 The test car had the new 101 bhp, 1.5 litre turbo diesel, but only with a 5 speed gearbox, although there is a 6 speed option on the 130 bhp model. There were times when I felt myself reaching for 6th – but there isn't one! And with a mere 101 bhp, that meant frequent use of the gearbox to keep the thing going on longer trips, but if you can't handle 101 bhp, there is an entry level 75 bhp.
There is however a 6 speed or 8 speed automatic option on the more powerful 130 bhp diesel choices while Citroen's 1.2 litre petrol engine is also available in 109 and 130 bhp trim. So be careful what you choose. City centre, school run duty, or commuter carry-all come holiday transport. The Berlingo range covers all of these better than most.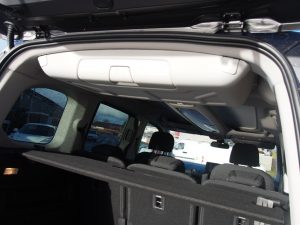 Prices start from £18,000 and go all the way up to £26,000 so be careful what you specify. Just don't expect saloon car ride quality, remember, this car is based on a van. It rolls a bit more than a car, but you do sit higher. For families and folk who need space more than anything else the Berlingo is hard to beat, and I for one don't need convincing.
Now, all I have to do is convince myself that the new car is better for me than my current one!
Review Date:

November 21, 2018

Price

£25,095 (as tested)

Engine

1499cc, 4 cylinder turbo diesel with 101 bhp

Performance

0-62 mph in 12.3 secs, flat out at 112 mph

Economy

65.7 mpg (combined)

CO2 emissions

112 k/gm

Insurance Group

11E