… Vauxhall Viva SE …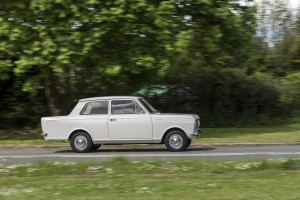 When I heard Vauxhall was planning to bring back the Viva, it conjured up mixed memories. The original Viva HA had all the stylistic panache of an ex-shoebox designer's first attempt at automotive family transport. To be fair, fifty years ago priorities were different and manufacturing methods were rather more primitive than they are now. The result was a rather boxy affair which had plenty of room inside and a big boot, although as far as cheap family transport went, it was fit for purpose.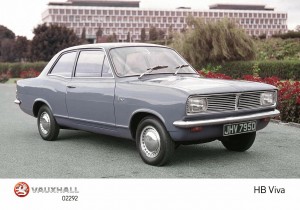 The subsequent HB model was an altogether different beast. If anything good came out of the days of whacky baccy and flower power, the HB provided tangible proof that even shoebox designers could have their imagination re-stimulated. The basic Viva HB was a smart looking family car with American flavoured 'coke-bottle' styling, but the later GT version with black grille, matt black bonnet and wide wheels really put the sex into Vauxhall appeal.
So much so that Bill Blydenstein picked up on its good looks (and engineering potential) and turned the marque into a very effective racing machine which ultimately inspired the formation of Dealer Team Vauxhall. The conversion of the HB into a rally car was not quite as successful until the Firenza and the Chevette came along although there was some success, most notably with Charles and Alec Samson in the early 70s before they switched to the Escort.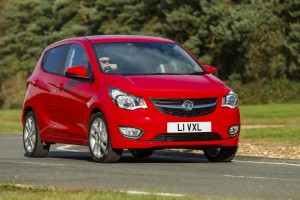 The latest Viva has returned the name to its family car roots so don't expect a competition version. It looks tiny from the outside, but inside there is plenty of room for four and even on a run up to Huntly from Motherwell and back again via Elgin and Aviemore, nothing hurt or ached. That was as much due to the excellent driving position as the seats and the space.
Neither was it a strain driving a three cylinder, 1 litre motor with a modest 75hp, especially on the camera infested A90 and A9 roads there and back cruising contentedly at 60 plus. It zips through the gears fast enough but loses out in top end poke, so what you make up on braking and zipping through roundabouts you lose when the big stuff gets its power down on the exits!
Still it was fun, especially when the owner of a big and bling BMW thought he would pull out, pass and cut back in on the approach to an Aberdeen ring-road roundabout, only to find the wee Viva still on the inside and ruining his 'line' through the approach and exit. Infantile I know, but smugly satisfying.
I don't what it is about the north east, but there are an awfy lot of drivers up there who lack patience, tolerance and kindness, especially to anything smaller than whatever they happen to be driving. I blame the Americans of course. They might have been over here for fifty years but they seem to think Aberdeenshire is part of Texas and they have right away over all us 'furriners'. But it wasn't just them, even tractors were pulling out on me on the stretch coming up past Forfar and Stonehaven.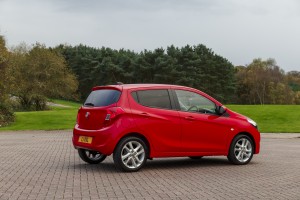 It's that sort of selfish behaviour that knocked some of the fun out of driving the Viva, but it's not just the Viva, I have noticed such bad manners in the past when driving other small cars like the Hyundai i10 and more recently a Volkswagen Up! And it's not just Aberdeen to be fair, it's happening all over. Scottish folk used to be such nice considerate drivers too. Could it be London driver disease spreading northwards? And folk wonder why there is such a thing as 'road rage'.
On the other hand, the interior is pleasant enough to soothe the seething resentment behind the steering wheel and just sit back and let the world go flying past the windows. Normally that would be aided by my personal choice of music like 'The Shadows' Greatest Hits and the Sound of Music soundtrack (only kidding!) but there was no USB connection. This was the SE version of the Viva. To get a USB slot you'd need to have the SL. There was a 12v socket and an AUX connection but no USB so I had to stick with the radio.
This is just a minor moan because from early 2016, Vauxhall will be introducing its new IntelliLink system which will enable seamless integration of Apple iOS and Android devices, including full compatibility with Apple CarPlay and Android Auto. They might as well add Klingon to the SatNav voices for all the sense that makes to me.
Bad enough you might think, but Vauxhall has further plans for connectivity with its 'OnStar' service. If the thought of Intellilink frightens you, this extra system will add additional services for Vauxhall Viva customers such as instant emergency service access when needed, roadside recovery and smartphone remote control. Even more baffling, it will enable your Viva to become a Wi-Fi hotspot, enabling up to seven devices to be connected to the car network.
In other words, the Viva will offer significant appeal to the 'yoof generation' as most of these electronic nonsense will right over the heads of potential older buyers.
It's also worth noting that in addition to the usual 'standard extras' that customer have come to expect these days, such as ABS and ESP with Traction Control, electric windows and door mirrors, this little car has a tyre pressure monitoring system, lane departure warning, a perimeter alarm system with electronic engine deadlock immobiliser, speed-sensitive power-assisted steering, cruise control with speed limiter, multi-function trip computer and stereo radio with aux-in and steering wheel mounted audio controls. That's a lot of extra kit for a standard spec motor.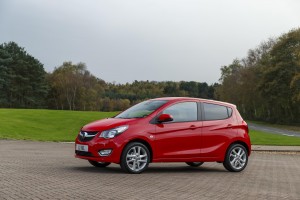 Over the weekend I travelled over 500 contented miles in the Viva, apart from the occasional bully in a bigger car, and recorded an average of 48 mpg. This falls far short of the official Vauxhall figures of 65 mpg but I was cruising at motorway speed when allowed and exploiting the fun handling heading south from Elgin to Aviemore, so I reckon 50 plus is easily achievable if driven more moderately and who knows, perhaps 60+ when dotting around town on the daily commute.
I'd like to think that the time spent in the Viva has made me a better driver. In future I will be even more considerate to drivers of smaller cars than I have been in the past! Here's hoping more folk follow that example. I will add this to my 'give more room and be nice to cyclists' campaign as well. Wonder if that will qualify me for a Blue Peter 'care in the community' badge?
So yes I liked it. I thought it a cracking little motor.
Review Date:

August 21, 2015

Price

Engine

Performance

Economy

CO2 emissions