… Vauxhall Grandland X …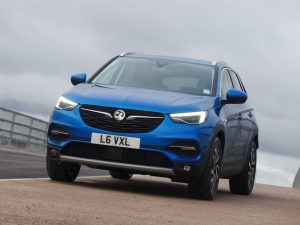 Although the Grandland X is Vauxhall's biggest SUV it won't rival the bulk of the bigger Jags, BMWs and Audis. This is more of a mid-range vehicle and should be compared to the likes of the Nissan Qashqai, Ford Kuga and Kia Sportage among others in terms of size.
The trouble here is that since just about everyone is producing a mid-range SUV these days, it is very hard for manufacturers to make their own-brand product stand out from the crowd. By their very nature, these 5-door SUVs all have similar proportions. A big-gish rounded body sitting high off the ground. That leaves designers with the grille, tailgate and flanks to flourish their talents and test their design skills.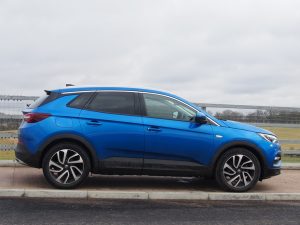 Up close it's definitely a Vauxhall, but parked in a busy shopping mall car park it doesn't stand out, but then neither of its rivals will either. So how do you make your own vehicle different and appeal to buyers? Spend extra effort on the interior, and that's just what Vauxhall has done. This is a nice car to sit in, drive and enjoy.
First off, the seats. The heated front seats have an adjustable seat cushion which extends to offer the longer legged a bit more thigh support. Something which I particularly appreciate. The driving position itself is adequately adjustable for short and tall people so that's the basics taken care off.
Then there are all the extras. Standard equipment includes camera-based lane departure warning, road sign recognition, intelligent cruise control, and air conditioning with particulate and odour filter. Additional equipment caters for smartphone integration with control of that and the radio through the 7 inch touchscreen and also includes Vauxhall's 'OnStar' service which incorporates a range of owner services including automatic crash response, a Wi-Fi hotspot facility, smartphone app, stolen vehicle assistance and vehicle diagnostics.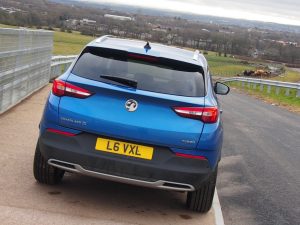 Plus there is one other item which every car should have these days, a 230-volt power outlet, in this case behind the front seats. For those of us who spend so much time travelling in and working from our vehicles, this is a godsend when the batteries fail in larger mobile devices. I actually carry a compact inverter with me when I attend and report from rallies and other events. It has got me out of a hole numerous times.
I suppose the real surprise is that such a large and well equipped car is powered by such a small engine, and yet the 3 cylinder 1200cc turbo petrol pumps out a perfectly adequate 128bhp, although there is a 1560cc diesel option with 119 bhp. The petrol engine is good for a claimed 117 mph and gets off its mark quite smartly for its size. Vauxhall claim a 55 mpg average fuel consumption but I didn't have the car long enough to try it out although I think that may be a wee bit optimistic in real driving conditions.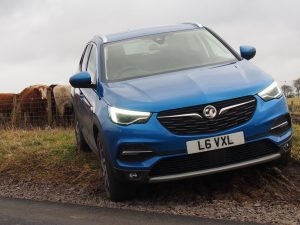 The other big attraction is the implementation of Vauxhall's innovative IntelliGrip traction control system. The optional electronic system ensures optimum road grip in diverse driving situations, and adapts the torque distribution to the front wheels depending on which of the five driving modes has been selected. This ensures the best traction and stable handling on any surface.
That all translates into an easy and effortless driving experience. It doesn't feel underpowered and has enough power to satisfy commuters, weekenders and even those in a wee hurry.
There are now so many compact SUVs to choose from these days that Vauxhall has just made the job even more difficult. Or maybe not. Perhaps once you've seen it and driven it you won't need to look elsewhere.
I really like it and would be quite happy to have one sitting in my drive.
Review Date:

February 20, 2018

Price

Engine

Performance

Economy

CO2 emissions

Insurance Group