… Kia Niro 1.6 GDi '2' …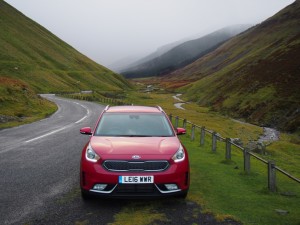 A world famous (throughout Inverness) rally driver, and some time car dealer, recently challenged me to name the most improved car brand in the market place. I immediately said, "Kia."
Donnie MacDonald – for it was he – responded: "You know, you're not as daft as you look, I agree with you." Praise indeed. He went on: "I've just bought one for my daughter and it's a great wee thing." So there you go, what better recommendation could you have.
Anyway, when the Kia Niro turned up on my doorstep I immediately thought; "What a smart looking wee motor car."
The admiration continued when I drove it. The 104bhp, 1600 petrol engine, supplemented by its 44bhp 1.56kWh electric motor, is not the fastest thing on the planet, but performance is more than acceptable and it was a treat to drive. Both units drive through a six-speed twin-clutch semi-automatic gearbox which could be a bit slow at times, but it did work faster and more precisely in its 'Sport' setting, so that's what I tended to use when outwith city and town limits.
Which was a pity, because in 'Eco' mode the central dash screen displays a pretty picture of a tree which glows in a blue colour if you are driving soberly and sensibly, but the leaves start fading away leaving a very bare autumnal version if you are misbehaving i.e. using the 'Sport' setting. Otherwise you could switch the display to the drivetrain graphic and watch when electrical power is being used or the lithium battery pack is being charged up. Mind you it will keep the weans amused for a wee while.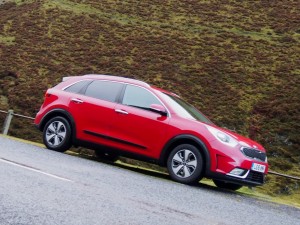 In other words, it's a hybrid, but it's hard to tell because the car does what a car is supposed to do. Depending on battery charge it will drive off under electric power with the petrol engine kicking in, and cutting out when not needed, almost imperceptibly.
For a petrol powered motor, economy is pretty good and although Kia claims 74.3 mpg on the combined cycle, in real life terms I was getting around 55 mpg. That was partly down to me using the 'Sport' mode so much I expect, but also the electric motor and battery pack add to the weight of the vehicle which tips the scales at 1556 kgs and which no doubt hampers the outright performance.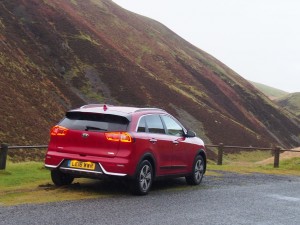 If buyers are looking for a performance vehicle then they will need to look elsewhere, but for those seeking practicality and low running costs, it is well worth consideration. The Niro offers a very roomy and comfortable interior with a boot big enough for most family needs. Although quite commodious with the rear seats folded, the boot space is quite narrow no doubt due to the petrol filler mounted on the nearside which makes the housing round the rear wheel arch much more bulky. However, roof rails are standard, so if you need more capacity for a camping trip then it can go upstairs.
Equipment levels are good and this being the '2' version as opposed to the standard car '1' it has a 7″ touchscreen, SatNav, part-leather upholstery, roof rails, front and rear parking sensors with a rear camera and heated folding door mirrors. It also has a pretty good sound system, but no CD player.
Although it has iPhone connectivity, for those of us with 'proper' phones who haven't yet upgraded to miniaturised, computerised, handheld international communication devices then this is an unfortunate oversight. It means I'm stuck with Radio 4 and 5 Live as I can't stand those annoying radio 'DJ' chatterboxes who have nothing to add to the quality of the listening experience when introducing music, but insist on saying it anyway.
If you want more equipment with your Niro then there is a '3' model and the top of the range 'FE', but still no CD. One of these days I really must get myself a new bluidy phone!
Other than that I really liked it. Which leads me on to the final question, would I have one? Yup, for sure, it's a great wee thing for cruising around – and it comes with Kia's 7 year Warranty.
Review Date:

November 19, 2016

Price

£22,795

Engine

1580cc, 4 cyl petrol (104bhp) electric motor (44bhp)

Performance

0 - 62 mph in 11.2 seconds, flat out at 101 mph

Economy

74.3 mpg (combined)

CO2 emissions

88 g/km