… Vauxhall Astra Sports Tourer 1.0 SRi Nav …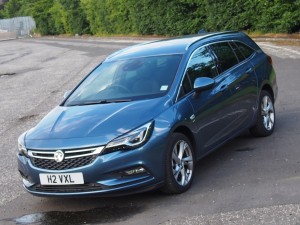 ou have to wonder about the logic behind the idea of putting a small, 1 litre, three cylinder engine into an estate car body. It's only got 105 bhp to lug along the excessive tinwork and glazing, so you'd think it would struggle and be quite lethargic.
Wrong, it's a wee belter of an engine and the car weighs less than 1300kgs without the shopping in the boot. It's not quite a 'Sports' Tourer in our sense of the word, but it looks sporty, sounds sporty and feels quite sporty on the road. I just love a three cylinder 'thrum'. Job done.
It's also very practical. It is one of the roomiest cars in its class both with regard to four occupants and all their baggage and the weekend trips to the coup. And it's comfortable too with plenty of shoulder room and head room, although leg room in the back is a bit compromised if the folks in the front are being inconsiderate.
All this space comes at a price though. The current Astra is 1809mm wide. That's 158mm wider than the original. In real money that's just over 6 inches wider. But it's not just Vauxhall who is at it these days. All the other manufacturers are building bigger models than the cars they are replacing.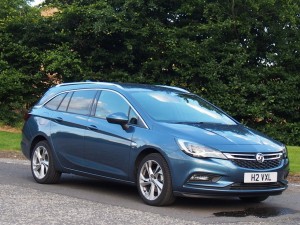 Although six inches doesn't sound much, it becomes much more noticeable when you try and park it in city centre multi stories or out of town retail parks. Bad enough with the four door model but try getting out of the thing if you have the two door coupe.
The trouble is, the folk who paint the white lines in parking spaces are either using a different ruler than the rest of us, deliberately trying to annoy us, persuade us to use bicycles or are getting a bung from those franchise firms who work out of vans around the country repairing car park dents, dings, scrapes and scratches! Whatever, someone needs to take a good hard look at the size of modern cars and the spaces we have to fit them in. Naturally such things wouldn't bother a political Transport Minister, not when he has a chauffeur to go and park the thing for him.
Fortunately the Sports Tourer is a four door, or five depending on your point of view with regard to the gate in the tail, so getting in and out of the driver's seat in tight spaces is possible – just. One other thing worth pointing out is that the boot floor is flat, that means no lower lip to lug trolley jacks or fuel cans up and over if servicing on rallies. It also saves the paintwork!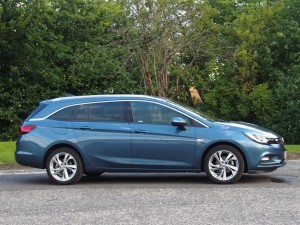 And that is my only gripe. However, the real joy is in the driving. Vauxhall has made a tremendous difference inside the car with a nice thick multi-function leather rimmed steering wheel through which the two main dials for speed and revs can be seen dead ahead plus two smaller dials for fuel and oil pressure between and above them, under which is a small multi-function display panel. The central console has been tidied up too at the head of which is a 7 inch touchscreen.
The shapely front seats are firm but comfortable and complements the finding of an excellent driving position. Then it's a turn of the key and that wee gem of a motor up front thrums into life like a contented hive of bees on a sunny afternoon.
The performance figures don't do the car justice. 999ccs doesn't sound much but once the turbo is spinning, keeping the thing on the boil cutting across country is fun if not terribly fast. Adding to the enjoyment is a suspension which is pliant and absorbent without rolling around corners or bouncing over bumps. Vauxhall have done an excellent job here.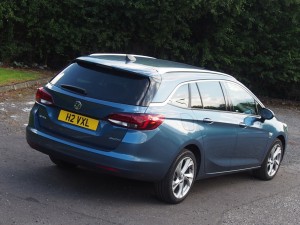 As with all 1 litre engines these days, the laboratory test figures don't stack up against real life situations. Vauxhall claim a combined consumption figure of 62.8 mpg. I was lucky if I got over 40, but perhaps that was partly down to enjoying myself. However on one long-ish, smoother driving trip I was getting 45, but you'd need to be on an economy drive to do better.
The other thing to remember is that smaller engines don't necessarily means smaller prices. Although prices start from £16,500, this particular 'SRi Nav' model was four grand dearer which included manual air-conditioning, roof rails, cruise control, a speed limiter, automatic headlights and wipers and Vauxhall's IntelliLink system. The front and rear parking sensors added another 450 quid and the LED matrix headlights were an extra £995.
Would I have one. Yup, for sure. I'd be quite happy with one of these in the drive. Comfy and fun to drive and plenty of room for weekend activities and kit.
Review Date:

July 19, 2016

Price

Engine

Performance

Economy

CO2 emissions