… Lexus NX300h …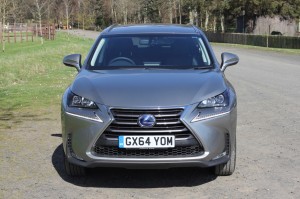 If you don't like driving and you don't like driving especially quickly, but you want to have presence and something interesting to talk about, then the Lexus NX300h could be for you. That's because it's an SUV and a hybrid, something that will have the cardigan and sandals brigade scratching their heads indecisively when they see one parked in a city centre. Do they scratch hateful marks on its shiny flanks, or do they recognise its 'green' credentials and leave it alone?
That's a hard call. For a start it's not as big as it looks in the pics. This is a medium sized SUV which is in fact based on the Toyota RAV4 platform, but what they've done is sculpted the original clay model with a machete rather than a scalpel. It's not a look that has grown on me personally, so it's up to each individual prospective buyer to make up his or her own mind.
Neither is it as 'green' as folks might think. Yes it has two electric motors, but it also has a 2.5 litre petrol engine under the bonnet and some hefty batteries in the boot. That adds nearly 300 kgs to the kerb weight of the vehicle, so it's not quick, barely breaking 10 seconds to hit 60 mph from rest. Top speed is 112 mph but getting there isn't a nerve tingling experience with the CVT gearbox doing all it can to provide the driver with a less urgent and restful experience as opposed to making rapid progress. That means overtaking in busy conditions needs a bit more pre-emptive planning.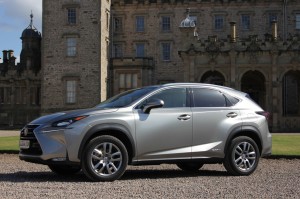 So it's not a performance car, but what it does do is provide a pretty luxurious motoring companion. The seats, equipment levels and interior comfort are exemplary, just what you'd expect from Lexus and probably the main reason folk look at the marque. If you're interested in comfort rather than pace then it's well worth a trial run.
Naturally this being a Lexus it is well put together and there is a feeling of inevitability about every trip, i.e. you'll get there but not perhaps at the speed your offspring desire. Best carry some pillows to muffle the "Are we there yet?" queries! Apart from that the car drives well enough, the suspension does its job and the brakes are more than adequate for a car that isn't likely to threaten too many speed limits.
Even so, there are three drive modes – Eco, Normal and Sport. In the first two modes the dash display shows what the drivetrain is up to indicating Charge, Eco and Power. That will keep the weans amused for about a couple of minutes. Hitting the Sport button helps, just not a lot. The dash turns red, sharpens up the throttle mapping and speeds up the gearchanges. It is noticeably better and preferable to drive in that mode but to the detriment of fuel economy.
Not that it's mpg is anything to boast about. Lexus claim 54.3 mpg on the Urban cycle but I struggled to hit 40 mpg, spending most of the journey time in the mid 30s.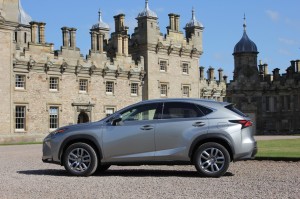 But what it does do is engender a feeling of wellbeing. While others race about the countryside oblivious to their surroundings, the Lexus places its occupants above all this frenetic activity and gives them the time and inclination to enjoy the Scottish scenery. Helping this serenity along is the helpful Speed Cruise Control which allows the driver to slow down or speed up in increments of 1mph by simple fingertip control. This is especially conducive to stress-free travel in the traffic jams that blight the Glasgow M8, Forth Bridge crossing or Aberdeen circular of a workday morning.
Neither is it a vehicle for Vets unless they've swapped Highland hill farms for city centre small pet practice. It might be four wheel drive, but the boot isn't big and most buyers won't want to get it mucky. It would appear to be fairly competent off road, although the car wasn't put through any serious mud-plugging duty.
Is it for me? In a word, nope. Yes I liked the cosseting interior, and although still not sure about its looks, it was the relaxed performance that put me off. I have never been a fan of CVT gearboxes, and yes I know they're supposed to be efficient, and no doubt proper engineers will go right over my head telling me how good they are. But that's like a TV chef telling me spinach is tasty and good for me although I know perfectly well it isn't and tastes like rancid seaweed.
So it is with the NX300. Nice, but not for me.
Review Date:

April 18, 2015

Price

Engine

Performance

Economy

CO2 emissions

Insurance Group