… Mazda6 Tourer …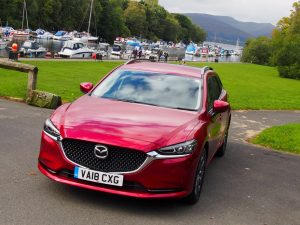 The Mazda6 sits just under the radar of many of those everyday folk who are looking for premium saloons, but that's their loss. Instead of sticking to instantly recognisable badges and grilles, prospective buyers should perhaps spend a bit more time looking around before spending money on one of the second biggest buying decisions of their adult lives.
For instance, people spend a lot of time looking at houses. It's not just the quality of the build and the internal finish, but they need to know about garage, garden and parking space. Then there's the location, neighbours, schools and nearest shopping mall to consider. Big decisions require much thought.
Crikey, some folk even spend more time selecting a TV. Never mind the size, what about a flat or curved screen? Pedestal or wall mount? HD, UHD and HDR? And how smart would you like it be sir? Motionflow or streaming? Freesat or Freeview? USBs, HDMis, network connection, wi-fi, Bluetooth and game console compatibility. And then there's the big question of how many PQIs you want, whatever they are. It's enough to make you reach for the radio, or as BBC would have it these days, BBC Sounds!,
And yet when it comes to cars, the majority of buyers will look first at the badge then at the price. It's only us enthusiasts that pore over spec sheets and drive before you buy, which is just as well, otherwise we'd never find out about the Mazda6.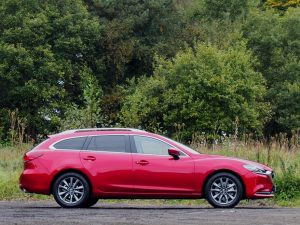 If you want a luxury interior, contained within a smart looking svelte shape, with comfort, pace and practicality, then you could do a lot worse than starting here before you look at anything else. Chances are it will stay near the top of your eventual list no matter how many cars you look at.
The car on test was the latest 2018 Mazda6 Tourer SE-L LUX Nav+ model, to give it its full title, which features a few crucial enhancements over the previous generation. It still looks very similar, but new LED lights and grille give the game away. Underneath the car more subtle improvement to suspension tuning and components have further improved the ride quality with thicker front dampers and the addition of rebound springs.
There is a new 181 bhp diesel engine and a 2.5 petrol unit in the range, but this car had the 148 bhp 2.2 litre diesel and at the end of a week with the car, the performance proved that it will do everything you need it to do with comfort, style and enough zip to keep your adrenalin pump ticking over nicely.
That's not to say it's fast. The nought to 60 mph time takes just a tickle over 10 seconds, and will run out to 130 mpg in more enlightened nations, but that is all that most folk will need for driving on the UK's pot-hole blighted, traffic crammed roads. If on the other hand, you do find yourself on a deserted stretch of road, the surge through the gears, sure-footed handling and delightful steering will reward those who like a bit of feedback from their chosen transport.
That's when the occupants will appreciate the interior comfort and the ride quality. The heated, powered front seats offer sumptuous support while the MacPherson struts up front and the independent multi-link rear end ensure that your internal organs remain unshoogled. No doubt the sensible sized 17 inch rims and tyres added to the car's good road manners.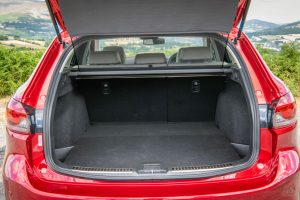 The end result is a desirable family saloon with a huge boot, composed ride and quiet interior which will soothe away the business day frustrations on the drive home at nights, even when stuck in traffic.
The 2 litre base car starts at just under £20,000, but the test car with its higher spec and a few extras came in at almost £29,000. That's a wee bit rich compared to its class rivals, but then again, how many will you see sitting in the driveways around your neighbourhood? Exclusivity always costs that little bit extra, eh?
As for me, the Mazda6 is well up there amongst my favourite family cars.
Review Date:

October 17, 2018

Price

£28,895 (as tested)

Engine

2191 cc 4 cylinder turbo diesel with 148 bhp

Performance

0-62 mph in 10.2 secs, flat out at 130 mph

Economy

62.8 mpg (combined)

CO2 emissions

119 k/gm

Insurance Group

26E