… Skoda Superb SE L Executive …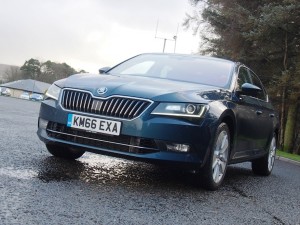 A colleague and friend reckoned that the Skoda Superb was a good car ruined by a stupid engine. Me? I took a different view. I reckoned the Skoda Superb was a good car made better by a stupid engine. The engine in this case was the 2 litre TSI 280 unit, hence the differing views.
So what's wrong with putting a fast engine into a more humbly badged executive saloon? Jaguar and the Germans do it all the time and folk drool over the results. It all sounds a bit like the posh and the powerful getting a bit sniffy about the proletariat getting ideas above their station.
Even so, it take some chutzpah for a car manufacturer to officially call one of its models a 'Superb'. A name like that will take some living up to, but it's not the first time. Way back in 1929, when the world-wide automobile industry was just getting into top gear and there was a proliferation of large and small motor manufacturers and assemblers in most European countries, Skoda produced its first luxury motor car, the 860 model with an in-line 8 cylinder, 60hp engine in a car that looked straight out of an American gangster movie complete with running boards, and windscreen mounted spotlamps which the shooters could hang on to with one hand and a tommy gun in the other.
The 860 was followed 5 years later in 1934, with Skoda's first 'Superb' model, a six cylinder luxury saloon, and they topped what with a 4 litre V8 in 1939 just before the war years struck hard. So if you think that Skoda in its pre-VW days only produced a range of small cars and the rally winning rear engined, 1300cc Estelle, then think again. The company has been in the luxury market for over 80 years.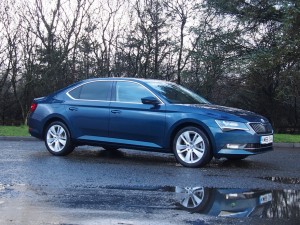 So what's not to like with the big Skoda. Nowt really. For a start there's bags of room inside. In fact given the dietary excesses and the renowned sense of thrift of the Scots, the Skoda could be a lot more preferable than some of the more expensive teutonic offerings when it comes to girth and legroom especially in the rear. On that basis, it might go down well across the water in McDonaldBurgerland too!
It's also pretty well equipped inside. In SE L Executive trim, the Superb has the obligatory 8 inch touchscreen SatNav with Digital radio and all the expected electronic gubbins for smartphones and USB/AUX connection. It also has leather upholstery, heated front seats, dual-zone climate control, a powered bootlid and bi-xenon headlights with headlight washers. Adaptive cruise control is included along with a braking and anti-collision system which features a whole list of three letter contractions which would suggest that it is impossible to stray off line or have an accident! And to top it all off, it even has a wee torch in the boot and an ice scraper inside the fuel filler cap.
But that's the bling end of the argument. For the majority of folk who read these pages it's what's under the bonnet that counts. OK, it's only a 2 litre job, but this is VW's TSI unit, and it packs a mighty 276bhp punch. That's good enough for a sub 6 second 0 to 60 sprint and a top speed of 150 plus.
Don't confuse that with a sports car. What this car does, and does well, is waft. None of this bone-jarring, frenetic, nervous stability nonsense. As a certain British manufacturer would have it, this car combines "pace with grace". Yes, it's a bit on the soft side, but body roll is well controlled and it's easy to forget that this is a big car (it's 4.8 metres long) hence it just wafts silently along with its occupants cocooned in luxury and removed from the everyday hustle and bustle of life. Plus there is the added security of four wheel drive included in the price.
And yet, a stiff prod of the accelerator and it's quick enough through the gears to frighten the baseball hat wearing brigade with their woofers and tweeters and wheels the size of dinner tables. Of course, fuel economy will suffer if you start to enjoy yourself and although Skoda reckons you should get around 40mpg with sensible driving, the temptation is there to do a lot worse. I managed 31.5 mpg at worst and 35 at best!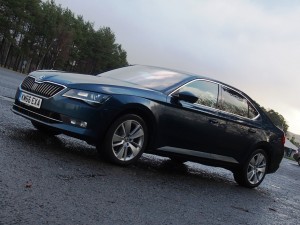 And all this car for £32,170. The test car did have a few extras though which added a couple of grand including heated windscreen and heated washer nozzles, front and rear parking sensors and 'ventilated' front seats
If you still think it's a bit rich, the Superb range starts with a 1.4 litre engine at just under £16,000 and of course there is a range of diesels, so even those on a budget can have a big, roomy and comfortable car.
Would I have one? Absolutely, and to hell with the expense, I'd go for the 'stupid' engine!
Review Date:

January 16, 2017

Price

£34,225 (as tested)

Engine

1984cc, 4 cylinder turbocharged petrol with 276bhp

Performance

0 - 62 mph in 5.8 seconds, flat out at 155 mph

Economy

39.8 mpg (combined)

CO2 emissions

160 g/km