… Lexus IS 300h …
When it comes to luxury and reputation, Lexus' biggest rival is neither British nor German. It's Japanese. It is in fact, Lexus.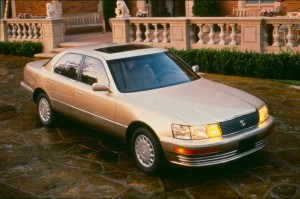 Confused? The challenge facing the current range of Lexus cars is meeting the standard set by the original Lexus LS 400. And that was nearly 30 years ago. Compared to the current range of Lexus cars the difference is huge, as you might expect, but compared to its rivals at the time, the LS400 shook up the establishment. When it was launched, it was one of the most well-equipped, understated luxury cars in its class.
Looks-wise, it was nothing special but under the metal, Toyota's bid to enter the luxury car market displayed all the technological progress that was being made at that time, and maybe a wee bit more.
Performance was modest by today's standards. Its 4 litre V8 pumped out a mere 250 hp and it was mated to a smooth and leisurely 4 speed automatic gearbox. Sports car it wasn't, but ride quality and comfort was the result. Inside the car, the powered leather seats cushioned the occupants while, the driver had the world's first tilt-and-telescopic steering wheel with an SRS air bag. It even had a facility for the wheel to move out of the way once the ignition key had been removed.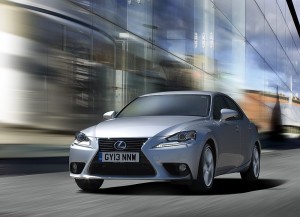 Sounds pretty standard these days, but back then, this was innovation. And Lexus is doing it again with the introduction of its Hybrid systems and advanced thinking.
For instance, although this is a hybrid which combines a petrol engine with an electric motor, the 2.5 litre engine is not a traditional 4 stroke power unit. It actually runs on the 'Atkinson cycle' which also incorporates Dual VVT-i intelligent variable valve timing, Lexus' D-4S fuel injection technology and a high-efficiency exhaust gas recirculation system. The result is a pretty clean, fuel efficient and impressively smooth power unit.
Actual power output is 178 bhp for the petrol motor while the electric unit produces up to 145 supplementary bhp when needed.
This power is sent to the rear wheels via an electric CVT (Continuously Variable Transmission) and regular readers of my automotive opinions and conclusions will know that I don't like CVT! However, this one is one of the best yet and I reckon I could just about live with it. Having said that, there will be many folk out there who might just prefer its smoother and more leisurely attitude to pace and progress.
Mind you, they can always fool themselves (or their passengers) into thinking this really is a 'sports saloon' as it has an 'Active Sound Control' button. This relays an engine sound into the cabin using an additional speaker behind the head unit. Gimmicky, but fun.
As for driver information and display options, one word sums it up. Bewildering. There are so many menus and sub-menus accessed through the touchscreen that even a bright ten year old could get lost. Admittedly familiarity in use will quickly sort out the most essential functions, but for motoring journalists who get only a week with the car many of the options will remain undiscovered.
That's not really a criticism of the car, but enjoyment and satisfaction will be improved with longevity but if you do get fed up with confusing yourself, just switch on the 15 speaker surround sound Mark Levinson sound system. Choose your preferred radio station or plug in your phone and either sit back and enjoy the soothing sounds of Handel's Water Music (unless you are of a certain age and require regular 'comfort' breaks) or indulge in a bit of sedentary headbanging with AC/DC flooding the cabin and annoying other passing motorists.
Or you could always switch off the music and amuse yourself with the ECO driving display which tells you whether you are burning combustible fuel, running on electricity or both, while providing information on current mpg and your driving efficiency – or lack of it!
There is however one teensy weensy fly in the ointment. Despite the best efforts of the Lexus adaptive variable suspension system, it cannot quite disguise the fact that lurking under the wheel arches are a set of 18 inch rims clad with 255/35 Bridgestone Turanza cats' eye and white line thumpers. Pity that. The suspension does however absorb the worst of the bumps and flattens out the undulations, but anything ridged or sharp and the wheels let you know.
That's nothing a set of taller sidewall tyres wouldn't fix and if I was to have a Lexus IS300, I would first check the wheel size and rubber. Otherwise this is a car to savour and relax into on a long holiday cruise.
Review Date:

November 15, 2017

Price

Engine

Performance

Economy

CO2 emissions