… Jaguar XE Land Mark 2.0 240PS Diesel AWD Auto …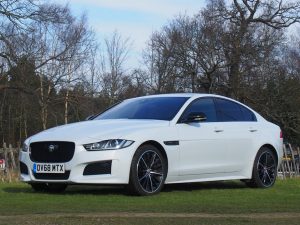 Make no mistake, the Jaguar XE is a proper Jaguar. It looks like a Jag and smells like a Jag, more importantly it goes like a Jag and handles like a Jag. On that basis it would make an ideal getaway car just as the old 2.4 and 3.4 saloons did 50 years ago. Except for one thing, you could only get two burly crooks in it.
The XE may have four doors but it really is a 'compact' Jaguar. With the front seats well back to accommodate burliness in the front there is virtually no leg room in the rear. Even with the front seats well forward , space in the rear is still tight. So unless the crooks are working as a two-man team or have a couple of young apprentices on the job then they will need to upgrade to an XF.
It's the same for the family man or woman. If you have a growing family then you will need to bear this in mind. It's OK for kiddie seats and toddlers, but lanky teens will be squirming in the rear and uttering such endearing phrases as: "Are we there yet?"
If I was being unkind, I would say it is more of 2+2 sports saloon than a family car, but then again that might just be what many punters, sorry gentlefolk buyers, out there might be wanting. If they have a big family then the XF makes more sense, but for those luxury/executive car owners who want to downsize, the Jaguar XE should fit the bill.
Whether they've been driving the F-Pace or the XF, the XE will provide a familiar environment and similar levels of luxury, but in a more compact form. Not only that, it will provide the same feelings of motoring comfort and driving enjoyment.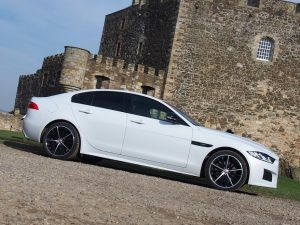 The XE is 282 mm (11 inches) shorter and 30 mm (one inch) narrower than an XF. It's not a lot, but it should make it a little easier to park in the street or within the ever diminishing dimensions of shopping mall retail centre car park slots. It should also be easier to park in the postage stamp sized bays of the average modern new-build house, which also appear to be getting more 'compact' these days.
However, rear seat legroom is the only complaint that can be levelled at this car. It cocoons the driver in a swathe of comfortably upholstered leather and surrounds him or her with an array of tastefully designed and attractive controls. It's like a grown-up's tactile toy shop. It's just a nice place to sit and listen to the radio, sorry BBC Sounds as the bright young things have now rebranded it, while you wait for your partner to return from his or her errand.
On the move, it's a different thing entirely. This was the All Wheel Drive version of the XE with a 237bhp four cylinder diesel which provides spirited performance. It's also a full 200 kgs lighter than the XF. It takes just a shade over 6 seconds to propel the machine from standstill to 62 mph which is pretty smart.
I'm not a fan of ZF's 8 speed transmission as used in the XE (and many other marques) but that might just be a personal thing. At times it can feel a bit hesitant. This transmission has a an ECU which monitors 'driving styles' and adapts its shift patterns to suit, so it will respond differently to driver inputs when crawling along in traffic, cruising on motorways or heading home along your favourite driving road one night.
It would need more miles and a longer association with the car to determine whether it's me or the ECU which is the more intelligent and mechanically sympathetic part of the equation! On the other hand, the auto-shift, even in sports mode, can be over-ridden by using the steering wheel paddles. Again, whether these are more efficient than the ECU is something that could only be determined by longer driving periods in the car. Or maybe it just boils down to the simple fact that I still think a manual six speed is faster and more controllable than automatic 8 speed. Those were the days, eh? A bank robber in a getaway car would lose credibility if he was driving an automatic, would he not?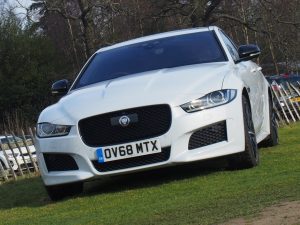 Complementing the performance is the sublime handling. Thanks to the double wishbone front suspension, integral link rear suspension and shock absorbers which actually do what they claim, that is, they absorb shocks while providing a smooth controlled ride with minimal roll, even on 19 inch rims. That might also be partly due to the choice of Dunlop Sport Maxx 255/35 x 19 tyres. They grip well but seem to cushion the ride rather better than some rival products.
This is a car to savour and enjoy when roads turn twisty or soothe away the stress and strains of everyday life when stuck in traffic. Jaguar claims an average fuel consumption figure of 49.6 mpg but the best I managed was 37.8, however that probably had more to do with me enjoying myself rather than conserving in-built primal urges.
This is a quick car that looks good and drives exceptionally well, with all the style and comfort you would expect from a Jaguar. It would be a shame to let the crooks have all the fun.
Review Date:

March 14, 2019

Price

Engine

Performance

Economy

CO2 emissions