… Volvo XC40 D4 AWD First Edition …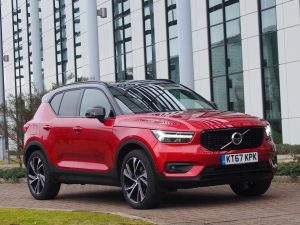 If the Volvo XC90 is too big for your driveway or too rich for your pocket, Volvo now has the answer. Similarly, if you need, or want, to down-size without losing out on luxury and refinement, Volvo now has the answer, the XC40.
Outwardly it is unmistakably Volvo from the front and rear, joined together by sculpted flanks which sets it apart from its rivals in the burgeoning compact SUV marketplace Whereas many of these other SUVs are hard to tell apart unless you're looking at the grille, the XC40 has enough of a presence and style to stand out from the crowd.
That tradition is exemplified inside too which just oozes quality and style and comes with all the design touches and finishes that you'd expect from a premium brand. It also has the now familiar Volvo upright 'tablet style' touchscreen dash display and infotainment system set in the middle of the dashboard. On first acquaintance with this large 9 inch panel plonked in the middle of the smoothly contoured front cabin, it looks odd and awkward, but once you get used to it, it makes practical sense.
There was however, one rather unsettling design flourish. The air vents at the extreme edge of the dashboard reminded me of the Ford Edsel grille. That was a design classic too, but for all the wrong reasons.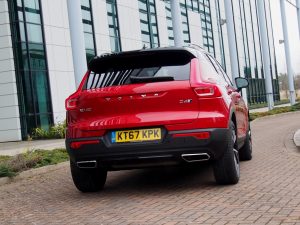 The other main element for which Volvo is renowned is comfort and ride quality. The car might be smaller than its bigger brother/sister but the seats are well-shaped and commodious enough for those who may be down-sizing their car, although not necessarily down-sizing their physical presence! As for ride quality any negative criticism could be attributed to the choice of 19 inch rims and low profile tyres (as opposed to the standard 18 inch jobs) on the test car. Of course they look good, but be careful what you specify if comfort is your goal.
Naturally, this being a Volvo, it has all the safety equipment you'd expect and more, including 'Run-off Road Protection', a system which automatically tightens the seatbelts if the car 'inadvertently leaves the road'. Makes you wonder if the Scandinavian love of rallying had something to do with that, eh?
Similarly, the car has 'Oncoming Lane Mitigation' which guides the vehicle back if it drifts out of its lane and the full 'City Safety' front collision warning with full automatic emergency braking in case of wayward pedestrians or cyclist or as Volvo puts it "large animals". And in case you think that's superfluous in this country, think deer, coos and even sheep, especially when travelling late through the Scottish countryside.
Also incorporated in the test car was the Pilot Assist system which eases the strain on Motorway driving by ensuring the car stays between the white lines and works with the adaptive cruise control to ensure that you don't get too close to the vehicle in front. It's not yet a hands-off system, but you get the feeling that this will be next as manufacturers gradually introduce autonomous driving technology across their ranges of vehicles.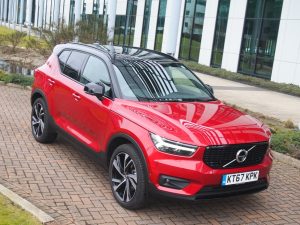 Under the bonnet is a 2 litre turbo diesel with 190 bhp and an 8-speed auto-box to manage it. I'm still not a fan of the Volvo automatic, it's slower than I would like, but that's a personal thing and folk will have to make up their own mind. For everyday use, it's fine, but if you're pressing on then you have to bear it in mind.
It's quick, quiet and smooth, but I couldn't get near the claimed 55.4 urban mpg consumption figure but maybe that says more about my driving than the laboratory tests.
Pricing starts from £27,905 but the test car came loaded with extras which pushed the price up to £39,905. That pitches it into serious rival territory, but the Volvo is man/woman enough to compete with allcomers.
There's much to like about the XC40. It's compact dimensions, interior comfort, exterior style and pace. It also has a flat boot floor when the rear seats are folded and parking camera 360 degree surround view. I'd be perfectly happy to own one even with its occasionally hesitant gearbox – it's not enough to put me off. Just that I expect better from Volvo.
Review Date:

March 13, 2018

Price

£39,905 (as tested)

Engine

1969cc, 4 cylinder turbo diesel with 190 bhp

Performance

0-62 mph in 7.9 secs, flat out at 130 mph

Economy

55.4 mpg (combined)

CO2 emissions

135 k/gm