… Vauxhall Insignia GSi Sports Tourer BiTurbo D 4×4…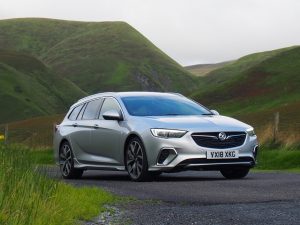 For the 'badge-snob' car buying punters, Vauxhall's Insignia may well be overlooked as they trek round the Teutonic offerings on various forecourts and the increasingly popular big cat saloons from Castle Bromwich. That is their loss. The Vauxhall Insignia GSi Sports Tourer is a seriously good motor car with its 207 bhp 2 litre diesel Bi-Turbo driving all four wheels.
OK, it's not a sports car really despite the name but it does offer a sensible turn of pace, good brakes, nice steering and comfortable road holding. And there's more, the four wheel drive system offers additional peace of mind, especially with Winter looming just around the corner.
As you would expect with a current range big Vauxhall, the interior is well equipped and nicely finished, falling just short of sumptuous. What you get are four well shaped and very comfortable ergonomic seats with plenty of room for big heads and long limbs plus a well shaped cushion between the two rear seats if carrying three in the back.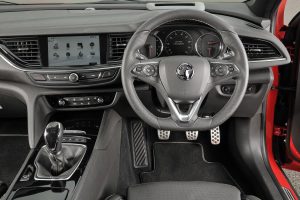 The driver is well looked after with a centrally mounted touchscreen plus one big circular speedo dead ahead in the 'Driver Information Cluster' which incorporates supplementary dials on either side. Main functions are accessed by button which still makes better sense than searching endlessly and confusingly through some nefarious, convoluted on-screen digital menu.
There were however three things which I didn't like. I'm no fan of so-called 'intelligent lighting systems' no matter who makes them. Their shortcomings make themselves felt only too well on Scotland's country roads. Coming back from the Galloway Hills Rally I was regularly flashed by oncoming traffic who thought I was either to slow in dipping Vauxhall's IntelliLux LED matrix headlights or just didn't bother. Another was the harshness from the 20 inch 245/35 Michelin Pilot Super Sports which made their presence felt on anything less than Motorways.
For sure they gripped the road well, especially working with the Insignia GSi's new all-wheel drive system which incorporates a rear-drive module that uses a clever twin clutch system. This system can apply torque to one or both the rear wheels independently. When cornering, higher torque is sent to the outside rear wheel, inducing rotation around the vertical axis (yaw) – meaning the GSi turns in with more precision.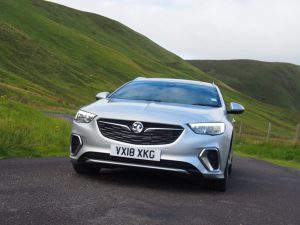 Torque vectoring also makes the car safer by controlling the distribution of torque according to changes in throttle position, steering angle and road surface, reducing the amount of yaw. This intelligent use of torque distribution, also known as "yaw damping", results in neutral vehicle behaviour, making the car more predictable and stable.
Drivers can choose the amount of yaw damping to suit their driving style by selecting the appropriate driving mode: from high yaw damping in 'Tour' to low in 'Sport'.
And there's more, the GSi's ABS, Traction Control (TC) and Electronic Stability Control (ESC) systems include a 'Competition Mode', as well as the option of turning off the ESC completely.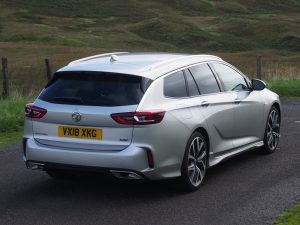 In other words, I had a great run home over the moors through Moniaive and up the Dalveen Pass and into Lanarkshire.
As I said before the 2 litre BiTurbo is not outrageously fast, but with twin turbos spreading power and torque right through the rev range and the grip levels which could be achieved, the homeward miles were dispatched in outrageous fashion.
The only flaw here was the 8 speed auto 'box. It's not quite as quick as a sporting motorist might want although perfectly adequate for much more 'sensible' motoring. Even so, I enjoyed the speed, the handling, the steering and the comfort. I even enjoyed the synthesised engine note which reverbrated through the BOSE speaker system. Normally I don't like this false approach to mechanical symphonies but it worked rather well in the diesel Vauxhall.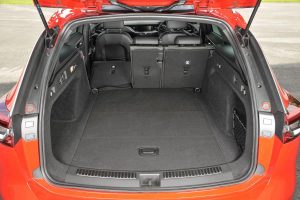 In other words I really liked the big Vauxhall, and it had something else – a huge boot, making this an ideal go-anywhere, in any conditions rally 'management' vehicle. As for fuel economy, or lack of it, that's entirely my fault. In my defence I was 'provoked' by the performance and handling potential of the Insignia and couldn't better 35 mpg while I had the car – and I even consumed more on some occasions!
Why spend more on a fancy name and badge when the Insignia can do it all as well as, if not better than, many of its rivals?
Review Date:

September 12, 2018

Price

Engine

Performance

Economy

CO2 emissions

Insurance Group