Ineos Grenadier 4×4
Time will tell if Land Rover missed a trick with its revamped Defender, or if Ineos has stolen a march with its new Grenadier 4×4. Looking very like the late Santana which itself was a revamped copy of a Defender, Ineos has trodden the same path – taking a classic design and updating it, and some might argue, improving it.
Working with the highly respected Austrian automotive engineering company Magna Steyr, the new Grenadier already has a lot going for it. On a traditional note it still has a body-on-frame chassis, with twin live axles and non-independent coil suspension, whereas the body is a complex mixture of aluminium, high-strength steel and composites.
Under the bonnet, BMW has been chosen to provide the drivetrain with its 3 litre petrol or diesel straight six managed by a ZF 8-speed automatic gearbox and a separate low-range transfer case. Depending on spec, these engines produce anything from 261 bhp to nearly 400 bhp.
Ineos has also recognised that many current Defender owners have personalised their vehicles to suit specific trades and purposes. To that end, they have sensibly built-in some thoughtful options to make the job easier for accessory manufactures and third party equipment suppliers.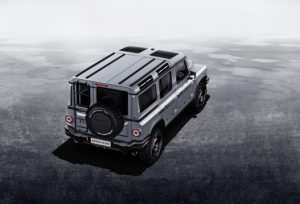 For instance, roof bars and roof strips have been incorporated into the basic design to enable loads to be mounted and secured directly without a roof rack, but for those folks who need a bigger, deeper or more specialised roofrack, that can still be accommodated. However, the manufacturer has taken that concept a stage further with electrical points built into the wiring at the front and rear of the roof so that additional electrical equipment can be installed and wired up without any hassle. Brilliant.
The more adventurous off-road enthusiasts, safari trekkers, explorers, game wardens and those who partake in huntin', shootin' and fishin' pursuits have also been known to bedeck the exterior of the their vehicles with various practical accoutrements. Anything from wash basins and cookers to workbenches and gun racks. Ineos has taken a trick here by incorporating what they call 'functional belt lines' which run along the flanks of the vehicle and upon which loads or accessories, like jerry cans and camping equipment, can be attached.
There is one more really BIG advantage of the new Grenadier. The corner-hung asymmetric rear doors open to reveal a flat floor space wide enough to accommodate a standard Euro pallet!
All that's needed now is to get the price right. At present, Ineos is anticipating a price in the 35 to 40 grand bracket which will pitch it squarely alongside the new Land Rover Defender. There is no indication at this stage if a stripped back, more basic version will be offered at a more enticing price but that will depend on interest and demand.
Testing of the new machine is already underway with production planned from the start of next year.