Audi A3 Saloon 2.0 TDI Sport …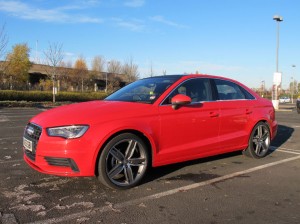 If Audi thinks that the fitting of 19 inch rims to a standard A3 saloon will be a cosmetic enhancement to attract future buyers, they might just have a point. They do look attractive, but like PIP implants and foreign, non—NHS body sculpture, things don't always go to plan. For sure the three box configuration looks pretty good slung between those large starfish alloys and skimpy rubber, but it feels like an 80 year old – car that is. One with wooden wheels and leather tyres.
I don't know why, but automotive marketing departments always like to interfere with cars going out to the motoring press and to photographers. They like to add all the extras to show the cars off at their best. Understandable I suppose, but often it's the base model cars in any range that sell best, so there really is no need for the Christmas tree effect.
One would have thought that they would have learned by this time that unless you're under 18 years old with hormones raging through an acne scarred body, the subtleties of suspension and ride quality matter more to folk than they give credit. They certainly made an impression on me. In this case, the impression has left bruises. Well almost. At least the seats were comfy.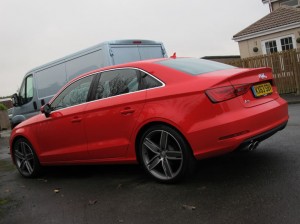 But seriously, the A3 saloon is an excellent car let down by the addition of the optional over-sized wheels and under-sized rubberwear, so if you are tempted to buy one after reading this, go for a set of standard 17 inch wheels. And if you still fancy the 19 inch jobs try the dealer's demonstrator first before forking out the extra £1495.
Also, bear in mind, this is a 2 litre oil burner, not a fast and furious RS, so why the need for such grippy rubber if it's not a sports car? Well, here's the thing, this machine is really rather quick for a diesel. Not so quick that it needs trick suspension and wide wheels, but certainly enough to get the juices flowing on a decent stretch of road. The mid range grunt is really quite impressive, although the initial pickup from low revs can be a bit hesitant. That means selecting first gear when pulling away from junctions and roundabouts. If you leave it in second, and go for the gap, you'll end up stalling the thing. Who me? Not at all.
Audi claims a combined fuel economy figure of 68.9 mpg for the 2 litre, 148 bhp motor, but in real world motoring I was returning a low 40s figure, but that included a few fast scoots on the open road! Those of you with a lighter foot and an eye on the fuel gauge should be rewarded with high 40s and I reckon 50 mpg is achievable in everyday motoring.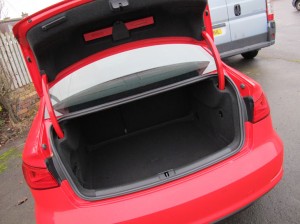 Couple that to a very sophisticated interior, comfortable seats and decent leg and headroom and it all adds up to a highly desirable family car just slightly smaller than an A4. The boot may be quite a bit bigger than the hatchback, but that doesn't make it any more practical. The boot is accessed through quite a narrow aperture between sill and rear window base, so it's a lot smaller than the full sized tailgate. In other words, if you are going to carry the kitchen sink, you might not be able to get it in!
The test car had a few extras other than the wheels, but I thought the LED lighting system was a bit expensive at two grand more, while the adaptive cruise control was a £575 extra, and the front and rear parking sensors added a further £595 to the price.
The real clincher is the driving position behind that leather rimmed wheel and tactile gearshift. On really smooth roads it's one of the best compact saloons around, but as soon as you hit cobbles or potholes, the 19 inch rims make their presence felt. The other downside of the 235/35 x 18 tyres was road noise, even on smooth roads. Mind you, it did drown out the noise from the back seat, so if any of you have a nippy mother-in-law, maybe the optional wheels and tyres extra is not such a bad idea after all!
If you don't have such a back-seat, speed-limiting reminder then the optional £750 Bang & Olufsen audio system could be used to drown out the tyre smack. A good excuse for some Status Quo then, eh?
I really liked the A3 saloon, just a shame about those wheels.
Review Date:

December 11, 2013

Price

Engine

Performance

Economy

CO2 emissions