… Honda E Advance …
The Honda E gives us a glimpse of future city motoring. This is more of a motorised transportation device than a car. It's reminiscent of those anonymous 'transportation pods' that one sees in films or magazines to represent the cars of the future. Some might call it 'cute'. Kittens are cute, cars aren't.
In fact if you look at the front of the car head-on it doesn't look all that different from the rear end view, as they both feature large round lighting units flanking a plain flat panel. It doesn't excite or enthuse, it just moves people and their belongings around, quietly, comfortably and fuss-free. And so it should be judged on that basis.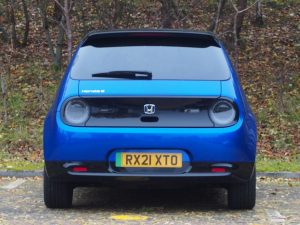 Many motoring journalists bemoan any new electric car with a 100 to 130 mile range thinking that's just not sufficient in this day and age, but for many folk it is. One recent survey indicated that most urban car users and commuters average 26 miles per day whilst another one suggested it was 33 miles per working day.
On that basis why build in a bigger, heavier and more expensive battery pack with longer charging times? As long as you have a home charger installed, and perhaps one at your regular workplace, then who needs more? The key here is that the Honda E can be fast charged from near empty to 80% in 30 minutes. That makes pre-planned stops all the more manageable as it cuts down the amount of time spent sitting immobile tapping the steering wheel impatiently.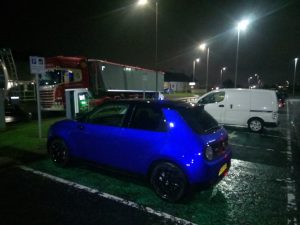 For sure, there will be the occasional need for longer trips but as the country's continued roll-out of public charging stations continues that situation should ease. However, recent experiences have proved that this 'roll-out' is not quite matching needs as sales of electric cars rise so the industry is experiencing growing pains and 'range anxiety' still figures highly in people's minds..
Of course that's another issue. As for the car, it doesn't look very big but it is very well packaged. There's plenty of head and shoulder room for four inside while the full width, screen-filled dashboard involves and includes the front seat passenger as well as the driver. It's like watching an I-Max screen through a letterbox
The really weird thing here is that there are two full colour screens at each end of the dashboard which are in fact connected to the external monitors. This car has no door mirrors. Instead it has two much smaller rear facing cameras which project the images on to the two internal screens. Even if your windows are ice covered or dirty you can see what is going on behind you – as long as you remember to wipe the camera lens!
These cameras also reduce the size of the rear three quarter view blind spot, a real boon in these traffic infested times. As for the images, even at night they are sharp and clear. Honda has even calculated that the much smaller door mountings reduce drag by 3.8% compared to more normal door mounted mirrors and their housings.
Given the attraction that to-day's trendies and techies have for their 'mobile technology' this new style, fully featured, full width dashboard will be a major attraction in its own right to potential purchasers and users. That also includes the non-techies who will appreciate the additional information and ease of use.
Perhaps unusually in such a compact car, the Honda E is rear wheel drive which also contributes to a very tight turning circle. Another ideal feature for a city/town car.
As far as commuters are concerned the interior of the Honda E will be much more appealing than the interior of a packed bus or train where the driver can select his or her own 'passengers' for company. It will also provide a pleasant method of getting to and from work even when stuck in jams given its refinement, silence and on-board entertainment options.
When you build in the Government grant, the basic cost of the Honda E is £30,715 but this one had the optional metallic paint finish which added another £550. If you live or work in a congestion zone then there are even more benefits to be considered to add to the zero road tax and minimal BIK impact.
I'd have this over a season ticket any day.
Honda E Advance
Review Date: 10 November 2021
Price: £31,265 (as tested)
Engine: 113kW electric motor with 150bhp
Performance: 0-62 mph in 8 secs, flat out at 100 mph
Range: 125 miles (claimed)
CO2 emissions: 0 k/gm
[Back to Top]