… Suzuki Jimny …
It's not often that you can climb into the driving seat of a car and before you drive off, wipe the condensation off the passenger door window, the two rear windows, and can make a swipe with a rag across the tailgate window without too much strain. Nope, there's not a lot of space inside the Suzuki Jimny.
And yet there is indeed room for four – just. With just two doors, getting in to the back is not for the unfit or fainthearted but once there, you're stuck. There's a little more room in the front, but even if you fall out with your pal or the missus, violence will not resolve the argument. You can't throw a punch and she can't swing her handbag.
It's even more cramped than the old style Land Rover Defender, but thankfully the Suzuki has wind down windows too so you can stick your elbow out while driving and create a bit more shoulder room. Otherwise you'd be rattling your funny bone against the inside of the driver's door when you wind on right hand lock.
There is no steering wheel adjustment and little seat adjustment so once you've maximised what's available, just get on with it. Having said that, the seats themselves are reasonably comfortable, but grabbing 40 winks in a lay-by might be asking a bit much.
There appears to be little in the way of sound deadening material inside the car too ensuring that you know exactly what the engine is up to and the 4WD transmission can be heard working away underneath the central console.
Neither is ride quality a strong point. It's a bit pitchy due to the short wheelbase and it can feel a bit lumpy running over uneven surfaces.
And yet it's capable. There is plenty of ground clearance with its 205/70 Bridgestone Duller 15 inch tyres so that if you fancy a cheap way into motor sport here's your answer. The 84 bhp 1300cc motor doesn't have a lot of weight to pull about and at the last couple of Hill Rallies I've attended there have been a couple of Jimnys giving their crews a lot of fun for not a lot of money. And they could go anywhere the bigger more powerful machines could go, just not at the same speed.
Top speed is a theoretical 87 mph but I got nowhere near that although the bonus is 40mpg average. As for the 0 to 60 time, you won't need a neck brace.
There's something old school about it, right down to the pull-out ash-tray. It's no leisure/lifestyle vehicle but for those who live in remote locations and can't get their rear wheel drive machinery out of the yard and down the track, this would be an ideal second car for emergency use.
Despite its basic appeal, the latest Jimny has all mod-cons, with electric front windows and electrically adjustable door mirrors. It has ABS and ESC and it also has a tyre pressure monitor and full size spare wheel mounted on the rear door which helps make the most of the modest sized boot.
The DAB/FM radio CD unit has a mind of its own at times with 'station drift' and no Medium Wave – so no 5 Live. Mind you that could be a good thing these days with the afternoon programme staffed by what sounds like waffling failed CBBC presenters. Either that or I've lost my childish sense of humour. Best take your own CDs with you although there is a USB socket.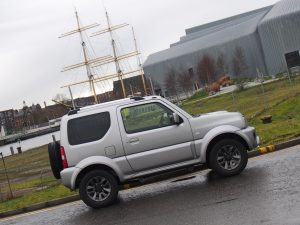 Forget car washes. All you need is a bucket and sponge with most folks able to reach across and wash the roof while they're at it.
Despite all that, I like the honesty and simplicity of the wee thing but I wouldn't have one. I don't fit. For those who do, prices start at just under 10 grand. That adds its own appeal while the sheer practicality and capability will appeal to those who can't justify a large 4×4, but want/need to get out and about when the weather forecasters are predicting doom and gloom.
Review Date:

February 10, 2018

Price

Engine

Performance

Economy

CO2 emissions

Insurance Group