… Suzuki Ignis SZ5 …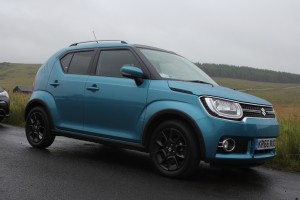 Or to give it it's full title, the Suzuki Ignis SZ5 SHVS AllGrip 4-Wheel Drive, which is quite a mouthful for a small car. But this is a small car with big ambitions. It offers plenty of room for four mature adults and a four wheel drive system packed into its modest dimensions. It even offers a mild hybrid petrol-electric transmission for those who wish to be seen as considerate of all things green and growing, and four legged and furry.
But does all this make it a desirable automotive conveyance in its own right? Actually it does, as a return trip from North Lanarkshire to Dundrennan one day and a return trip to Otterburn the next proved, whether wet or dry.
The Saturday trip was mostly dry and bright, but Sunday was gey dreich on the wet and puddled way home although there was no need for the four wheel drive system which cuts in only when needed. Otherwise this is a full time front wheel drive machine powered by a thoroughly enjoyable petrol 1200cc power unit.
As a fan of small, modestly powered engines, the Suzuki is a hoot to drive. To get the best out of it the engine and the gearbox have to be worked, but that doesn't do the fuel economy any favours, although the resultant 53.4 mpg was perfectly acceptable.
As for the 'mild hybrid' addition to the spec that consists of an integrated electric starter motor which cuts in under acceleration. There's no shove in the back from all that 'extra power' but apparently it helps with the fuel consumption. Being a small car it doesn't have a big fuel tank and range is limited to around 300 miles depending on how it is being driven.
And that's its downfall. Even in the wet, the grip is sufficiently impressive to encourage the driver to make the most of its modest 90 hp. There is very little roll and it fairly scoots around corners on its Bridgestone Ecopia 175/60 by 16 shod rims. Cars which will catch you up on the straights lose out on the twisty bits!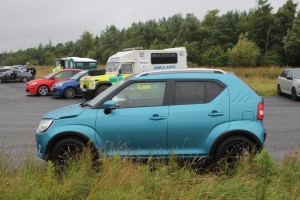 The boot is not big and I couldn't even get a folding bike in the back, but the cabin is more than adequate and the doors are big enough to allow easy access to and from the vehicle. That is aided by the upright 'SUV' styling which means the 'A' pillar is more upright than conventional saloons which require drivers to duck their heads as they climb aboard.
There is just the one gripe, but it only manifests itself when the sun is shining, so shouldn't be a problem to most drivers up here. The central dash display looks like a tablet which has been stuck on to the dash. It is canted backwards at an angle and perhaps if it was vertical it wouldn't catch the sun quite so much. Often it was unreadable due to the reflections but more annoying was that it caught the sun at times and was quite distracting.
I really liked the wee thing, despite getting my leg pulled by 'friends' at the rallies. But as I said, there's plenty of room inside and the big doors allow big chaps to get in and out quite easily. The upright driving position also helps.
I'd be quite happy with one as an everyday driver but wouldn't buy one simply because of the limited cargo space. The alternative here being a bike rack on the rear or on the roof!
Ford and Fiat have quite a reputation for building really good, enjoyable small cars, but Suzuki can give them both a run for their money.
Review Date:

August 8, 2017

Price

Engine

Performance

Economy

CO2 emissions

Insurance Group